How to Choose a Water Purifier For Home Use? (Infographic)
Posted on July 17, 2018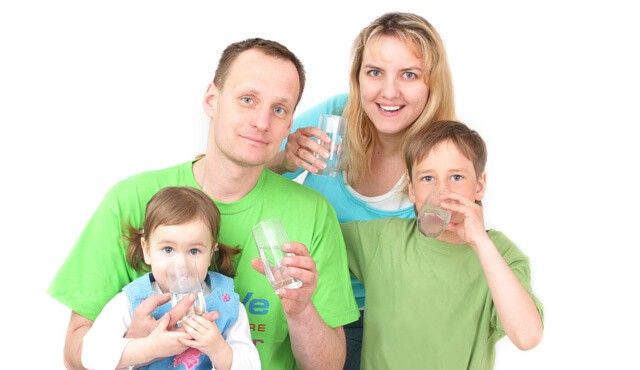 Monsoon is here, and so are the water-borne diseases. Flooding, old rusty pipelines, pipe bursts, and mix-ups between sewage & drinking water are often responsible for water-borne diseases. Add to it, the kind of advertising Blitzkrieg out there on our TV sets – where everyone claims to offer the best water purifier in Mumbai – may confuse many consumers, making it difficult for them to choose a water purification system that helps protect their loved ones.
To make your task easier, we have created an infographic water purifier buying guide that highlights the common drinking water problems, sources of water, impurities found in water, and things to consider when buying a water purifier for home use.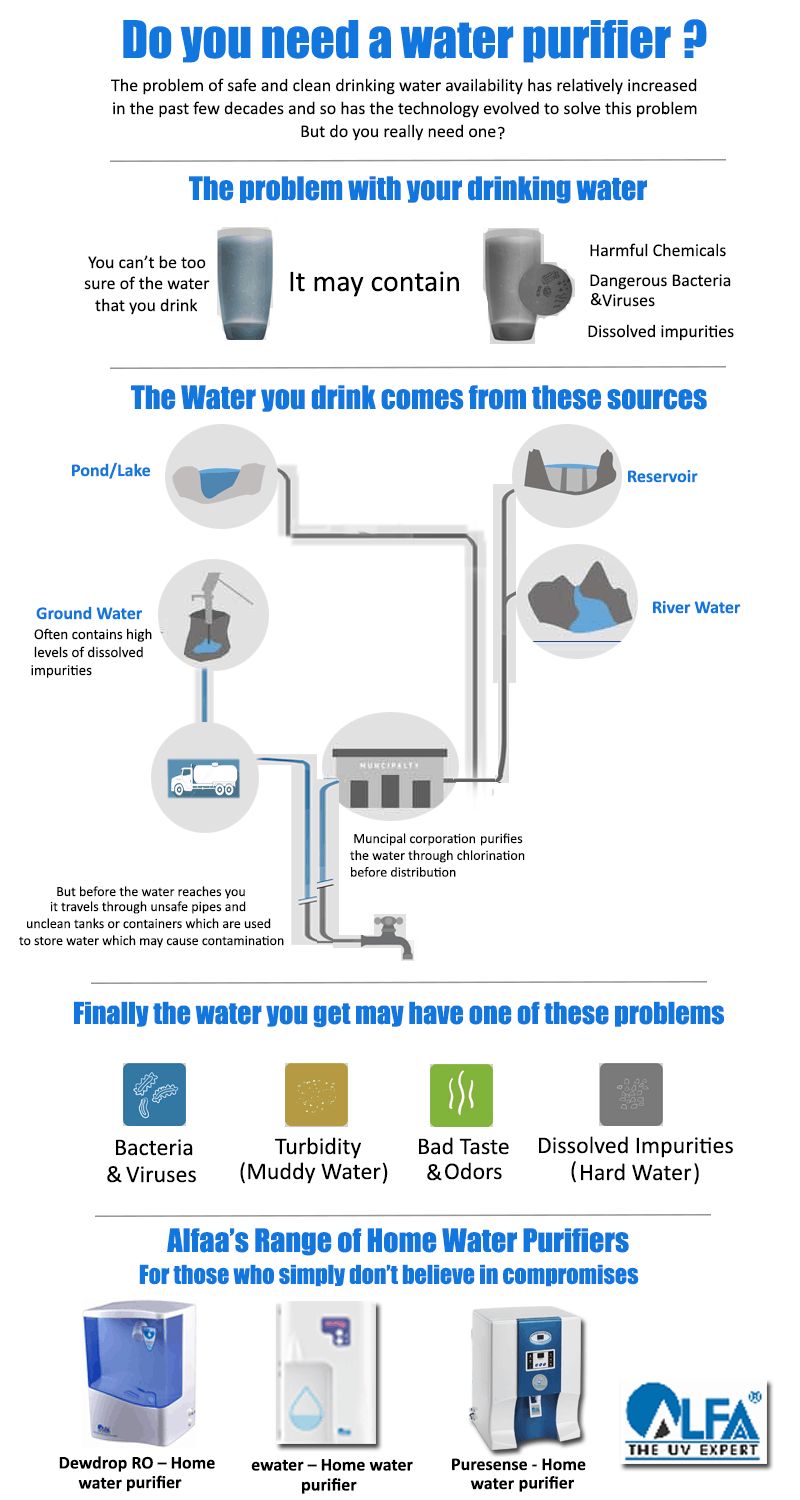 A] Common Drinking Water Problems
Harmful chemicals:  Easy availability of safe and pure drinking water is a necessity for everyone. Chemicals and toxic substances present in tap water can jeopardize your health, leading to short or long-term negative effects. High levels of chemicals in water can lead to skin discoloration, organ damage, failure of the nervous system, reproductive problems, and other chronic health issues.
Dangerous bacteria and viruses: Bacteria and viruses are microbes that can rapidly spread and cause several illnesses. These contaminants primarily come from human or animal feces. Fecal matter consists of pathogens that can be found across water sources. These pathogens can cause severe illnesses like nausea, diarrhea, fever, fatigue, headaches, and in the worst case, even death. People with weak immune systems are more likely to get these diseases from the pathogens present in the drinking water.
Dissolved impurities: Dissolved impurities is another common drinking water problem. The problems caused due to impurities are directly related to the hardness, taste, odour and quality of water. These impurities can also be toxic if their levels in the water are too high.
B] What is Your Source of Water?
Groundwater: Groundwater is the water available beneath the soil layer. It is usually obtained by drilling bore wells, tube wells, hand-pumps into the ground. This type of water source has high amounts of dissolved impurities (TDS) and is often referred to as hard water.
Ponds/lakes: Freshwater lakes and ponds are surface run-offs that have accumulated due to the depression or when a dam has been built to form a reservoir. Clean and freshwater ponds are an excellent source of drinking water supplied by municipalities for household purposes.
Reservoir: Reservoirs produce relatively dependable water sources. Many dammed river reservoirs and most bank-side reservoirs are used to provide raw water to feed water treatment plans, which then delivers it to the water mains.
River water: As a surface water source, river water consists of a continuous stream of water, ensuring low amounts of dissolved impurities. It can be used for household purposes, irrigation, industrial purposes, and to produce energy.
C] Impurities Found in Drinking Water
Bacteria and Viruses: These are not visible to the naked eyes and usually enter the water bodies through leaking septic tanks. Drinking water with disease-causing bacteria can cause illness. The presence of coliform bacteria or Ecoli can indicate the presence of pathogens in the water, which could be harmful to health.
Turbidity (muddy water): Muddy water or turbidity refers to the cloudiness of water. One of the major problems found in surface water sources is caused by either organic or inorganic materials like algae or lead particles. These particles are minute and may make the water seem cloudy or muddy. High turbidity in water also makes it unpleasing to drink. If not removed, it can promote the growth of pathogens linking to many water-borne diseases.
Bad Taste and Odour: Bad tasting and foul-smelling drinking water is an indicator of impurities. A rotten egg or sulfur smell from the water is due to the presence of hydrogen sulfide. It is caused due to the presence of certain bacteria in it. A musty or earthy odour could be a sign of dissolved solids in the water. Another common smell could be chlorine, which is often used to disinfect water. You would also come across a metallic smell from the drinking water, which may be due to the presence of mercury, iron or arsenic in it.
Dissolved Impurities: These are suspended solids mixed in the water, including dirt, harmful chemicals, biological contaminants, dust, radiological contaminants, etc. Consuming water with high dissolved impurities can lead to various illnesses and medical complications. Also, total suspended solids (TSS) – the visible particles – can also make the water appear hazy or cloudy.
D] Which Water Purifier to Buy: Things to Consider Before Buying
As a water professional having spent 20 years in this industry and specializing in UV purification of air and water (residential water purifier, commercial water purifier and industrial water purifier) here's some straightforward advice on how to go about finding a water purifier that is most suitable for you.
Check the TDS content of water: To know which is the best water purifier for Mumbai area, it is important to first understand the quality of water. A simple TDS meter carried by most sales/service staff of reputed purifier companies will determine the TDS levels in your water. TDS in water is the concentration of minerals and other impurities which are in dissolved form. If the TDS level is greater than 500 ppm – as may be the case in water supplied by tankers and bore wells – then a Reverse Osmosis (RO) based water purifier would bring the TDS levels to under 100 and improve the taste of water.
Important Update by National Green Tribunal's (NGT) Ton RO Purifiers
RO water purifiers have become the preferred water purifier in households today, thanks to aggressive advertising campaigns, and varying levels of TDS in water throughout the country. In response to a petition filed by an NGO called "FRIENDS" in Delhi, the NGT has ruled that in light of wastage of water by RO technology and adverse health effects of drinking water with a low TDS devoid of certain essential minerals, RO water purifiers be banned in areas where the TDS of water is below 500 mg/liter. Hence, the National Green Tribunal has directed the Ministry of Environment and Forests (MoEF) to issue a notification banning RO purifiers where total dissolved solids (TDS) in water are below 500 milligrams per liter. The matter is currently sub judice and no final legislation has yet been passed to this effect.
At Alfaa, we have always maintained that water with TDS of less than 500 mg/liter be further tested for dissolved pollutants before a RO water purifier be used, and only if it is warranted should RO be used for water with TDS under 500 mg/liter. Instead of low TDS water, UV purifiers are more environmentally friendly, while ensuring purity and safety of drinking water, without any wastage of water.
Read this article to know more about the RO water purification system.
If the TDS is low (below 500) – as is the case of water supplied by the municipality – a RO water purifier would serve no purpose. Here, a UV water purifier is an excellent choice.
Check facts: With jargon being thrown at you, check the meaning and implications of systems that have RO + UV, RO + UV + UF, TDS meter etc. Some of these are unnecessary and increase the cost of the equipment and maintenance without adding any real value. A TDS meter/controller is nothing but a simple flow meter meant for controlling the mix between pure RO water (devoid of minerals) and regular tap water which contains minerals. This is done so that you are not drinking water stripped of minerals.
Know the pros & cons of each technology: For example, in a residential or commercial RO water purifier, as much as 80% of the water is wasted and goes down the drain, making it environmentally unsustainable. In many non-electric storage type water purifiers, chlorine may be the chemical used for purification. In UV water purifiers, it is important to know that hard water will not become soft, and the cartridges and UV lamps need replacement at regular intervals besides regular cleaning. Understand the costs of maintaining each system and the cost of consumables before picking anyone.
Check the after-sales service track record of the company: Visit the website, check reviews on social media. See what customers are saying.
#Water Purifiers in Mumbai: Alfaa UV Residential Water Purifiers
1. Dewdrop RO Water Purifier
Alfaa UV Dewdrop RO water purifier is a 7 step water purifier with a complete purification process for every household. With its high rejection rates, it guarantees the elimination of toxic particles providing only purified and healthy water. It is ISI certified, easy to install & maintain, and has a long durable life.
Some of its benefits are:
It comes with an additional SS UV+TDS control.
It provides an automatic membrane 'Flush & Wash Facility'.
This unique RO water purifier is a fully automatic top/wall mount purifier.
It can remove hardness, heavy metals, contaminants, pesticides, etc.
Dewdrop RO water purifier comes with FREE tests, demonstration and installation.
2. Ewater UV Home Water Purifier
From the award-winning Ewater series, this water purifier introduces a new range of UV water purification for homes. Ewater Star, Ewater Super and Ewater Smart incorporate a unique five-step purification process for the first time in India. The EWater UV home water purifier has features like a UV lamp change indicator with a pre-alert system. Also, its carbon change indicator with a pre-alert assures purity without losing any beneficial minerals.
E-water's five-step purification process includes:
Inline filter – this helps remove large impurities
Sediment filter – helps remove suspended impurities
Carbon filter – effectively absorbs organic impurities
Microfilter – for added protection
UV purification – helps eliminate bacteria and viruses from the drinking water.
3. VillaPure Whole House Pure Water System
VillaPure whole house pure water system is one of the best fully automatic home water purifiers. This premium water purification system ensures you have safe and soft water in your villa or bungalow. This Alfaa pure water system comes pre-wired, pre-assembled and tested. It also requires minimum installation time.
Some of its benefits include:
It ensures soft and safe water in every tap
Hygienic water supply protecting your skin and hair
Provides 100% pure water for cooking and drinking
Along with a hassle-free automatic option, it protects from scaling and corrosion
Having said all this, good luck with your decision and cheers to the health of your family!