Reducing the Impact of Hospital-Acquired Infections with Alfaa UV Disinfection Solutions
Posted on September 15, 2020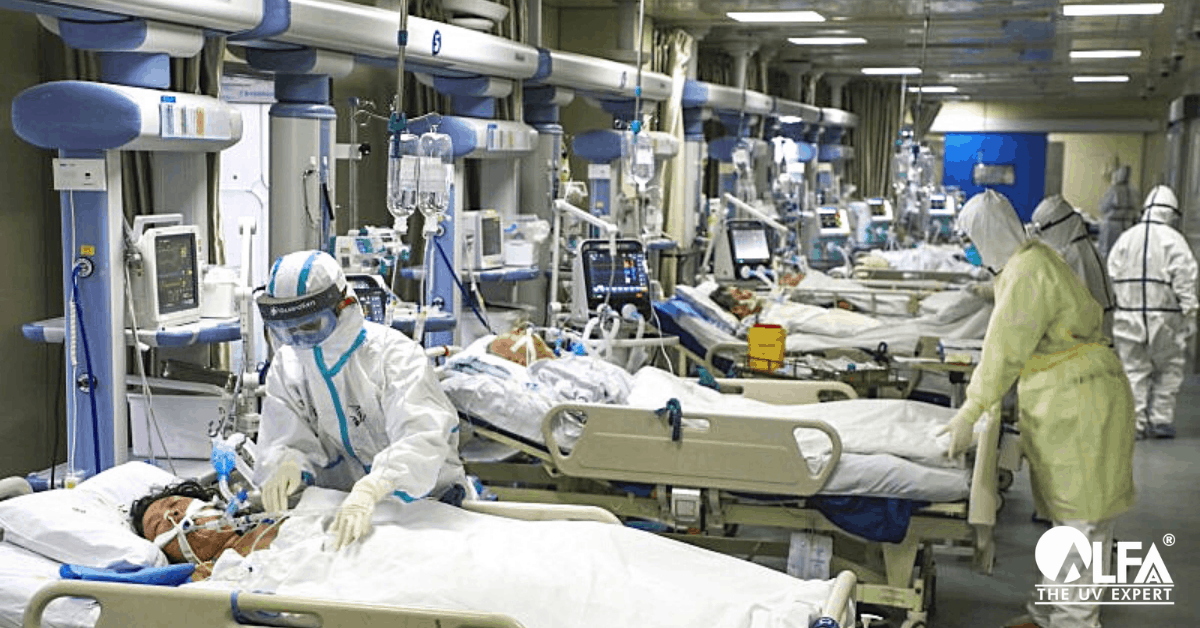 While the COVID-19 virus has created a global pandemic, our medical practitioners are striving relentlessly to attend to COVID-19 patients and contribute to research, in order to save lives. They are the actual heroes on the frontline, putting themselves at considerable risk. Health Care facilities are subject to airborne microbiological hazards that can cause infections in both patients and health care workers. Hospital-acquired infections have been a persistent problem in hospitals.
Besides using Personal Protective Equipment (PPE) for Infection Control, healthcare workers are taking other precautionary measures including cleaning and disinfection, in rigorous and conventional ways. Decontamination of patients' rooms through intensive cleaning is a basic requirement to ensure prevention of the transmission of pathogens by touching surfaces in the health care environment. Operating theatres, ICUs, general and isolation wards, waiting rooms, hospital kitchens, and washrooms among other spaces, are regularly cleaned and sanitized. Implementing best practices using the conventional methods of cleaning and manual disinfection is effective, but with the ongoing pandemic not showing any significant signs of abating, and research pointing towards transmission through droplets suspended in the air, introducing the UVGI Air Disinfection in hospitals for faster and enhanced sanitization is the need of the hour.
Methods for delivering UV disinfection
Ultraviolet germicidal irradiation (UVGI) is one of the techniques that can be used to reduce airborne pathogens in healthcare environments. With this technique, light in the 250nm to 280nm wavelength range (also referred to as the UVC range) disrupts the DNA of harmful microorganisms and renders them unable to reproduce, eliminating the spread of infection.
UVGI is primarily delivered with three systems in Hospitals:
UVGI Coil Solutions in AHUs
UVGI Duct Solutions in AHUs
Mobile UV Sterilizers for Room and Surface Disinfection
 1.UltraCOIL by ALFAA UV
Alfaa UV's ULTRACOIL UVGI System ensures deep cleaning of coils in the safest and most eco-friendly way. There is no worry about the damaging of coils, which is highly likely with conventional chemicals and scrubbing methods. The Ultracoil with its unique Parabolic Reflector System proactively removes the bio-films (layer of slimy, sticky substance that houses the bacteria, viruses, mould, spores, etc.), thus ensuring that the air does not get contaminated through the coil and drain pans.
Most importantly and especially in the present pandemic, installing a proper UVGI air disinfection system in front of the coil kills such microorganisms and viruses (Coronaviruses as well), hence disallowing the formation of a biofilm and arresting the transmission of pathogens in the AHU itself.  Other benefits of a  clean coil  ( which decreases the pressure drop across itself,) results in the following;
Increase in the thermal efficiency (sensible loads) of the cooling coil.
Decrease in the load on the chiller – hence saving energy on chiller by 10-15%.
Reduction in microbial counts >15 %.
Increasing the life of a coil by avoiding manual cleaning.
Earning IGBC (Indian Green Building Council) points.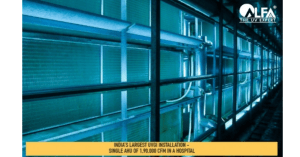 2.UltraDUCT by ALFAA UV
Airborne contamination comes from a variety of sources and circulates majorly through the HVAC system. In-duct ultraviolet germicidal irradiation (UVGI) systems treat moving airstreams in heating, ventilation, and air-conditioning (HVAC) systems by inactivating airborne microorganisms found within. Airborne transmission of diseases through HVAC systems is much more prevalent nowadays than previously encountered.
Alfaa UV's ULTRADUCT solution provides assured single pass disinfection of airborne bacteria and viruses. It is installed in supply or return ducts. The Ultraduct also increases the life of HEPA (High-Efficiency Particulate Air) by reducing the load of live organisms. There are various benefits of installing ULTRADUCT in HVAC systems, some of which are listed below:
Improves Indoor air quality.
Helps in eliminating Sick Building Syndrome.
Increases the life of HEPA.
Scientifically designed systems are sized using our proprietary sizing tools based on extensive research.
Computational flow dynamics (CFD) and UV radiation profile modelling details used to make the system highly efficient and effective.
Scientifically engineered positioning of UV lamps for air disinfection ensures delivery of optimum UV dosage and maximum efficiency in killing microorganisms.
Can target specific bacteria as per requirement.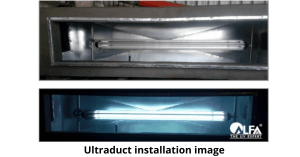 3. STERO-360 UV Sterilizer
With over 22+ years of expertise in UV technology, ALFAA UV has introduced STERO-360 UV Sterilizer for hospitals, which is an enhanced range of UV sanitizers, to help fight COVID-19 more effectively. A sterilizer that is chemical-free, powerful, and extremely convenient to use, making it the perfect choice for ensuring the safety of individuals within medical facilities including hospitals and nursing homes.
The STERO-360 mobile UV Sterilizer machine for hospitals kills more than 99.99% of bacteria and viruses from any given contaminated space, within minutes. The STERO 360 – UV room sterilizer has standard dimensions to make it compact, and being portable, is easily transportable between rooms.
The STERO-360 UV sterilizer for hospitals uses UVC light with germicidal properties which, over time has demonstrated significant effectiveness against the surface, air, and water-borne pathogens, and diseases caused both by bacteria and viruses.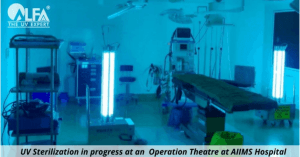 There are many reasons to choose the STERO-360 UV sterilizer along with our Duct and Coil solutions for your air disinfection in hospitals, nursing homes, or clinics. To know how we can help you create a COVID free space, call us today on 9833516650 / 8879336026 or visit us at https://www.alfaauv.com/products/ultrahvac/