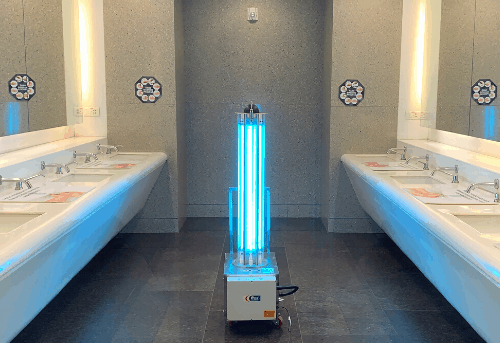 Looking for a room sanitizer machine? Here's presenting STERO-360, which is a new line of specialized UV Sterilizer machines that can eliminate more than 99.99% of bacteria and viruses on contaminated surfaces within minutes.
About the STERO-360: Mobile UV Room Sterilizer
This UV sanitizer machine is a High-performance mobile UV sanitizer with 6 high-intensity UL certified UVGI emitters(Ozone free).
High efficiency energy distribution system to increase the irradiated UV dose on target by >100%.
This ultraviolet sanitizer machine comes with pre-set functionality which ensures that the device is placed in an ideal location in the room every time.
This UV room sterilizer also eliminates operator error, which is critical for effective sanitation.
The STERO-360 Machine is safe, controlled by any Wi-Fi enabled smart device and its easy to use interface makes selecting the right disinfection cycle, always an easy one.
This UV sterilizer machine is also equipped with Realtime performance validation with NIST/ US FDA approved PRISM technology-ensures complete sanitation every single time.
STERO-360 Mobile UV Disinfection Tower: Safety and Portability
STERO-360 UV sterilizer lamp device is highly efficient due to its mobility and compact size. Moreover, with its strong Power cords and internals, it has the capacity to run all day continuously. Only protective goggles, glass shields, and PPE are required to operate this portable UV room sterilizer or else it can run on its own and can be scheduled & set up with a timer.
Advantages of STERO-360 UV Room Sterilizer
This UV sterilizing machine comes with an automated UV blaster disinfection system that requires minimal human intervention
This mobile sanitizer machine is also easy to install, operate, and handle. So any level of staff members can operate this sterilizer machine for sanitization.
This mobile UV disinfection tower/machine is of a convenient size and can be easily moved around from one room to another.
With this portable UV disinfection tower, the surface disinfection happens without any direct touching of objects, which ensures fewer chances of the machine being contaminated in any way.
UV Sterilizer Lamp Technology
Long lamp technology helps in better coverage of sterilization. The 360-degree coverage through UV radiation ensures the least shadow areas i.e. areas where you cannot reach through any usual cleaning mechanism, inside wardrobes, through walls, corners can be sanitized easily.
Performance statistics are stored per cycle of usage. This includes information about the number of pathogens and harmful microorganisms depleted, the types, the observations pertaining to the same, alongside other technical and biological details. This will help in monitoring, the frequency at which the sterilization is required for each area.
Unlike conventional UV disinfection units, The STERO-360 portable UV sanitizer system employs high-intensity UV-C towers to efficiently deactivate pathogens without having to reposition the U.V. system.
Applications of STERO-360 UV Room Sterilizer Machine
We assure you efficient sterilization with this wonderful life-saving entity. The applications of this portable UV disinfection tower include offices and meeting rooms, Factories & Warehouses, Restaurants, Hotels, Pantries, Washrooms, Meeting Rooms, Gymnasiums, Hospitals and Nursing home, Quarantine centers.
If you are searching for room sanitizer machine that includes UV light for room disinfection, then STERO-360 mobile sterilizer is just what you need.
FAQ's – UV DISINFECTION SYSTEMS