Use of UV systems in hotels and restaurant chains- An article by Rajul Parikh in Food & Hospitality World
Posted on October 15, 2015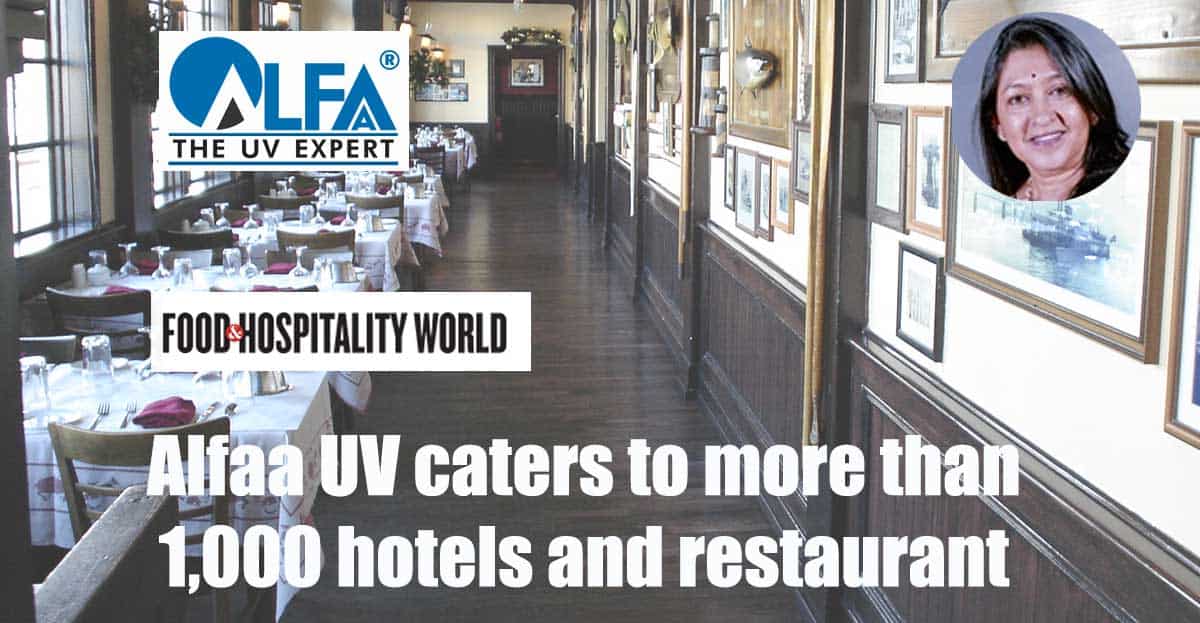 In an interview given to Food and Hospitality World (Financial Express), Rajul Parikh, co-founder, director, Alfaa UV talks about the water and air UV disinfection applications and the UV systems used in the hotels and restaurant chains.
Hospitality industry is one of the largest industries in India which always has heavy requirement of water for drinking and cooking. In most hotels and restaurants point of entry (POE) and point of use (POU) systems are used according to the need.  Alfaa UV caters more than 1,000 hotels and restaurant chains for centralized disinfection, POE disinfection, POU disinfection, waste water and process water disinfection, swimming pool disinfection and HVAC UV disinfection.
Point of entry (POE) systems as name suggests are the water disinfection systems used at a point where supply enters into the building. Point of entry UV systems purifies the water by destroying bacteria present in the water at the entry only. This system makes sure that purified water reaches every tap in the building. Point of use (POU) water disinfection systems are used to disinfect the water just before using it for cooking or drinking. These systems help to maintain water quality and good taste for drinking, cooking or making your favourite drink.  Alfaa UV has UV systems like HiFlo UV and EcoStream UV which are used for POE and centralized disinfection applications.
Speaking to Food and Hospitality World, Rajul Parikh said that the hospitality industry also has large requirements of water for gardening, cooling towers and toilet flushing. There recycled water is being used to conserve the water.  Alfaa's WWR (Waste Water Recycling) series are successfully used to post STP to disinfect the sewage water without using chemicals.
Alfaa's UltraPool UV systems are used in swimming pools and spa disinfection. It reduces the use of chlorine in the disinfection. Chlorine generates cancer causing by-products therefore reducing the use of chlorine helps to reduce the chances of cancer and skin infections.
In hotels and restaurants, indoor air quality (IAQ) and air contamination can be a concern as hundreds of guests visit the place every day.  Hospitality industry focuses on the best service and leisure for their guests therefore maintaining healthy air in the building and its rooms is a challenge for many hotels and restaurants. For maintaining the HVAC systems hoteliers spend millions and major amount is spend on the electricity and maintaining cooling coils. Alfaa's UltraHVAC UV series systems are suitable for such situations.
Read full article here.
Publication: Food and Hospitality world.
Check the products range for hospitality industry here