The Spike in demand for UV air disinfectants in the hospitality industry amid the corona-crisis
Posted on October 23, 2020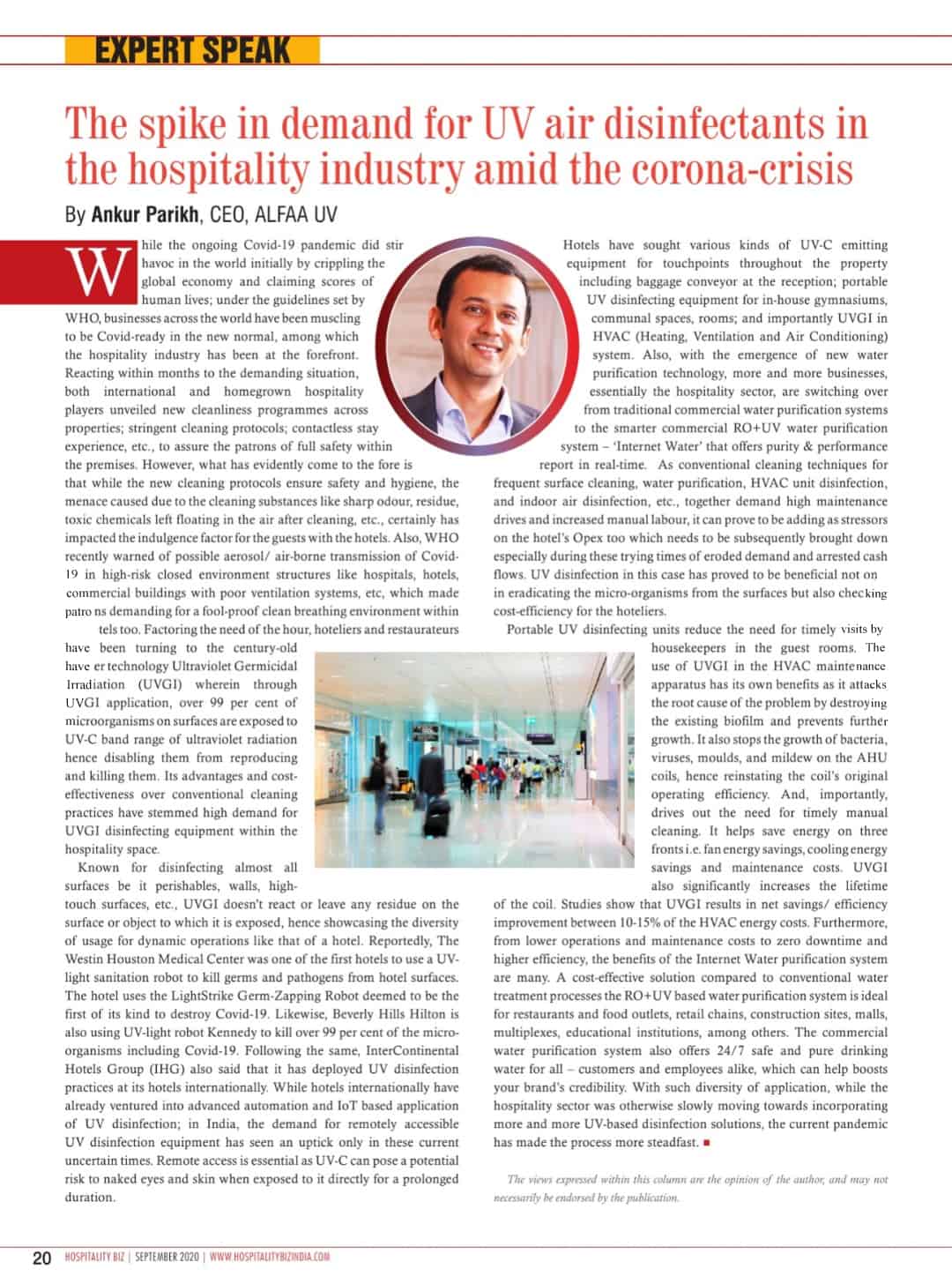 While the ongoing Covid-19 pandemic did stir havoc in the world initially by crippling the global economy and claiming scores of human lives; under the guidelines set by WHO, businesses across the world have been muscling to be Covid-ready in the new normal, among which the hospitality industry has been at the forefront. Reacting within months to the demanding situation, both international and homegrown hospitality players unveiled new cleanliness programs across properties; stringent cleaning protocols; contactless stay experience, etc., to assure the patrons of full safety within the premises. However, what has evidently come to the fore is that while the new cleaning protocols ensure safety and hygiene, the menace caused due to the cleaning substances like sharp odour, residue, toxic chemicals left floating in the air after cleaning, etc., certainly has impacted the indulgence factor for the guests with the hotels. Also, WHO recently warned of possible aerosol/ air-borne transmission of Covid-19 in high-risk closed environment structures like hospitals, hotels, commercial buildings with poor ventilation systems, etc, which made patrons demanding for a fool-proof clean breathing environment within the hotels too. Factoring the need of the hour, hoteliers and restaurateurs have been turning to the century-old cleaner technology Ultraviolet Germicidal Irradiation (UVGI) wherein through UVGI application, over 99 percent of microorganisms on surfaces are exposed to UV-C band range of ultraviolet radiation hence disabling them from reproducing and killing them. Its advantages and cost-effectiveness over conventional cleaning practices have stemmed from the high demand for UVGI disinfecting equipment within the hospitality space. 
Known for disinfecting almost all surfaces be it perishables, walls, high-touch surfaces, etc., UVGI doesn't react or leave any residue on the surface or object to which it is exposed, hence showcasing the diversity of usage for dynamic operations like that of a hotel. Reportedly, The Westin Houston Medical Center was one of the first hotels to use a UV-light sanitation robot to kill germs and pathogens from hotel surfaces. The hotel uses the LightStrike Germ-Zapping Robot deemed to be the first of its kind to destroy Covid-19. Likewise, Beverly Hills Hilton is also using UV-light robot Kennedy to kill over 99 percent of the micro-organisms including Covid-19. Following the same, InterContinental Hotels Group (IHG) also said that it has deployed UV disinfection practices at its hotels internationally. While hotels internationally have already ventured into advanced automation and IoT based application of UV disinfection; in India, the demand for remotely accessible UV disinfection equipment has seen an uptick only in these current uncertain times. Remote access is essential as UV-C can pose a potential risk to naked eyes and skin when exposed to it directly for a prolonged duration.
Hotels have sought various kinds of UV-C emitting equipment for touchpoints throughout the property including baggage conveyor at the reception; portable UV disinfecting equipment for in-house gymnasiums, communal spaces, rooms; and importantly UVGI in HVAC (Heating, Ventilation, and Air Conditioning) system. Also, with the emergence of new water purification technology, more and more businesses, essentially the hospitality sector, are switching over from traditional commercial water purification systems to the smarter commercial RO+UV water purification system – 'Internet Water' that offers purity & performance report in real-time.  As conventional cleaning techniques for frequent surface cleaning, water purification, HVAC unit disinfection, and indoor air disinfection, etc., together with demand high maintenance drives and increased manual labour, it can prove to be adding as stressors on the hotel's Opex too which needs to be subsequently brought down especially during these trying times of eroded demand and arrested cash flows. UV disinfection in this case has proved to be beneficial not only in eradicating the micro-organisms from the surfaces but also checking cost-efficiency for the hoteliers.
Portable UV disinfecting units reduce the need for timely visits by housekeepers in the guest rooms. The use of UVGI in the HVAC maintenance apparatus has its own benefits as it attacks the root cause of the problem by destroying the existing biofilm and prevents further growth. It also stops the growth of bacteria, viruses, moulds, and mildew on the AHU coils, hence reinstating the coil's original operating efficiency. And, importantly, drives out the need for timely manual cleaning. It helps save energy on three fronts i.e. fan energy savings, cooling energy savings, and maintenance costs. UVGI also significantly increases the lifetime of the coil. Studies show that UVGI results in net savings/ efficiency improvement between 10-15% of the HVAC energy costs. Furthermore, from lower operations and maintenance costs to zero downtime and higher efficiency, the benefits of the Internet Water purification system are many. A cost-effective solution compared to conventional water treatment processes the RO+UV based water purification system is ideal for restaurants and food outlets, retail chains, construction sites, malls, multiplexes, educational institutions, among others. The commercial water purification system also offers 24/7 safe and pure drinking water for all – customers and employees alike, which can help boosts your brand's credibility. With such diversity of application, while the hospitality sector was otherwise slowly moving towards incorporating more and more UV-based disinfection solutions, the current pandemic has made the process more steadfast. 
Read the full article published by Hospitalitybiz on page no. 20 here: https://bit.ly/3mxkMqe