Drink Technology Expo – 2017
Event date: October 28, 2017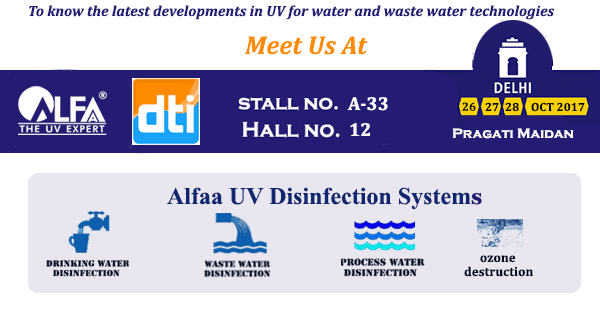 Drink Technology Expo is a 3-day event being held from 26th to 28th October 2017 at the Pragati Maidan, Delhi.
Drink Technology India is the leading platform for the Indian food and beverage industry. The event offers a unique combination: the trade fair also works as a top-selling marketplace and as a future-oriented knowledge center.
Water is used in the entire food production process. In the food and beverage processing industry, quality of water is given high importance as it decides the taste, color, and odor of the product. Water plays an important role in determining the shelf life of the product.
Bacterial presence in water used in the process of manufacture can cause damage to these perishable products, and can significantly decrease the shelf life while posing grave health risks.
It is very important for food and beverage industry to maintain proper hygiene along with providing the best tasting food and beverage, to retain loyalty and regularity amongst customers
Alfaa UV water disinfection systems help to achieve that standard water quality, as per specifications laid down by the FDA
Alfaa UV is pleased to welcome you to visit our booth (Stall: A-33). It will give you a comprehensive look at our machinery and products. It will be the perfect opportunity to get to know each other better and learn more about what we have to offer you.
We will be presenting some of our exciting products for industrial applications, such as :
Your presence will do us great honor and we are looking forward to seeing you.