The Use Of Upper-Room UVGI System For Air Disinfection During COVID-19 Pandemic
Posted on July 27, 2021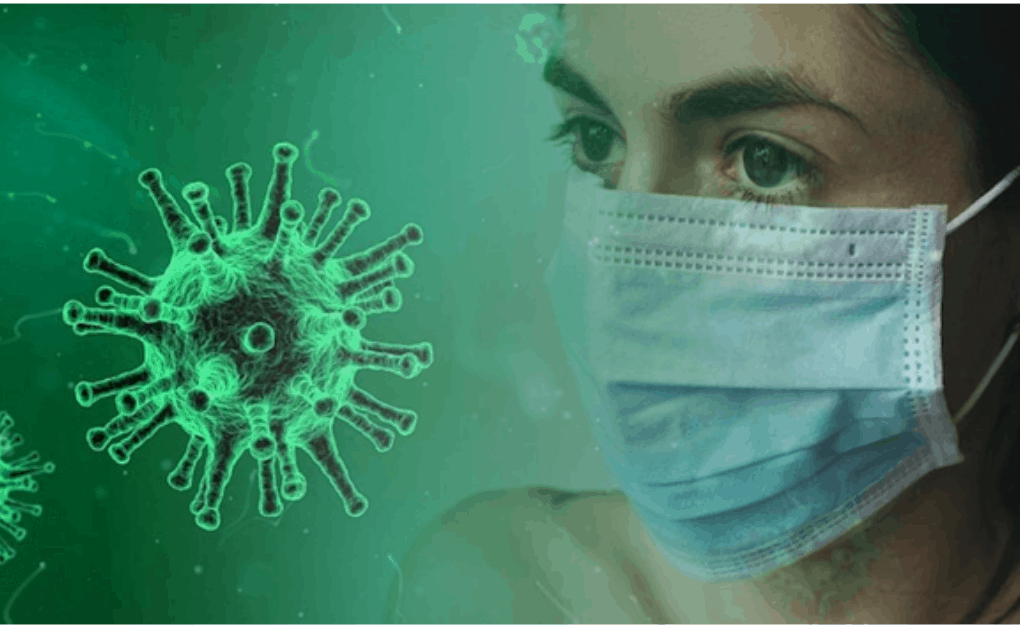 COVID-19 & Air Disinfection
The SARS-CoV-2 (COVID-19) pandemic has created an unprecedented demand for germicidal ultraviolet (UV) light irradiation equipment, marking a turning point for an underutilized technology for infectious disease control in buildings. For nearly a century, ultraviolet germicidal technology has been effectively used to destroy surface and airborne microbes such as tuberculosis, measles, and more. But for reason, its applications have mostly been limited to such high-risk locations as emergency rooms and surgical suites. That changed in the months following the COVID-19 outbreak. Suddenly a variety of facilities are looking for ways to safely return to normal. Not surprisingly, their search led many to ultraviolet germicidal irradiation (UVGI), and specifically to upper-room (UVGI), as a way to mitigate the risk of infection.
An unpublished study by Fears et al. shows that SARS-CoV-2 is able to maintain its infectivity when suspended in the aerosol form for up to 16 hours. There are fears that these aerosols can be breathed in by healthy people in the same room as the infected person. Swab tests taken from the exhaust outlets in a patient room show a positive result. It suggests that airflows may displace coronavirus-laden droplets.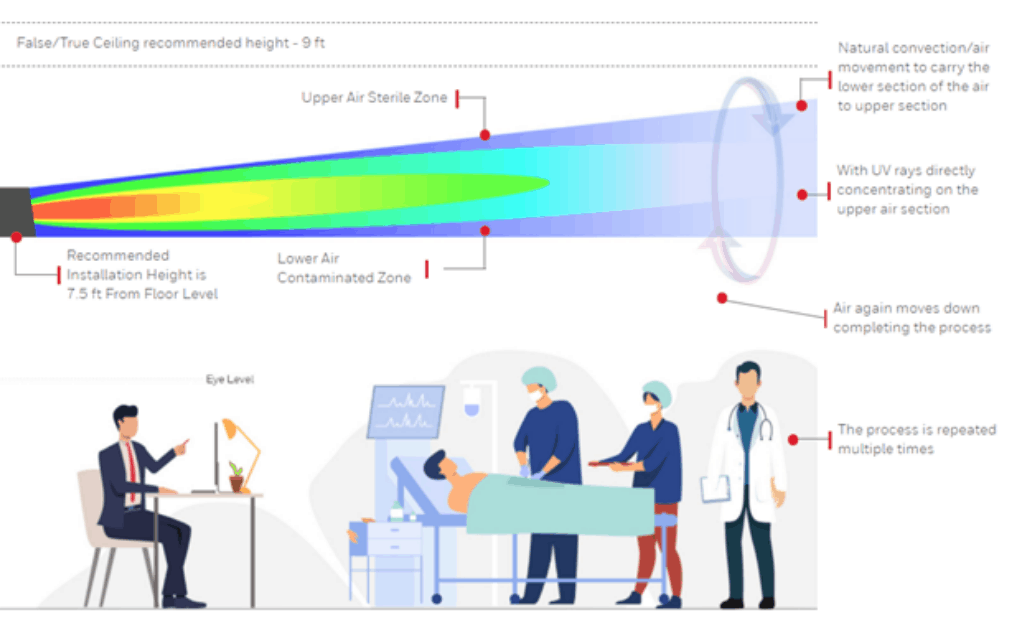 With all recent studies suggesting that this coronavirus may linger in the air for extended periods of time, the need to disinfect the air is crucial. This idea of air disinfection reminds us of the powerful method we have long discovered in the past. And that is UV light.
What Research Says
Early successes in developing the upper-room UVGI system can be traced back to the 20th century. In 1941, William F. Wells conducted a study to evaluate the effectiveness of this system in preventing the spread of measles among students in Philadelphia day schools. Results showed that 53.6% of those susceptible in schools without upper-room UVGI were infected, while only 13.3% of susceptible were infected in schools with upper-room UVGI. This corresponds to the measure taken by McLean during 1957-1958 to prevent the spread of the flu pandemic. The effort showed a successful outcome as the infection rate was only 1.9% in an irradiated ward compared to an 18.9% infection rate in a non-irradiated ward.
Upper room UVGI – The most Effective and Safest UVGI method
Upper-room or upper-air UV fixtures emit UV-C rays above people's heads. These fixtures are placed on walls in occupied rooms. The UV-C never comes into direct contact with our skin or eyes, so the fixtures are safe to run constantly (as long as they are properly mounted). The image below shows how upper-air fixtures should work. They can only be used in buildings with ceilings at least seven feet high.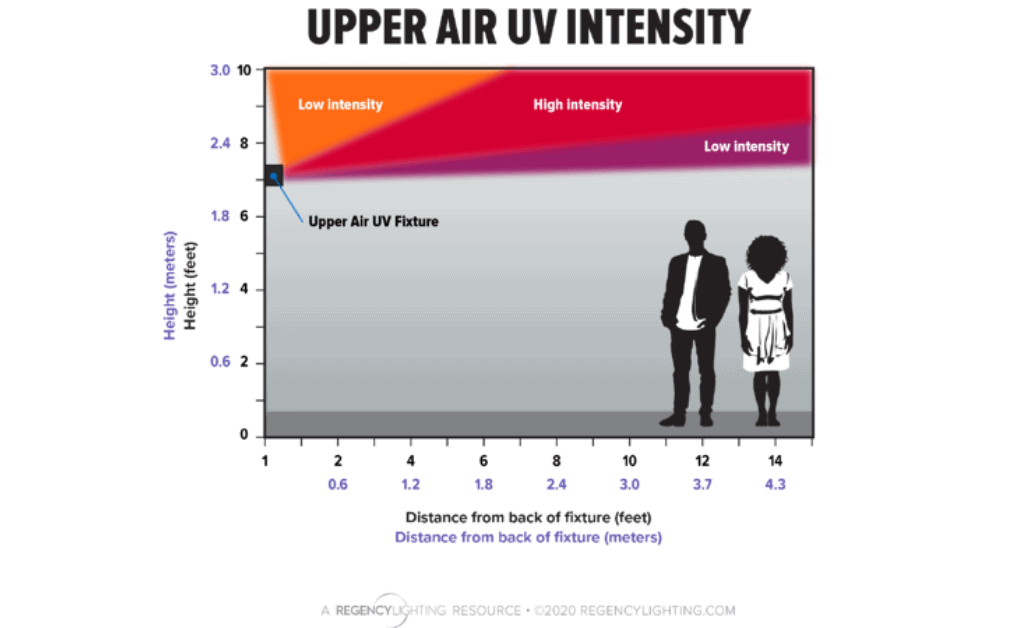 According to CDC, UVGI kills airborne pathogens in the room where they are released, and fixtures are installed to prevent direct UV exposures to people in the room. The agency recommends UVGI for indoor spaces with insufficient or no mechanical HVAC systems or spaces where adequate natural ventilation cannot be maintained year-round. UVGI can be used in high-risk indoor settings such as hospital waiting rooms and other areas where sick people are likely to be; crowded spaces like lobbies; restaurants, break rooms, cafeterias, and other places where people remove masks to eat or drink; and areas where it is difficult to maintain six feet of distance from others.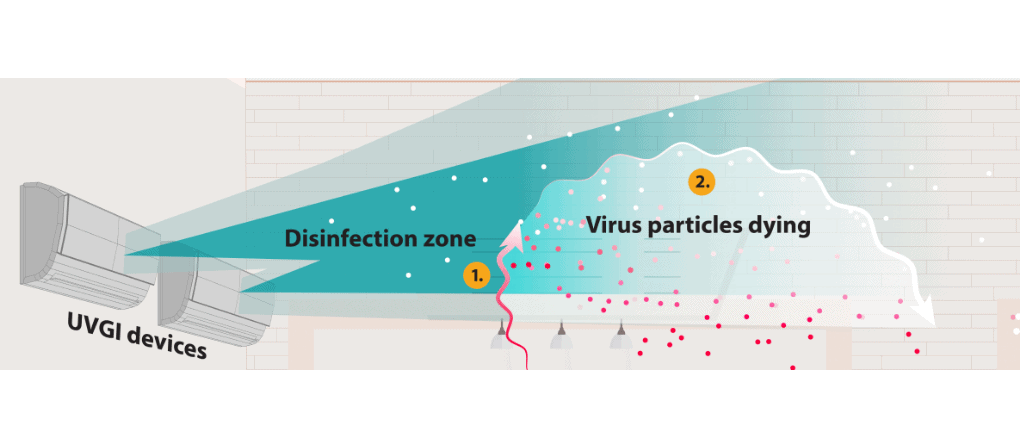 As per ASHRAE's "Position Document on Airborne Infectious Diseases", upper room UV must become a common feature of buildings. Upper room UV is effective against all types of viruses and bacteria, including those used for bioterrorism. The technology is well-researched and developed. It's been shown to be quite effective in all studies of representative environments and it's easily retrofitted in many building types, including hospitals, health clinics, urgent care locations, childcare facilities, colleges, prisons, jails, virtually all building types. Its cost-effectiveness supports its use over the alternatives of dilution and filtration. The foregoing facts support the value of using upper room UV-C for infectious diseases such as colds and flu and all other infectious agents.
Different types of ventilation systems will definitely affect the effectiveness of upper-room UVGI you want to employ. A proper design must ensure that the air circulation in the room reaches the optimum air change rate and promote air mixing while maintaining the indoor comfort condition. Technically, UVGI should disinfect the air as much as possible.
Another significant parameter is the UVGI dose delivered to the microorganisms, which is dependent on the UV irradiance and exposure time. The key difference between surface and air disinfection lies in this length of exposure time. Due to the rapid movement of air circulated within the room, the irradiance should be sufficiently high to achieve the appropriate amount of UVGI dose.
Other parameters include room configuration, UVGI fixture placement, and air flow's adequacy in bringing contaminated air into the upper room.
Alfaa UV's STERO-UP UVGI SOLUTIONS
Alfaa UV, a company with more than 2 decades of experience in UV technology, offers UVGI solutions for surfaces, upper air, and HVAC applications. In the present times, UVGI solutions offered by Alfaa UV have been used to mitigate the risk of rapid infections within closed spaces.  Here we talk about the STERO-UP Upper-Air UVGI solution which has a wide impact and applicability.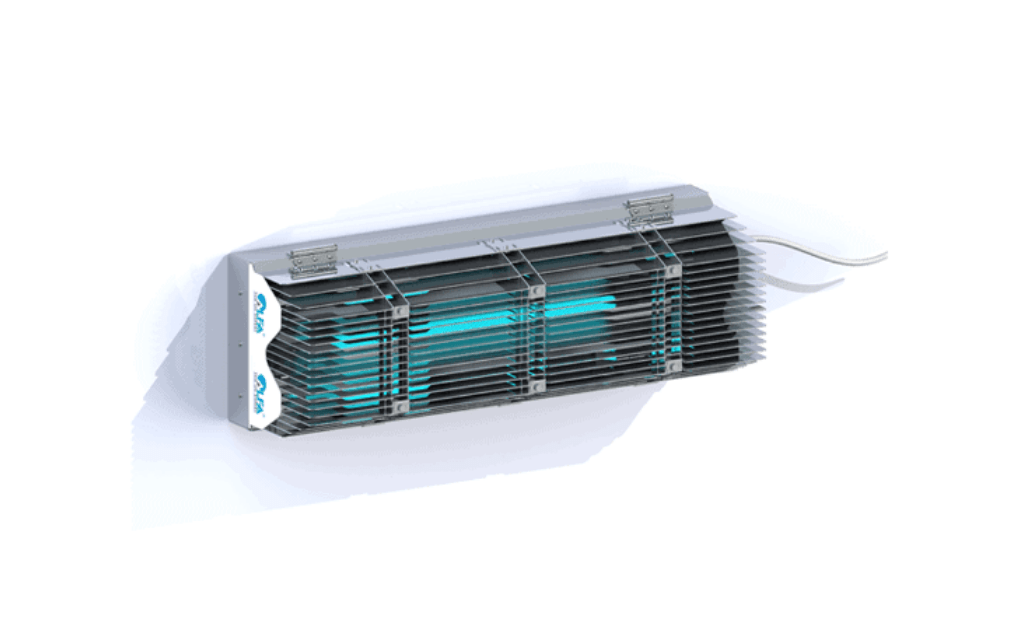 Alfaa UV's new range of disinfecting appliances, STERO-UP Upper-Air UVGI Systems, involve exceptionally potent germicidal UV irradiation, having extensive coverage of the upper sections of any given room. The advanced engineered upper air purification systems can be installed just like an air conditioner, at a safe height, and aids in superior infection control using powerful UVC irradiation.
FEATURES AND BENEFITS
Simple – STERO-UP operates without interruption 24/7/365 and does not interfere with the current staff workflow.
Seamless– Designed with today's critical architectural and clinical considerations at the forefront.
Effective – Using the advanced UV -light purification technology, laboratory studies have shown effective removal of bacteria, fungus, and viruses from the air.
Quality– Improves Indoor Air Quality (IAQ) by reducing bacteria, viruses, and fungi, therefore minimizing the risk of colds, flu, allergies, and other illnesses
Clean– Continuously clean upper air in rooms, reducing airborne and/or bio-aerosol transmission of bacteria, viruses, and fungi
Zero Ozone– Produces no ozone or other secondary contaminants.