Rapid Sanitization of Gym and Fitness Centres Using STERO-360 Mobile UV Sanitizer
Posted on August 5, 2020
The Unlock 3.0
Unlock 3.0 brings with it the long-awaited reopening of gyms and fitness centres although with a few important rules and regulations. As the regulations come into effect from August 5 onwards, it is important to stay informed and follow the necessary precautions in order to keep yourself and your clients safe. But we know that once you get the green light to reopen, everything about running your fitness business will be different. From day-to-day operations like cleaning the premise, sanitization of the equipment, and the number of people allowed into your studio at any given time, to the way your staff and members will be kept safe during the cleaning protocol.
Cleaning and hygiene protocol in the "New Normal"
Before COVID-19, gyms and studios were being cleaned on a regular basis, but those measures simply won't be enough when they re-open. One of the main obstacles that Gyms face in the current crisis is instilling confidence within their members when in actual fact, many members are still reluctant to return to their workouts at this time. The fear is very real for many and they have not yet got the confidence to believe that Gyms are safe enough to visit. To meet the demands of the new normal, it is absolutely necessary to update the existing maintenance protocol by including additional measures for the disinfection of gyms and fitness centres, besides following rules of social distancing, wearing of masks, and hand hygiene: before, during and after the workout.
It is important to mention here that respiration is enhanced during a workout and gyms tend to generate a larger number of microorganisms by way of labored breathing and increased perspiration which land on the surfaces of equipment making them unsafe, especially in the present COVID  time.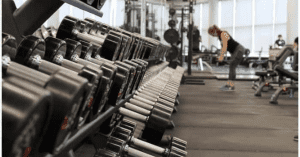 Therefore, the enhanced cleaning protocol should address the following questions:
Which areas and equipment need extra attention and disinfection?
What type of disinfection is appropriate?
How often and at what frequency should disinfection take place?
What personal protective equipment (PPE) is needed?
Safety issues for existing customers and trainers
Is the process foolproof?
Even after addressing the aforesaid concerns, the question still persists around Is the surface reliably cleaned and virus-free?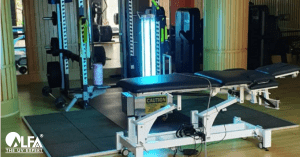 What if a portable device can help Fitness Centres sanitize efficiently and effectively?
UV has become the new buzzword in disinfection during COVID times. Many establishments are turning to UV Disinfection as a method of sanitizing rapidly to instill confidence in their members.
But using just any UV device will not give foolproof results and may cause greater harm than good. While UVC is a very powerful germicide, it comes with certain safety issues that need to be adhered to.
With over 20 years of expertise in UV technology, ALFAA UV has introduced STERO-360 – Room and Surface UV Sanitizer, an enhanced line of UVC sanitizers, to help fight COVID-19 more effectively. A sterilizer that is powerful, yet convenient to use, being the perfect choice for ensuring the safety of every individual within the premise.
How does STERO-360 mobile UV sanitizer work?
The STERO-360 sterilizer machine comes with a pre-set functionality, which ensures that the device is placed at an ideal location in a given space, each time.
The STERO-360 is a high-performance mobile UV sanitizer with 6 high-intensity, UL certified UVGI emitters (Ozone free).
The STERO-360– UV disinfection system involves minimal human intervention.
STERO 360 is easy to install, operate, and handle, resulting in easeful operation by staff members.
The STERO-360 is a mobile UV room sterilizer that is conveniently portable from one room to another, due to its suitable dimensions.
Surface disinfection happens without directly touching any object, thus ensuring the least chances of STERO 360 being contaminated in any way.
The STERO-360 is safe for usage, can be controlled by any Wi-Fi enabled device including smartphones; the interface is easily understandable and eases in choosing the right disinfection cycle.
The STERO-360 is also equipped with an integrated data logger, allowing each disinfection cycle to be easily recorded.
Watch the video on how STERO-360 works.
Call us today on 9833516650 / 8879336026 to know how STERO-360 is being used by commercial establishments to make working spaces virus-free, or visit here and leave us a message.