Keep IPL Players Safe with UVGI Technology – Alfaa UV
Posted on May 18, 2022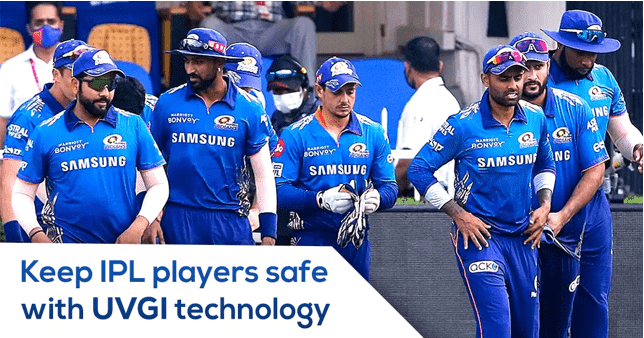 Have you ever wondered how the world's most eagerly awaited sporting event,  IPL 2022 (Indian Premier League), which began last month in Mumbai, is ensuring that cricket players, teams, and IPL staff are safe from airborne diseases? When you walk into a dressing room at halftime, you see players sitting next to each other, sweaty and breathing hard. This is exactly the kind of environment in which a virus thrives. Airborne particles pose a significant transmission risk, necessitating the use of UVGI technology. (Aerosol Susceptbility of Influenza Virus to UV-C Light, 2012.)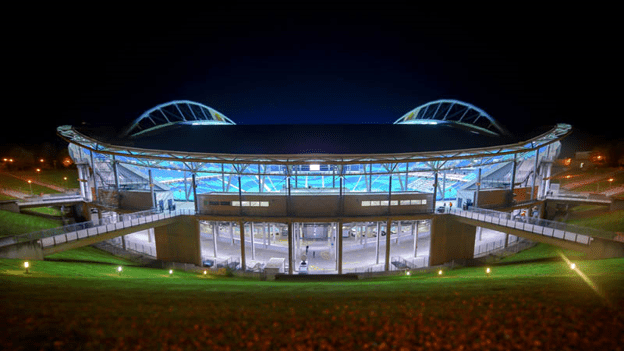 According to the WHO, " the spread of airborne pathogens particularly in specific indoor locations, such as crowded and inadequately ventilated spaces over a prolonged period of time with infected persons cannot be ruled out".  239 scientists from 32 countries had written an open letter to the WHO, outlining the evidence showing that smaller particles can infect people. Whether carried by large droplets that zoom through the air after a sneeze, or by much smaller exhaled droplets that may glide the length of a room,  infecting people when inhaled, the scientists said. As a result, air purifiers must be used in indoor spaces.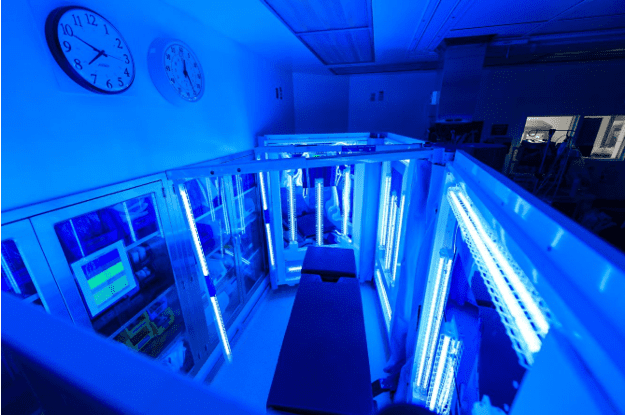 Ultraviolet-C (UV-C) technology is now being used by some of the most forward-thinking cricket and football clubs around the world to provide an extra layer of protection in the fight against airborne viruses. UVGI-based air purification technology is proving to be crucial in the ongoing battle to keep clubs open and fixtures playable, assisting in the protection of staff, coach, and players during these trying times.
Are UV Rays Effective in Disinfecting Air and Surfaces of the Covid-19 Virus?
The question assumes importance as the world emerges from prolonged lockdowns, with offices, gyms, hotels, and restaurants all climbing the ladder to full occupancy.  At a time like this, when compared to chemical disinfectants, UV technologies offer a lot of benefits

There are many scientific studies that claim they do. A study by scientists and physicians at the Columbia University Irving Medical Centre found that more than 99.9 percent of seasonal viruses present in airborne droplets were killed when exposed to a particular wavelength of ultraviolet light. "Based on our results, continuous airborne disinfection with far-UVC light at the current regulatory limit could greatly reduce the level of airborne virus in indoor environments occupied by people," said the study's lead author David Brenner. UV-C light with a wavelength of 254nm has been proven to be a powerful disinfectant. The time it takes to break down the virus's DNA/RNA and inactivate it varies depending on the strength of the light source and its proximity to the contaminated surface.
So How Could a Cricket Stadium Make Use of This Technology?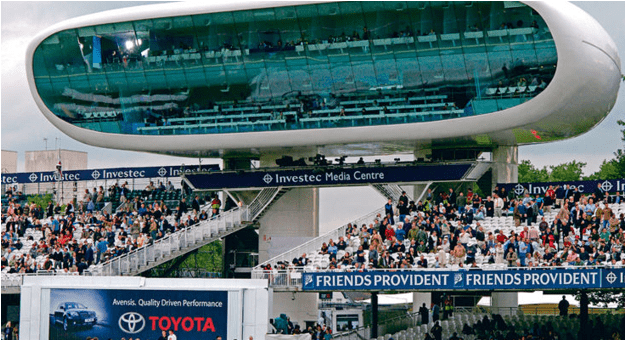 Let's get back to that sweaty half-time dressing room. Airborne particles are a major source of transmission, so air disinfection is critical. Spores, mold, bacteria, fungus, and even viruses (including Coronavirus) have been known to grow exponentially in HVAC systems (Heating, ventilation, and air conditioning). Because viruses, bacteria, and other pathogens can be transmitted through the air-conditioning ducts, this can result in an unhealthy environment on the premises. Thus, using the Ultraviolet Germicidal Irradiation (UVGI) System for air purification is one of the best ways to prevent this transmission and disinfect the air and indoor spaces. In poorly ventilated spaces UVGI Upper Room air purifier systems can be fitted onto ceilings and walls. Air from the upper levels of the room pass through a disinfection zone before being circulated back to the lower levels via natural or mechanical convection.
Alfaa UVGI Technology in a Post-vaccine World

There is a strong case for UVGI-based air purification technology even after the COVID-19 vaccine has been rolled out. This is because UV-C light has been shown in scientific studies to be effective against all viruses, bacteria, and mold spores. All viruses tested to date, including the common cold virus and seasonal flu virus, can be inactivated by UV-C light.
UVGI is a highly specialized technique for air purification. To upgrade your HVAC with UVGI, you'll need a reliable and experienced partner like Alfaa UV. All air passing through Alfaa UV's Ultra Coil and Ultra Duct UVGI systems is disinfected as it re-circulates in indoor spaces, thanks to world-class UVC lamps and unmatched Reflector Technology with UL Certification. The design ensures that the air is completely exposed to the UVC system.
It's not just cricket stadiums that can benefit from this technology. Hospitals, restaurants, commercial offices, schools etc are installing UVGI air purifiers. If the pandemic has taught us anything, it is the need to take measures to keep people safe. From cricket players to shoppers, UVGI technology can help do this.
Get in touch with Alfaa UV today to get the best air purifiers for your commercial spaces.