CAN UVGI SOLUTIONS KEEP SCHOOLS SAFE AMIDST CONCERNS OF AIR QUALITY?
Posted on November 23, 2021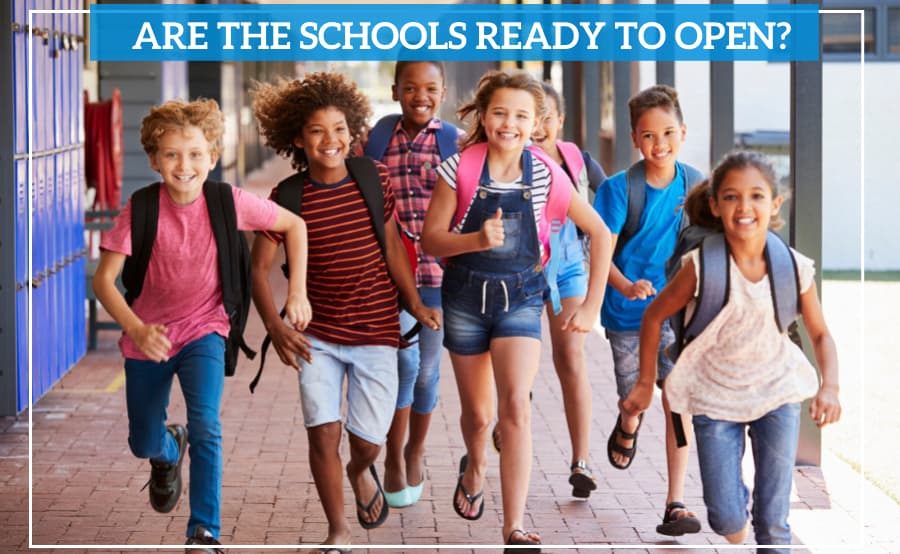 Reopening of schools
Millions of children in India face a bleak academic future because of COVID-19. Nearly 30 million children do not have a digital device to access education online, according to data presented by the Indian Ministry of Education. According to these data, compiled by the states, the eastern state of Bihar alone reported that nearly 14 million children did not have access to a computer, tablet, or smartphone. Despite numerous efforts by schools and governments to reach them through remote education, surveys show that only a minority of students were able to access lessons of any kind during the lockdown and that widespread learning losses are likely. Ultraviolet (UV) germicidal irradiation (UVGI) is one way the school can help reduce, if not kill, microorganisms before they can infect the students
As Covid 19 cases have steadily declined across the country, many states have announced that schools will reopen in their respective places sometimes post the Diwali festival. After a 20-month closure due to the COVID-19 pandemic, schools are reopening for physical classes.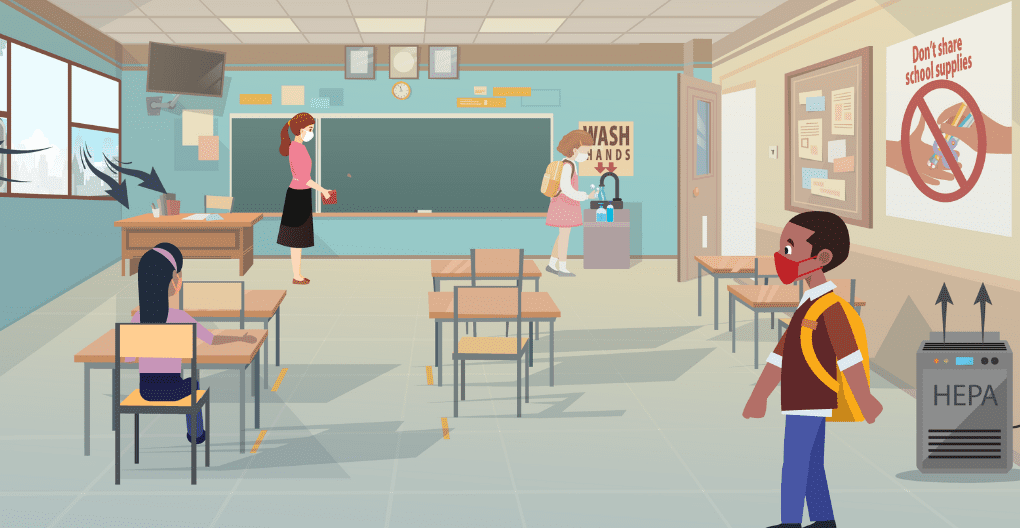 With the rise of multiple COVID-19 variants, and children under 12 being unable to receive the vaccine, and multiple other variables, it's now more crucial than ever to make sure a proper strategy is in place. Hand washing and wearing masks are vital to prevention—but they aren't enough on their own. The CDC recommends adding UVGI disinfection to a layered plan when stating "consider using ultraviolet germicidal irradiation (UVGI) as a supplement to help inactivate SARS-CoV-2." UVGI disinfection devices are one of the most powerful and proven protection tools for disinfecting air and surfaces from not just SARS-CoV-2, but from influenza, MRSA, C. diff, C. Auris, other MDROs, and the many emerging pathogens of the future. By employing proven technology that has been used to disinfect spaces for over 100 years, we can ensure schools stay open safely.
India has over 250 million school-going students, more than any other country. It also has one of the largest networks of higher education institutions in the world. The number of colleges in India reached 39,931 in FY19. As of May 17, 2021, the number of universities in India reached 988. India had 37.4 million students enrolled in higher education in 2018-19. India's education sector offers a great opportunity with 26.31% of India's population in the age group of 0 to 14 years. (Source: ibef)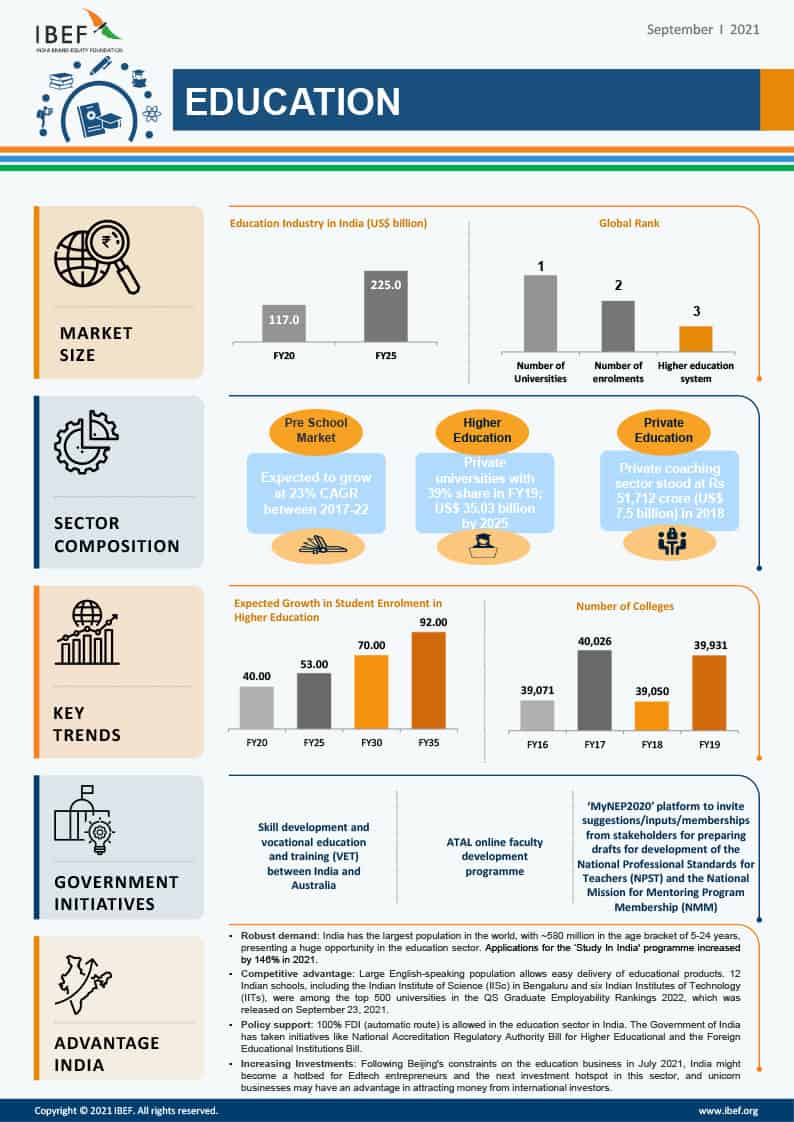 The CDC's update stresses the importance of having a multilayered prevention and disinfection program to keep students and faculty safe. The CDC released guidelines for the new school year stating that "students benefit from in-person learning, and safely returning to in-person instruction in the year 2021 is a priority."
So how exactly can we accomplish that?
Many educational institutions have been struggling with COVID and providing adequate ventilation systems in classrooms and other public areas. They may be unaware that systems exist to help reduce the risk of spread. UVGI air filtration systems are typically equipped with high-capacity UVGI and MERV filters and can be used safely in any indoor space where virus spread is a concern. These units can help to reduce the risk of any kind of airborne infections while also maintaining a clean and safe indoor environment for students, teachers, and staff.
UVGI Applications for Infection Control in Schools and Universities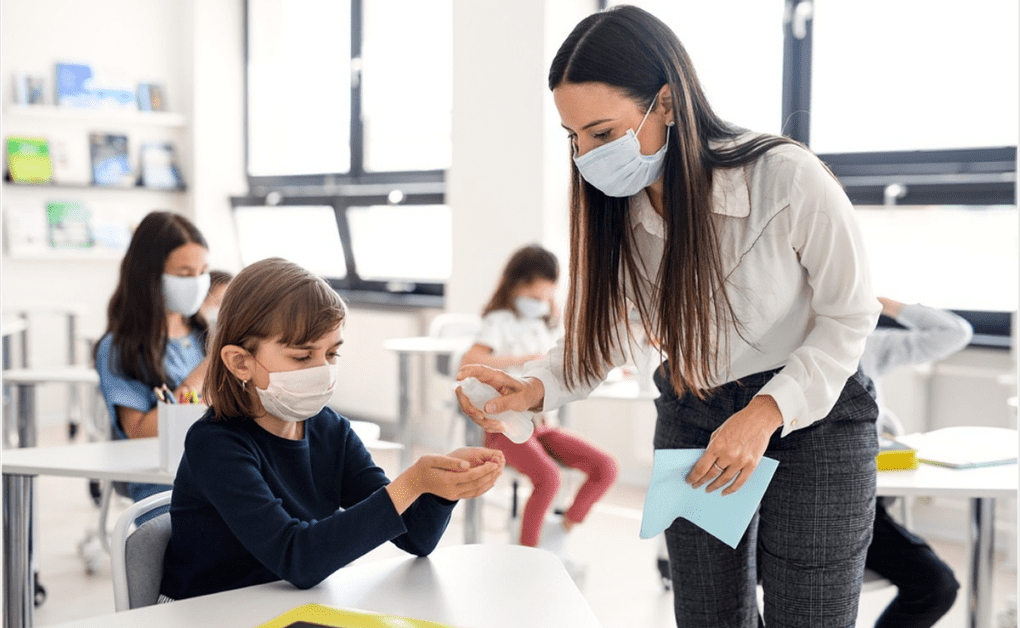 Bacteria and viruses can quickly spread in schools and universities. Because of the close proximity of students and staff, one person's illness can quickly spread to the rest of the class. UV germicidal irradiation (UVGI) is one way a school can help reduce, if not kill, microorganisms before they infect others. In fact, UV-C light, which is the type of UV wavelength used in UVGI fixtures, can kill up to 99.99 percent of all microorganisms. UVGI in schools can be used in a variety of ways. However, portable or installed lights, as well as HVAC coil irradiation, are two of the most useful methods.
Surface Disinfection with UVGI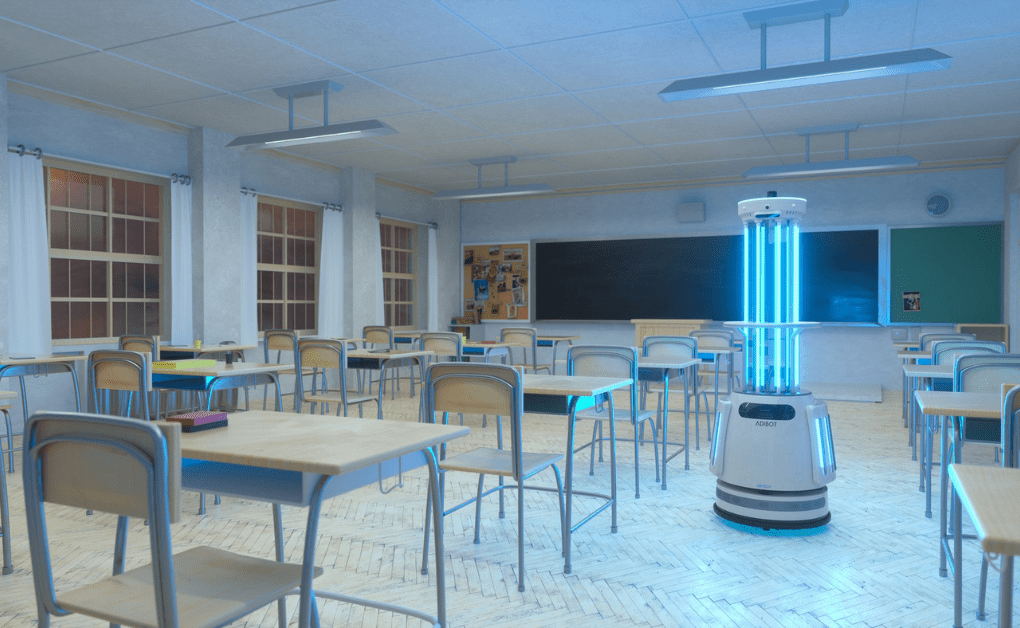 Microorganisms are introduced into the school setting in a variety of ways. Simply touching surfaces, as COVID-19 has reminded us, can transmit highly contagious illnesses. UVGI can be used to help reduce the likelihood of this happening. Surface disinfection is typically accomplished through manual efforts, which frequently rely on chemicals and strict adherence to procedures. Certain microorganisms, however, can develop immunities or resistance to chemical cleaning agents. Furthermore, no two people will ever clean the same surface in the same way. This means that human error can leave germs behind.
When paired with the use of UVGI technology, schools can virtually eliminate microorganisms from surfaces throughout the facility, including walls and floors. In fact, UVGI technology has been so successful that hospitals have begun to use them. Surface disinfection can take place in two ways: with portable UVC light or with installed UVC light. Portable units can be moved between rooms, lowering investment costs. Installed units, on the other hand, can be permanently installed in each room and linked to lighting control systems. This ensures that they are used for the most appropriate amount of time when rooms are empty.
UVGI for HVAC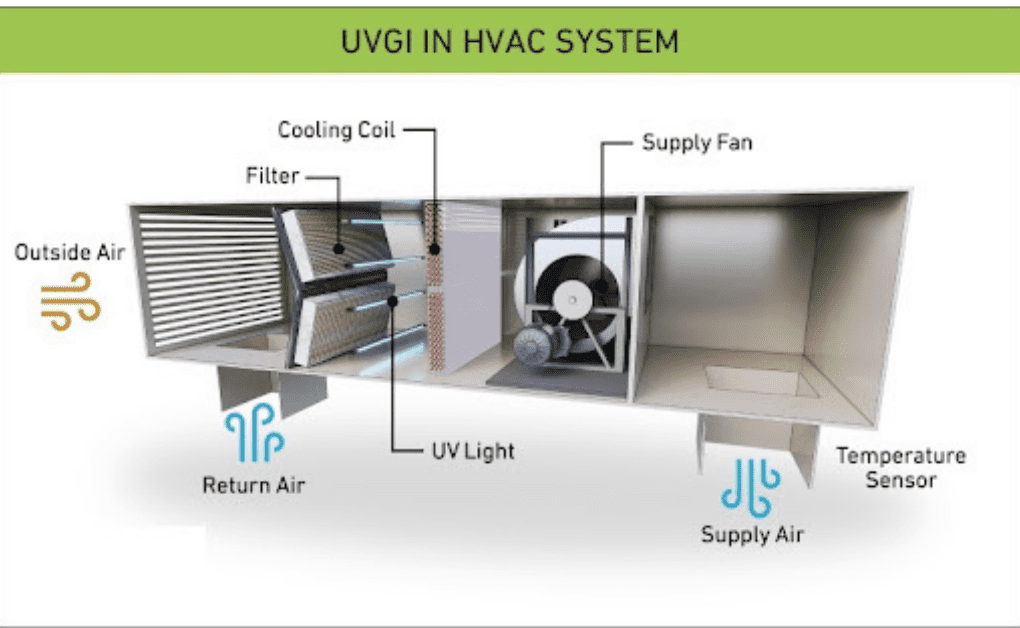 Mold and certain types of bacteria can thrive in HVAC units. Cooling coils, drain pans, filters, and other components of a school's HVAC system are located in dark, sometimes damp areas. Damp and dark environments, among other things, can hasten mold growth and cause serious respiratory problems. It can also cause microbial growth, which can a) foul coils, b) increase coil pressure drops, c) reduce airflow, and d) reduce heat exchange efficiency. Installing UV-C fixtures inside an HVAC unit or connected ductwork can kill up to 30% of all pathogens before they enter the facility's atmosphere. It also aids in the prevention of the recirculation of potentially harmful bacteria and viruses.
UVGI for Air Cleaning v/s UVGI for Surface Cleaning
A recent study in Clinical Infectious Diseases, a peer-reviewed medical journal published by Oxford University Press, addressed just how much aerosols—aerosolized pathogens—have caused the spread of SARS-CoV-2. A report in the CDC's Morbidity and Mortality Weekly Report (MMWR) demonstrated the impact of aerosolization in schools, citing an outbreak that was traced back to a teacher who was unknowingly infected with COVID-19. While surface cleaning absolutely matters, as it always has, the reality is the unmanaged threat of SARS-CoV-2 remains in the air. For example, the Clinical Infectious Diseases study, "Viral Load of SARS-CoV-2 in Respiratory Aerosols Emitted by COVID-19 Patients while Breathing, Talking, and Singing," found that, overall, fine aerosols constituted 85% of the detected viral load. Upper-room UVGI when used in a room occupied reduces the viral load, destroying pathogens before they can be inhaled by someone else in the room or settle on surfaces. In short, sanitizing the air is critical particularly in the face of the Delta variant of the original SARS-CoV-2 strain as it transmits much faster and people infected with the Delta variant produce much more of the virus.
ASHRAE, an authoritative body that speaks about indoor air quality advises that airborne infectious disease transmission can be reduced with in-room airflow regimes and UVGI, among other solutions. Further, they recommend that building designers, owners, and operators give high priority to enhancing HVAC systems with supplements including UVGI as it can be applied in new buildings at moderate additional cost and can be applied quickly in existing building systems to decrease the severity of acute disease outbreaks.
Use of upper-room UV systems in occupied spaces – classrooms, cafeterias, libraries, and school hallways
To be clear, using UV-C light to disinfect the air—whether integrated into an HVAC system or as a standalone, ceiling- or wall-mounted upper-room UVGI system, includes using it while the space is occupied. The Department of Health and Human Services (HHS), in collaboration with the Centers for Disease Control and Prevention (CDC) and the National Institute for Occupational Safety and Health (NIOSH), published guidelines for facility designers and engineers, among others, on how to install and maintain effective upper-room UVGI. Upper-room UVGI takes advantage of the natural phenomena of rising convection currents (i.e., heat rises). As aerosolized pathogens rise toward the ceiling they can be destroyed with UV-C light emitted by a unit mounted on the ceiling or upper wall.
In his presentation for "Keeping Public Spaces Safe: Germicidal Ultraviolet Light for Air Sanitation During COVID-19," presented by the Harvard Kennedy School and Harvard Global Health Institute, Edward Nardell, MD, Professor of Medicine at Harvard Medical School and Harvard School of Public Health, recounted the famous real-world application and study by William F. Wells of using upper-room UVGI to prevent the epidemic spread of measles among children in suburban Philadelphia day schools. Dr. Nardell addressed the use of fans to help ensure good air mixing in a room to improve the efficacy of UV. This is the scientific principle behind Alfaa UV's upper-room UVGI units with built-in fans.
UVGI Solutions for Education Systems with Alfaa UV
UVGI is primarily delivered with three systems in Schools:
1. UVGI Duct and Coil Solutions in AHUs
2. Mobile UV Sterilizers for Room and Surface Disinfection
3. STERO-UP Upper Air UVGI System
A. UltraCoil & UltraDuct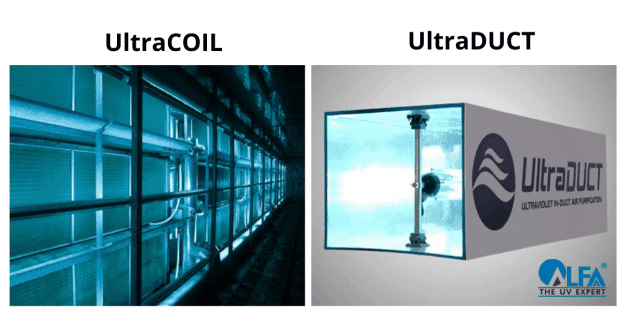 Alfaa UV's ULTRACOIL UVGI System ensures deep cleaning of coils in the safest and most eco-friendly way. There is no worry about the damaging of coils, which is highly likely with conventional chemicals and scrubbing methods. The Ultracoil with its unique Parabolic Reflector System proactively removes the bio-films (layer of slimy, sticky substance that houses the bacteria, viruses, mold, spores, etc.), thus ensuring that the air doesn't get contaminated through the coil and drain pans. Most importantly and especially in the present pandemic, installing a proper UVGI air disinfection system in front of the coil kills such microorganisms and viruses. Alfaa UV's ULTRADUCT solution provides assured single-pass disinfection of airborne bacteria and viruses. It is installed in supply or return ducts. The UltraDUCT also increases the life of HEPA (High-Efficiency Particulate Air) by reducing the load of live organisms.
B) STERO-360 UV Sterilizer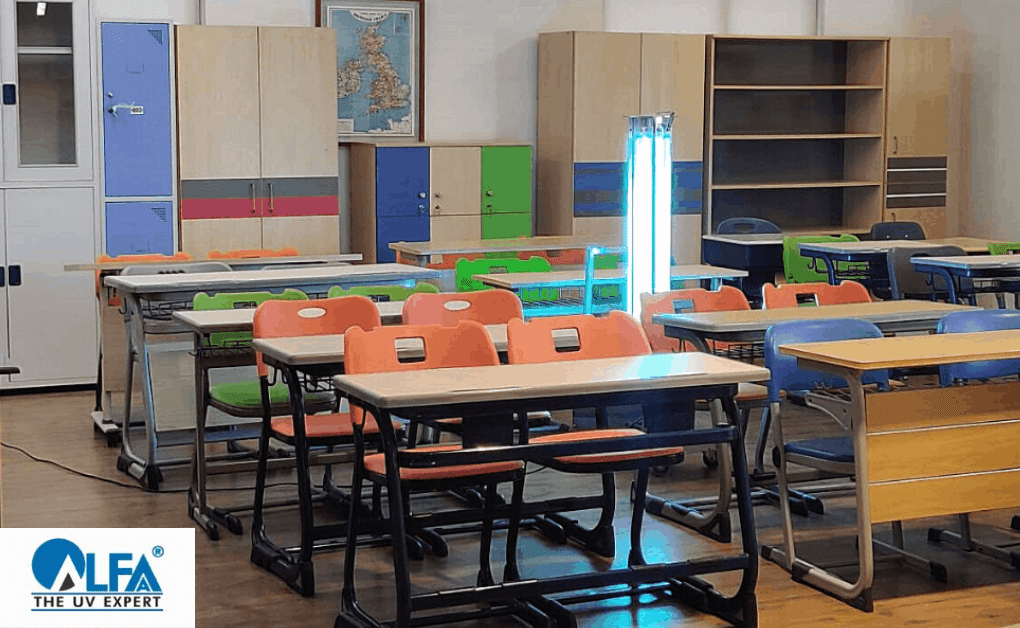 With over 2 decades of expertise in UV technology, ALFAA UV has introduced STERO-360 UV Sterilizer for offices, which is an enhanced range of UV sanitizers, to help fight COVID-19 more effectively. A sterilizer that is chemical-free, powerful, and extremely convenient to use, making it the perfect choice for ensuring the safety of individuals within the mall and Food Courts.
The STERO-360 mobile UV Sterilizer machine for offices kills more than 99.99% of bacteria and viruses from any given contaminated space, within minutes. The STERO 360 – UV room sterilizer has standard dimensions to make it compact, and being portable, is easily transportable between rooms.
C) STERO-UP Upper Air UV System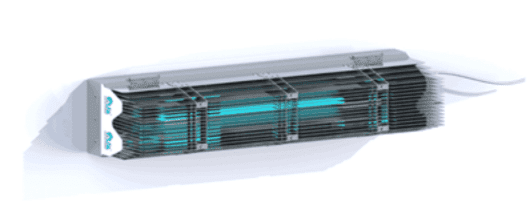 Alfaa UV's new range of disinfecting appliances, STERO-UP Upper-Air UVGI System, which involves exceptionally potent germicidal UV irradiation, has extensive coverage of the upper sections of any given room. The advanced engineered upper air purification systems can be installed just like an air conditioner, at a safe height, and aids in superior infection control using powerful UVC irradiation. With less energy consumption, no effort required for regular use, and the least time is taken to sanitize large areas, the STERO-UP is a savior to many problems at once.
Let parents, students, and faculty know they're protected when returning this fall by employing the safest and most sustainable recommended technology. UVGI is a great investment in educational facilities. If you have questions regarding the use of UVGI systems, please contact us today, by calling +91-22-66612300, email sales@alfauv.com