Water quality basics – How pollution affects this essential gift of mother nature
Posted on September 12, 2016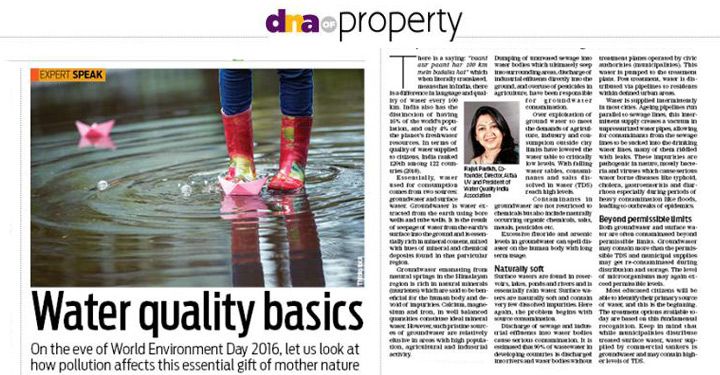 There is a saying: "vaani aur paani har 100 km mein badalta hai" which when literally translated, means that in India, there is a difference in language and quality of water every 100 km. India also has the distinction of having 16% of the world's population, and only 4% of the planet's freshwater resources. In terms of  water quality supplied to citizens, India ranked 120th among 122 countries (2010).
Essentially, water used for consumption comes from two sources: groundwater and surface water. Groundwater is water extracted from the earth using bore wells and tube wells. It is the result of seepage of water from the earth's surface into the ground and is essentially rich in mineral content, mixed with hues of mineral and chemical deposits found in that particular region.
Groundwater emanating from natural springs in the Himalayan region is rich in natural minerals (nutrients) which are said to be beneficial for the human body and devoid of impurities. Calcium, magnesium and iron, in well balanced quantities constitute ideal mineral water. However, such pristine sources of groundwater are relatively elusive in areas with high population, agricultural and industrial activity.
 Contamination estimates
It is estimated that about 70% of India's groundwater is contaminated. Dumping of untreated sewage into water bodies which ultimately seep into surrounding areas, discharge of industrial effluents directly into the ground, and overuse of pesticides in agriculture, have been responsible for groundwater contamination.
Over exploitation of ground water to meet the demands of agriculture, industry and consumption outside city limits have lowered the water table to critically low levels. With falling water tables, contaminants and salts dissolved in water (TDS) reach high levels.
Contaminants in groundwater are not restricted to chemicals but also include naturally occurring organic chemicals, salts, metals, pesticides etc. Excessive fluoride and arsenic levels in groundwater can spell disaster on the human body with long term usage.
Excessive fluoride and arsenic levels in groundwater can spell disaster on the human body with long term usage.
Naturally soft
Surface waters are found in reservoirs, lakes, ponds and rivers and are essentially rain water. Water quality of surface water is naturally soft and contain very few dissolved impurities. Here again, the problem begins with source contamination. Discharge of sewage and industrial effluents into water bodies cause serious contamination. It is estimated that 90% of wastewater in developing countries is discharged into rivers and water bodies without treatment.
Pipeline distribution
Surface waters become the feed for treatment plants operated by civic authorities (municipalities). This water is pumped to the treatment plant. Post treatment, water is distributed via pipelines to residents within defined urban areas. Water is supplied intermittently in most cities. Ageing pipelines run parallel to sewage lines, this intermittent supply creates a vacuum in unpressurized water pipes, allowing for contaminants from the sewage lines to be sucked into the drinking water lines, many of them riddled with leaks. These impurities are pathogenic in nature, mostly bacteria and viruses which cause serious water-borne diseases like typhoid, cholera, gastroenteritis and diarrhoea especially during periods of heavy contamination like floods, leading to outbreaks of epidemics.
 Beyond permissible limits
Both groundwater and surface water quality are often contaminated beyond permissible limits. Groundwater may contain more than the permissible TDS and municipal supplies may get re­contaminated during distribution and storage. The level of microorganisms may again exceed permissible levels. Most educated citizens will be able to identify their primary source of water, and this is the beginning. The treatment options available today are based on this fundamental recognition. Keep in mind that while municipalities distribute treated surface water, water supplied by commercial tankers is groundwater and may contain higher levels of TDS.
Rajul Parikh, Co­founder, Director, Alfaa UV