UV technology for water and wastewater disinfection
Posted on December 20, 2015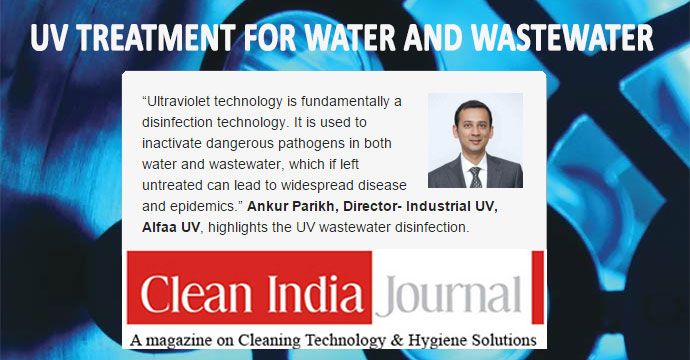 Mr. Ankur Parikh talks about the wastewater disinfection in progressive countries. He talks about the UV technology used for destroying the microorganisms present in wastewater.
What is UV technology?
Ultraviolet light of a wavelength of 253.7 nanometer is used for disinfection. Bacteria, viruses, molds, algae and other microorganism multiply themselves and grow.  The UV disinfection technology destroys the DNA of microorganisms which leaves them dead and unable to grow further. UV disinfection systems can be used for drinking water disinfection, process water disinfection, waste water disinfection and surface disinfection. Other than disinfection applications, this technology can also be used for TOC removal and Ozone destruction.
Use of UV technology in wastewater treatment
UV technology is eco-friendly technology used for disinfection as it doesn't use any chemical in the disinfection process. It does not produce any by-products which will harm the environment. On the other side, chemicals like Chlorine produce carcinogenic by-products from the disinfection process.  In progressive countries, about 90% of wastewater treatment plants use UV technology for disinfection.  In most developed countries chlorine is hardly used for disinfection, especially n wastewater.
BOD and TSS levels of wastewater must be in the permissible limits as it could have a detrimental effect on ecosystem of the receiving waters. But BOD and TSS do not have a major impact on human health. Microorganism and pathogens present in the discharged water are responsible for diseases such as diarrhea, Cholera, Typhoid and other water related diseases. If wastewater left without disinfection then lakes, rivers and other receiving water bodies could get infected.
Indian norms for wastewater disinfection
The National River Conservation Directorate has updated the norms for wastewater treatment. New norms and guidelines are significantly improved as compared to previous standards.
Publisher: Clean India Journal