Sustainable Water Management – Article by Rajul Parikh in Everything About Water, Dec 2017 Issue
Posted on March 5, 2018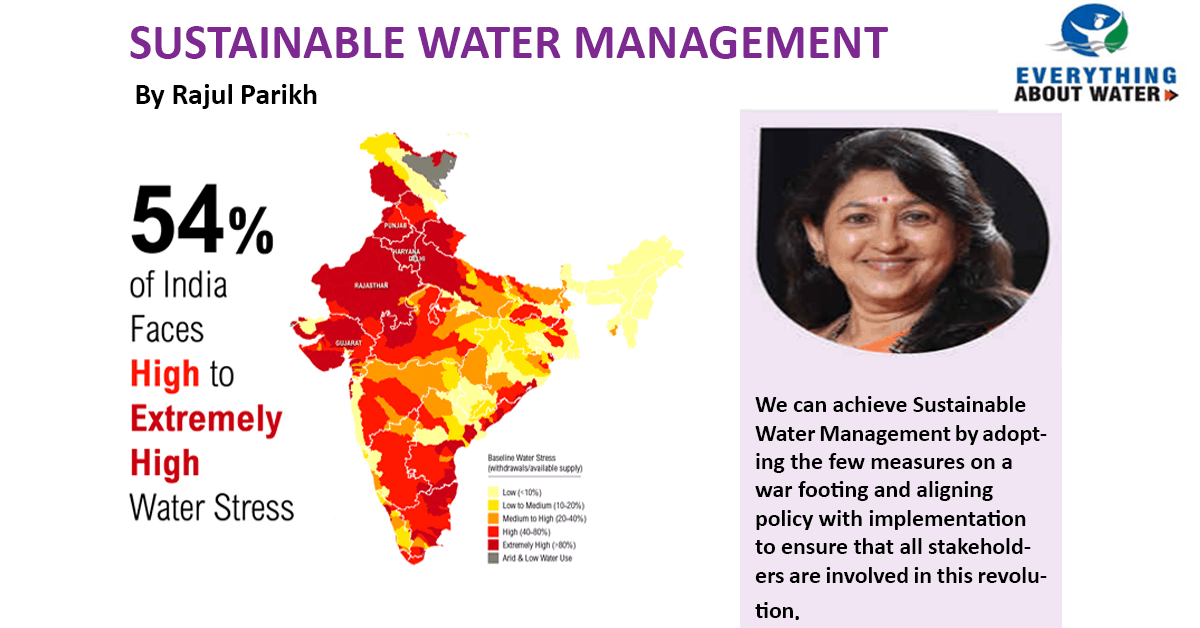 Water is at the core of sustainable development and is critical for socio-economic development, healthy ecosystems and for human survival itself. It is vital for reducing the global burden of disease and improving the health, welfare and productivity of populations.
Water is closely linked to the socio-political world and is a key factor in managing issues such as famine, migration, epidemics, inequalities and political instability. Without proper water management, there will be increased competition for water between sectors and an escalation of water crises of various kinds. It is said that the third world war will be fought over water.
Statistics
Let's take a look at the world water crisis today.
Water scarcity affects one in three people on every continent of the globe.
1 in 3 people on the planet don't have a decent toilet.
1 in 9 people don't have clean water close to home.
Every minute a newborn dies from the infection caused by lack of safe water and an unclean environment.
Diarrhea caused by dirty water and poor toilets kills a child under 5 every 2 minutes.
More than 80% of India's freshwater is used in agriculture. Food security is threatened.
In India, demand for water in urban areas is expected to double, and industrial demand to triple by 2015.
According to a 2012 source, more than 70% of available water in India is polluted.
Reasons For The Global Water Crisis
For starters, climate change. We are changing the climate, making dry areas drier and precipitation more variable and extreme. According to the World Resources Institute, at least 21 million people worldwide are at risk of river flooding each year. That number could increase to 54 million by 2030.  Paradoxically, clouds are moving away from the equator toward the poles, due to a climate-change driven phenomenon called Hadley Cell expansion. This deprives equatorial regions like sub-Saharan Africa, the Middle East and Central America of life-giving rainwater.
Second, more people with more money will lead to a greater demand for water. It's simple: as populations increase and incomes grow, so does water demand. The world's population, now at 7.5 billion, is projected to add 2.3 billion more people by 2050. How can the planet satisfy their thirst? Growing incomes further fuel the water problem, because of the water-intensive products—like meat and energy from fossil fuels—that richer populations demand.
Third, About 30 percent of Earth's fresh water lies deep underground in aquifers. And it's extracted daily for farming, drinking, and industrial processes – often at dangerously unsustainable rates. India guzzles more groundwater than any other country.  54 percent of India's groundwater wells are decreasing, meaning that water is used faster than it's replenished. Unless patterns shift, in 20 years, 60 percent of India's aquifers will be in critical condition.
Fourth, having enough water to go around is only the beginning. That water also needs to be transported, treated and discharged. Around the world, water infrastructure―treatment plants, pipes, and sewer systems―is in a state of disrepair. In the US alone, each day 6 billion gallons of clean water enough to fill 10,000 olympic size swimming pools vanish before reaching homes/businesses. Distribution losses(Non Revenue Water) are estimated at 34% in Indian cities on an average.
Fifth, healthy ecosystems are vital to clean, plentiful water. They filter pollutants, buffer against floods and storms, and regulate water supply. Plants and trees are essential for replenishing groundwater; without them, rainfall will slide across dry land, instead of seeping into the soil. Loss of vegetation from deforestation, overgrazing, and urbanization is limiting our natural infrastructure and the benefits that it provides. Forested watersheds around the world are under threat: watersheds have lost up to 22 percent of their forests in the past 14 years.
Sixth, Water Is Wasted. Although it's true that water is a renewable resource, it's often wasted. Inefficient practices like flood irrigation and water-intensive wet cooling at thermal power plants use more water than necessary. What's more, as we pollute our available water at an alarming rate, we also fail to treat it. About 80 percent of the world's wastewater is discharged back into nature without further treatment or reuse. In many countries, it's cheaper to receive clean drinking water than to treat and dispose of wastewater, which encourages water waste.
Lastly, there is the vital issue of pricing. Globally, water is seriously undervalued. Its price does not reflect the true, total cost of service, from its transport via infrastructure to its treatment and disposal. This has led to misallocation of water, and a lack of investments in infrastructure and new water technologies that use water more efficiently. Take the case of Mumbai.  In Mumbai, the BMC charges a highly subsidized base rate of Rs. 6 per kilolitre for residential use against a much higher treatment and distribution cost.
Creating Sustainability
In 1983, the Brundtland Commission defined sustainable development as "Development that meets the needs of the present without compromising the ability of future generations to meet their own needs". Going by this definition, the present water scenario in no way can be deemed as sustainable, and spell impending doom on already water stressed nations, India being one.
A common sense approach in building sustainability in water is to better manage our resources. And that brings us to sustainable water management.
Logically, the ways to better manage and distribute our water resources would be in managing demand, augmenting supply, monitoring and improving quality and in harnessing newer technologies.
Let's take the case of augmenting supply.  As per a World Bank report on water in India, the gap between available and utilizable water stood at more than 50% in 2015. If we were to tap rainwater, storm water, and wastewater, and add it to the supply, India would be a water positive nation.  With India's abundant rainfall, rainwater harvesting both in rural and urban settings would go a long way in mitigating the problem of scarcity, and in recharging groundwater by watershed management techniques as demonstrated by the Jal Kund model.  In cities, it would do well to make ground water recharge mandatory for residential complexes, industrial units etc, ensuring that we put back rain water into the ground.
Towards urban management of water, treatment and disinfection of wastewater is key to creating additional water resources. Today, the norms set by the Central Pollution Control Board (CPCB) ensure that disinfection takes place in the tertiary stage making water safe for discharge or reuse. Cost effective and environmentally friendly  disinfection technologies  such as UV are used for tertiary treatment.  Successful case studies in Singapore and California prove that "toilet to tap" is possible if we consider costs and counter human prejudices. In India, a deterrent in the setting up of waste water treatment plants is the cost attributed to technologies that are effective. In citing the Nagpur example one can say that PPP /DBFOT (public private partnerships/Design Build Finance Operate Transfer) model could be the way forward for implementation of these technologies. The Nagpur Municipal Corporation took action to clean up their act by working with a private partner to treat  400 MLD of sewage which previously went untreated into the nearby rivers and contaminated the waters of Gosikhurd dam which is the source of freshwater for drinking and irrigation in and around Nagpur city. The benefits are many: reduction in water borne diseases; curbing pollution of downstream water bodies; water availability for the thermal power plant and therefore more consistent energy production;  and revenue share for NMC from sale of treated water. This model is serving well and can be a success story to be applied in other civic bodies too.
In managing demand, an effective strategy to increase available water supply would be  Water Demand Management (WDM), which involves conservation and better use of limited resources in a more efficient manner.  This requires a paradigm shift from traditional supply management to the management of demand. This shift produces additional 'virtual' quantities of water for the immediate needs of society by conservation, or by increasing agricultural and industrial production per unit of water, or both. The strategy also involves the implementation of better irrigation techniques in agricultural sector such as watershed management and drip irrigation; along with effective pricing which will reflect the true value of water.  Israel has been very successful in implementing demand management strategy as a method to enhance socio-economic prosperity and growth with limited water resources. Closer to home, many advanced irrigation techniques have yielded good results in Gujarat.
Water quality is a major issue in our country with more than an estimated 70% of available water being polluted. Rivers, ponds and lakes are the primary targets of pollution with untreated sewage and industrial waste being discharged without treatment. Seepages from these water bodies and open discharge into the ground pollute groundwater. Coupled with this, falling levels of groundwater due to over exploitation create greater concentration of pollutants like fluorides and arsenic, which render groundwater unfit for human consumption. While pollution policies are in place, policy implementation is more important than policy declaration to prevent such pollution. The Groundwater Regulation Act in various states and The Water Act need proper regulation and implementation to tackle this serious problem of water quality and falling groundwater levels.
By harnessing newer technologies, there is hope to create sustainability of this precious resource – water. Amongst the newer technologies, a few may be pertinent to mention here. Desalination, being one such technology has the potential to provide adequate quantities of water to regions that are freshwater poor, or may be close to the shore and have brackish water due to the influx of sea water into fresh water bodies.  Minjur desalination plant, in the state of Tamil Nadu, India, was inaugurated in July 2010. The plant is built on a 60-acre site in Kattupalli, about 35km north of the state capital city, Chennai. The INR 5.15bn (€91m) Minjur desalination plant has a capacity of 100,000m³/day (100mld). The plant produces potable water using reverse osmosis (RO) technology and serves an estimated population of 500,000 in Chennai. A large land footprint, high capital costs coupled with high production costs limit the use of this technology as a sustainable one in the long term. Innovations in desalination technology will be needed to bring down both capital and running costs to make it a more widespread usable technology.
According to a 2010 report of the Unesco-IHE Institute of Water Education, the water footprint (the ratio of total volume of water used to the quantity of production) of rice production in India is 2,020 M3 a year compared with 970 M3 a year in China and a global average of 1,325 M3 a year. This means we use more drop per crop than most other countries, an inverse of our avowed national objective of "more crop per drop". In this realm, Dr. M S Swaninathan is spearheading a committee which is exploring the use of newer technologies to better agricultural productivity with optimum utilization and minimum wastage of water under the "More Crop per Drop" program.  The aim is to change the farmer's mindset from quantity to the efficiency of use of water and introduction of new technologies such as : rice Intensification, micro irrigation with fertigation, crop diversification etc. Gujarat is an outstanding example of more crop per drop. Not only have rural water supplies been augmented with check dams and canals, but concerted efforts to recharge water tables, regulate electricity for agricultural use, as well as provide high subsidy to farmers with modern water saving technologies like drip irrigation,  are key factors.  Other states with a strong political will can take lessons from the Gujarat success story.
The use of information and communication technology (ICT) to promote a Water Literacy Movement cannot be ignored. With the explosion of mobile handsets and smart phones across India,  water conservation awareness  along with groundwater information covering both quality and quantity can be the key to greater awareness and change.  Take the example of Hubli in Karnataka, where the local civic authorities empowered residents with a mobile App which informed them in advance when water would be released by the authorities in their respective area. This communication has gone a long way in improving customer experience and convenience.
ICT also plays an important role by providing visibility in demand/supply to ensure equitable water distribution and optimize energy used to pump water in vast water distribution networks, thus reducing the non revenue water (NRW)  by detecting leakages faster and reducing theft by detecting ghost pipes. Smart meter technology shapes behavior of citizens and businesses by providing visibility in consumption and reduces under recovery by accurate metering. Water asset management, water management operations and customer services can be improved significantly using  ICT, aiding sustainability.
Water Quality detection sensors –are effective in checking intentional and accidental contamination. Smart water quality meters monitor fundamentals of water quality in real time to enable timely action, and prevent disease outbreaks.
According to a recent news article, CPCB plans to install "Real Time Water Quality Monitoring Network "across the Ganga Basin for testing 10 parameters including pH, turbidity, conductivity, temperature, BOD, COD, coliforms, nitrates and chlorides. These water quality monitoring stations will be fitted with GSM, GPRS for communication with the central receiving station.
Conclusion
In conclusion, we can achieve sustainable water management by adopting these measures on a war footing and aligning policy with implementation to ensure that all stakeholders are involved in this revolution.
Protect and augment water bodies through mandatory water harvesting and conservation along with waste water treatment, disinfection and reuse.
Practice Demand Management by eliminating all sources of unsustainable use of water in agriculture and industry and promoting "more crop per drop" methodologies of crop cultivation
Harness new technologies relating to improving domestic water use efficiency: water efficient gadgets to conserve flow; ICT to promote water literacy amongst consumers,  smart sensors and metering technologies to monitor usage, detect leaks and monitor water quality;  de-salination of sea water by alternate cost effective methods , innovations in irrigation;  breeding of drought and salinity tolerant crop varieties; bioremediation to clean polluted ground waters, etc.
Promote seawater farming through integrated agro-forestry and aquaculture production systems in coastal areas.