Interview Given By Ms. Rajul Parikh In The First Anniversary Special Issue Of "Smart Water & Waste World – Oct 2019".
Posted on November 27, 2019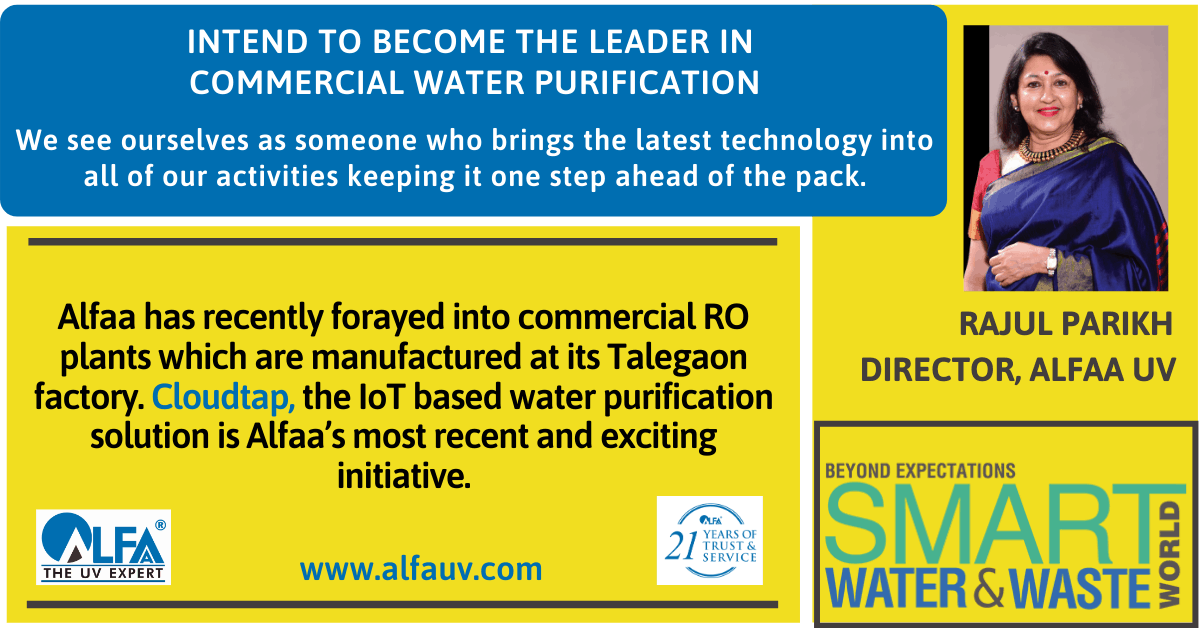 "Smart Water & Waste World" Featuring The Water Leaders Of India.
INTEND TO BECOME THE LEADER IN COMMERCIAL WATER PURIFICATION -RAJUL PARIKH                                   
INTRODUCING MYSELF
I have been fortunate to have co-founded our company whose flagship brand Alfaa UV is a leader in disinfection and water treatment, with a successful track record spanning over two decades. My husband Anand Parikh, CMD, is the brain behind Alfaa UV, and our son Ankur has stepped in as a second-generation entrepreneur and is taking the company to the next level. Our daughter is doing non-profit development work in Africa along with her husband. Our daughter-in-law is a successful architect. We are blessed with beautiful grandchildren.
JOURNEY IN THE WATER SECTOR
The journey, crossing two decades, has been wonderful. It is amazing how much general awareness there is about water nowadays than what existed 25 years ago. The government is finally waking up to new realities in the water sector and much-needed action is in progress. Water shortage and inequality in distribution are at a new high. The residential and commercial water sector has seen mushrooming growth and consists of a few organized players and multifold unorganized players. Being a founding member of the Water Quality India Association (WQIA), the apex body representing the residential and commercial water sector in India has been a very interesting experience for me. As a President of the Association, I had the chance to engage with large, medium and small players, and bring them under a common umbrella, which promotes standards and ethics, leading to better quality, higher levels of service and ultimately greater consumer satisfaction. WQIA is the voice of the industry and engages with the government on behalf of its members. Another interesting experience has been the cycle that RO (Reverse Osmosis) technology has undergone. From being a new entrant technology some 15 years ago, today it is hugely popular. While RO purifiers are needed in many parts of the country and for specific applications in the food sector, RO as the ultimate solution to any or all water woes is now being questioned and challenged at the highest levels. Closer to home at Alfaa UV, the evolution from UV based home water purifiers to becoming leaders in UV technology covering various applications in air and water disinfection has been very significant. Today, reputed players in food, pharma, retail, and hospitality sectors trust only Alfaa for water disinfection.
Being the first ones to bring IoT (Internet of Things) to the commercial water purification space and revolutionizing it has been the latest and most exciting experience for us.
MY ORGANIZATION
As mentioned, Alfaa UV is a leader in UV technology (with many applications in drinking water, process water, wastewater, and air disinfection) and works through a large network of OEMs and end-users. Alfaa has recently forayed into commercial RO plants which are manufactured at its Talegaon factory. Cloudtap, the IoT based water purification solution is Alfaa's most recent and exciting initiative.
At Alfaa, we see, we see ourselves as someone who brings the latest technology into all of our activities keeping it one step ahead of the pack. We intend on becoming leaders in both the industrial and commercial water purification space.
THE TECHNOLOGY TO LOOK FOR
The SMART technology will define innovations in the future and will be the underlying differentiator irrespective of the core technology being used.
MY FIVE POINT AGENDA FOR THE INDIAN WATER SECTOR
1) Water shortage will give an impetus to technologies such as desalination and recycling of wastewater.
2) Rapid urbanization and housing boom will see the market for residential and commercial purifiers grow.
3) Government regulations in the water sector – such IoT to the commercial water as a water efficiency rating of purifiers, mandatory BIS standards, ban on single-use plastic, extraction purification space and of groundwater and recharge norms will open up greater opportunities and the need for innovation.
4) The role of associations in training and skill enhancement will offer more job opportunities in the water sector.
5) Membranes with better output will replace water inefficient membranes that are popular today.
It is amazing how much general awareness there is about water nowadays than what existed 25 years ago. The government is finally waking up to new realities in the water sector and much-needed action is in progress.