Rajul Parikh in conversation with 'Everything About Water'
Posted on March 10, 2016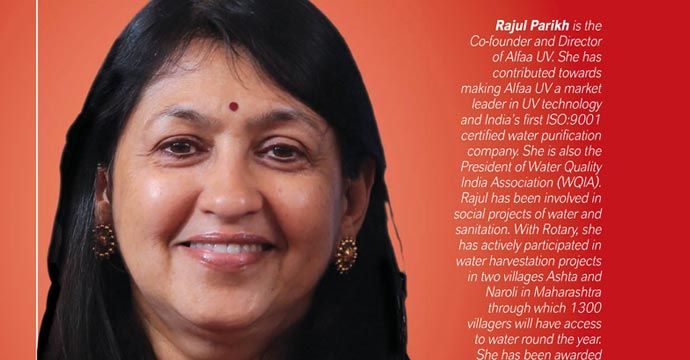 Q: What are the major water challenges in India? Elaborate us on what WQIA can do in order to address those challenges?
Water shortage and water pollution are two major challenges in India. Indiscriminate discharge of sewage and industrial effl uents into the ground and into water bodies, and excessive use of pesticides in agriculture, is major factors responsible for polluting both surface and ground water. Due to urbanization and growth of satellite towns and cities dependence on ground water has increased. Overuse of ground water has led to depleting levels with higher concentration of dissolved impurities and minerals such as arsenic, lead, iron, pesticides, calcium and magnesium salts, etc. As an educator, WQA India will raise awareness levels about types of pollutants and will educate on technologies that will help in eliminating these impurities. By introducing standards for purifi cation devices, consumers can be sure that products deliver what is being promised. With technical education and training programs, manufacturers and service providers of purifi cation devices will raise standards of service in the industry.
Q: What are your key plans for next 1 or 2 year as a president of WQIA?
Introduction of a microbiological standard for water purifi cation devices, the "SEAL OF PURITY" will help manufacturers adhere to stringent standards of microbiological safety which will assure consumers of microbiologically safe drinking water, protecting them from waterborne diseases such as Typhoid, Gastroenteritis, Hepatitis, and Cholera. This will help in differentiating products when the consumer has to make a choice. A comprehensive website with detailed information about water quality is expected to be a rich source of information to both consumers and industry. Extensive training and educational programs will raise levels of service in the industry, benefi tting consumer