When to replace RO (Reverse Osmosis) membrane in my RO water purifier ?
Posted on September 22, 2016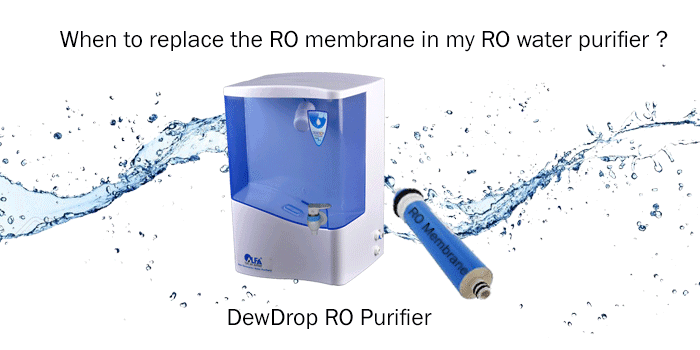 Reverse osmosis (RO) is one of the most effective technologies to purify water that has high TDS levels of more than 500 ppm. Reverse Osmosis (RO) is a separation technology where dissolved impurities in water are separated by way of a semi-permeable membrane (RO membrane) which works under high pressure. As such, the RO water purification system can be used for both – home as well as for commercial purposes. Constituents of dissolved solids and impurities (TDS)  are calcium and magnesium salts, nitrates, iron, lead, fluorides, arsenic, etc. Such dissolved impurities are usually found in groundwater, i.e water that is drawn from beneath the surface of the earth. In cities, groundwater is distributed by water tankers to areas where municipal pipelines are absent or where demand exceeds supply. While minerals including calcium and magnesium are good for the body within permissible limits, other impurities may cause harm in the long run.
The reverse Osmosis membrane is an integral part of the Reverse Osmosis system.
The RO membrane is a thin film made up of microscopic pores. In normal operation, the membrane in reverse osmosis elements can become fouled (contaminated) by mineral buildup, biological matter, colloidal particles and insoluble organic constituents. Besides fouling, membranes can get clogged to the extent that they cause a drop in the output of purified water; or become ineffective in removing the salts effectively,  or both. Because of this fouling problem, most RO purifiers – home as well as commercial RO water purifiers have UV purification post membrane to eliminate the chances of contamination.
To protect the delicate RO membranes, extend their life, and prevent frequent fouling, water should first flow through a pre-filter.  The pre-filter cartridge will filter out dirt, silt, sand, and other suspended sediments.  This pre-filter should be changed every 6 – 9 months; this, however, depends greatly on water quality and usage. If not properly back flushed and maintained, this pre-filter can foul or get clogged, and thereby reduce the life of the RO membrane.
Chlorine in water will also affect the life of the RO membrane. Therefore an activated carbon pre-filter is normally placed before the membrane to adsorb free chlorine and thereby extend the life of the RO membrane. Dewdrop RO water purifier from Alfaa UV  has a carbon pre-filter preceding the RO membrane this protects the RO membrane. It is very important for the pre-filter to be changed regularly in order to prevent membrane from giving off foul smell, or degrading;  as part of regular maintenance.
It is advised that Reverse Osmosis membranes be replaced every 2-3 years or based on actual usage, consumption and water quality. In high TDS areas, the RO membrane may need replacement more frequently. The specification of the RO membrane must be matched as per the quality of water.  For example, if the capacity of an RO membrane is to purify up to 1000 ppm of TDS, passing water higher in TDS than the recommended level will reduce its life. For optimum efficiency of RO membrane, routine maintenance should be performed on Reverse Osmosis systems. RO systems should usually have three, four or five filter stages.
Important Update by National Green Tribunal's (NGT) Ton RO Purifiers
RO water purifiers have become the preferred water purifier in households today, thanks to aggressive advertising campaigns, and varying levels of TDS in water throughout the country. In response to a petition filed by an NGO called "FRIENDS" in Delhi, the NGT has ruled that in light of wastage of water by RO technology and adverse health effects of drinking water with a low TDS devoid of certain essential minerals, RO water purifiers be banned in areas where the TDS of water is below 500 mg/liter. Hence, the National Green Tribunal has directed the Ministry of Environment and Forests (MoEF) to issue a notification banning RO purifiers where total dissolved solids (TDS) in water are below 500 milligrams per liter. The matter is currently sub judice and no final legislation has yet been passed to this effect.
At Alfaa, we have always maintained that water with TDS of less than 500 mg/liter be further tested for dissolved pollutants before a RO water purifier be used, and only if it is warranted should RO be used for water with TDS under 500 mg/liter. Instead of low TDS water, UV purifiers are more environmentally friendly, while ensuring purity and safety of drinking water, without any wastage of water.
RO water purifiers are an expensive but excellent way to purify water high in TDS. Servicing is also an expensive proposition, as pre-filters and membranes are costly. Besides the cost, RO membranes used in residential water purifiers normally reject 70-80% of water and therefore wastage of water is high.
The mantra should be: use RO purifier only when the TDS in water is high and the taste of water undesirable. Otherwise, cost,  service and wastage implications in an RO will outweigh any benefits. For effective disinfection of water low in TDS, simply opt for a 5 stage UV purifier. Ewater – UV Home Water Purifiers from Alfaa UV is India's first 5 stage UV purifier capable of giving you clean, safe purified water at a fraction of the cost and with lesser servicing requirements.