Helping Offices to Reopen During the Pandemic Using UVGI Solutions
Posted on January 20, 2021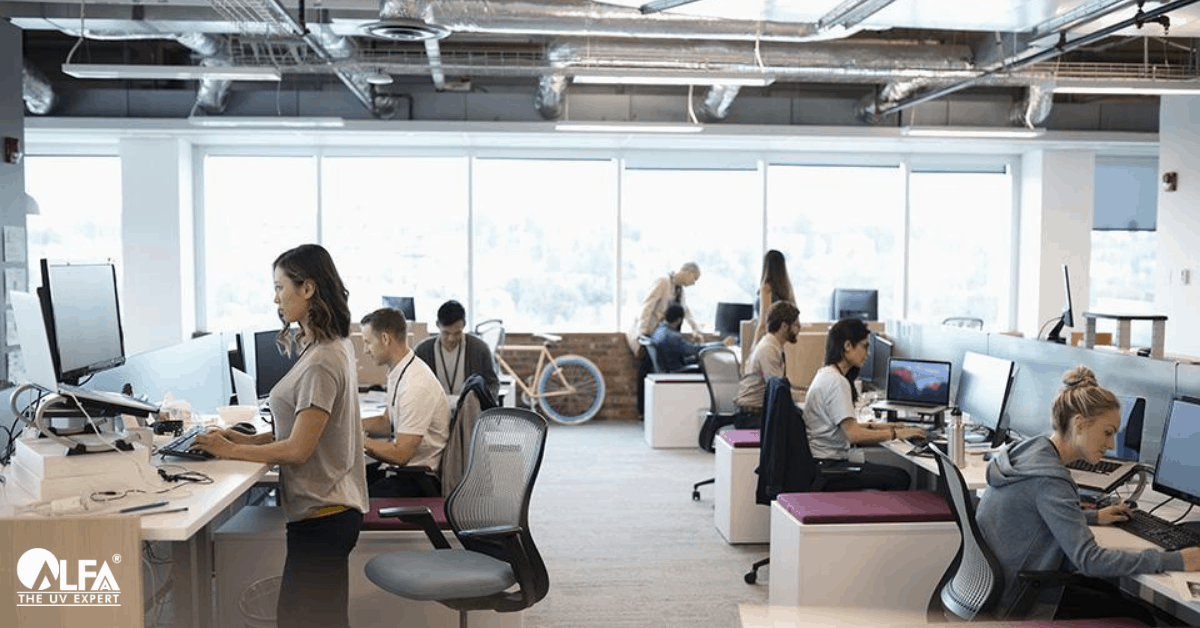 Current Studies and Research
A recent study from the Queen Mary University of London and Leeds Beckett University has shown that  UVGI Air Purification already being used to prevent the spread of other airborne diseases in buildings, has the potential to be effective against Covid-19. The research, published in the journal Peer, found that UV germicidal irradiation (UVGI) in offices can kill SARS-CoV-2 virus particles, which can be transmitted by aerosolised droplets that float in the air.
The study, led by researchers from the Queen Mary University of London and Leeds Beckett University, tested the feasibility of a UVGI system to reduce Covid-19 transmission by analyzing historical published data examining the effect of UV irradiation on coronaviruses. Evaluating all the data, the research team showed that SARS-CoV-2 virus particles found in the air are likely to be susceptible to UVC, and also that the levels of UVC light required to inactivate the virus would be practical and safe for upper room applications.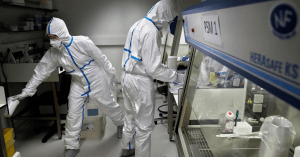 It is now becoming widely accepted that transmission of SARS-CoV-2 virus particles through tiny respiratory droplets, is one of the main ways Covid-19 spreads between people in offices and other premises. The risk of airborne transmission is especially high in poorly ventilated buildings and there is an urgent need for technologies to reduce the spread of Covid-19 within these spaces.
Professor Clive Beggs, Emeritus Professor of Applied Physiology at Leeds Beckett University, says: "Now we know that Covid-19 infection can occur from airborne exposure to the virus, finding ways to minimise the risk of transmission, particularly in buildings is becoming increasingly important and UVGI for HVAC (AHUs) is already a well-established technology and has proven effective to prevent the spread of other diseases such as measles and tuberculosis within buildings. This study shows that we have good reason to believe this technology could also protect indoor spaces such as offices, or restaurants and bars, and help to allow us to start to return to 'normal' life in a safe way."
Can UVGI System Curb Covid-19 in the Building
Ultraviolet (UV) germicidal lights produce short wavelength light (or radiation) that can damage the genetic material in the nucleus of cells of microorganisms such as bacteria, viruses, molds, and Coronaviruses. The cells may be killed or made unable to reproduce. With extended exposure, UV germicidal irradiation (UVGI) can also break down the particles that have deposited on an irradiated surface. UVGI systems can also be installed in the ducts of heating, ventilating, and air conditioning (HVAC) systems and irradiate the small airborne particles containing microorganisms as the air flows through the ducts. Often, UVGI systems in ducts also direct UV light at the cooling coils and drain pans of air conditioning systems. Irradiating the cooling coils and drain pans can dramatically reduce mold and growth of pathogens on the often-wet surfaces of cooling coils and drain pans, or destroy the microbial films that previously accumulated on the irradiated surfaces.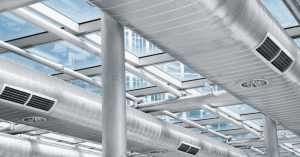 How Alfaa UV Can Help You Curb Covid-19
Alfaa UV's Ultra Coil and Ultra Duct UVGI systems use world-class UVC lamps and unmatched Reflector Technology with UL Certification to ensure that all air passing through the system is disinfected as it re-circulates in indoor spaces. The design ensures 100% exposure of the air to the UVC system. The UltraCoil UVGI system not only fights viruses to create safer spaces, but also ensures cleaner cooling coils, resulting in greater efficiency and lower running and maintenance costs.
UltraCoil Solutions
UltraDuct Solutions
UltraCoil
ASHRAE recommends that building managers and owners consider UVGI (ultraviolet germicidal irradiation). However, Alfaa UV recognizes the implications of protecting occupants from radiation, particularly in high-risk spaces such as senior living facilities, prisons, and hospitals. Alfaa UV's ULTRACOIL ensures deep cleaning of coils in the safest and most eco-friendly way. There is no worry about the damaging of coils, which is highly likely with conventional chemical and scrubbing methods. The UltraCoil with its unique Parabolic Reflector System proactively removes the bio-films (layer of slimy, sticky substance that houses the bacteria, viruses, mould, spores, etc.), thus ensuring that the air does not get contaminated through the coil and drain pans.
UltraDuct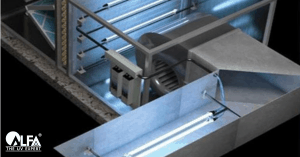 Alfaa UV's ULTRADUCT (Duct Mounted UVGI) solution provides assured single pass disinfection of airborne bacteria and viruses. It is installed in supply or return ducts. The Ultraduct also increases the life of HEPA (High-Efficiency Particulate Air) by reducing the load of live organisms. There are various benefits of installing ULTRADUCT in HVAC systems, some of which are listed below:
Improves air quality by disinfecting bacteria, viruses including  Coronavirus.
Helps in eliminating Sick Building Syndrome. Read this blog to know why working professionals should care about indoor air quality.
Increases the life of HEPA.
Helps in eliminating cross-contamination.
Scientifically designed systems are sized using our proprietary sizing tools based on extensive research.
Computational flow dynamics (CFD) and UV radiation profile modelling details used to make the system highly efficient and effective.
Scientifically engineered positioning of UV lamps for air disinfection ensures delivery of optimum UV dosage and maximum efficiency in killing microorganisms.
Can target specific bacteria as per requirement.
To see how these UVGI systems work, watch this video https://www.youtube.com/watch?v=z3kWRuEem2g for more information about the process and the product.
There are many reasons to choose Alfaa UV's UltraDuct and UltraCoil UVGI solutions for your air disinfection in Commercial and Industrial areas. To know about how we can help you create a COVID free space, call us today on 9833516650 / 8879336026 or visit us at UVGI Air Disinfection