STAYING SAFE WITH UVGI SOLUTIONS AMIDST TRAPID INCREASE OF OMICRON VARIANT
Posted on January 28, 2022
The third wave of the pandemic is starting to bite the Indian economy as there is already a dip in workplace mobility and airline traffic. According to a foreign brokerage firm Nomura, voluntary pullbacks and state restrictions (night curfews and on contact intensive services) are starting to bite, as evidenced by the fall in mobility and airline traffic. The adverse impact on economic growth stemming from the third wave is expected to be lesser than previous waves, but the services sector is still likely to bear the brunt of the current wave. Sentiments of households across strata were influenced by the spread of infections and fatalities. There is an enduring impact on consumers' sentiments on their financial conditions as well as the general economic situation.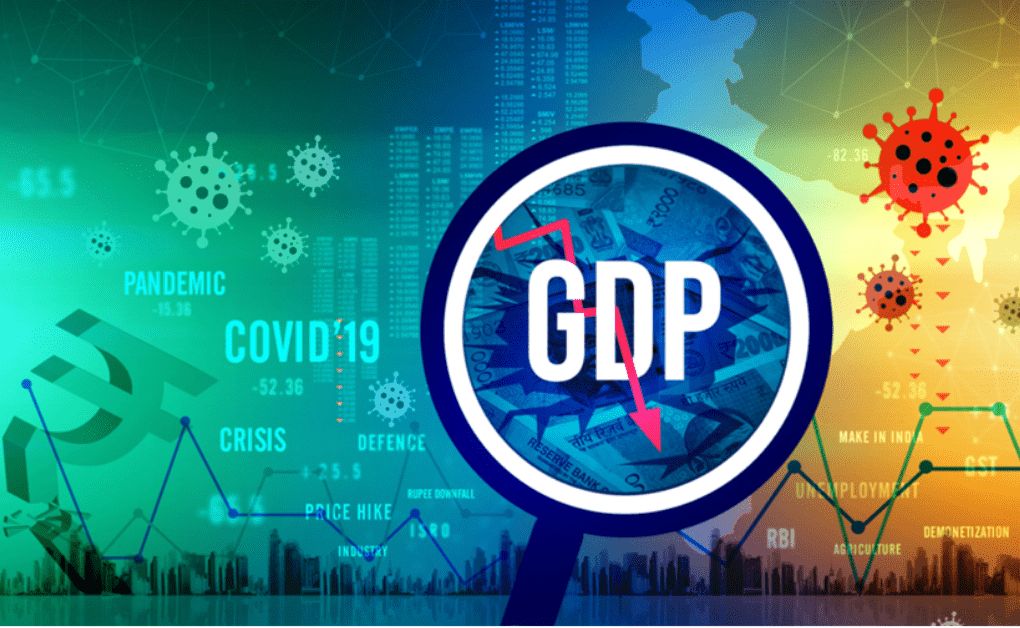 India reported 2,38,018 new Covid-19 cases as of 17th  January, taking its overall tally of corona virus infections to 3,76,18,271, which includes 8,891 cases of the Omicron variant, according to data from the Union Health Ministry. The number of active Covid-19 cases in the country has increased to 17,36,628, the highest in 230 days, while the death toll has climbed to 4,86,761 with 310 fresh fatalities.
Omicron Variant: What You Need to Know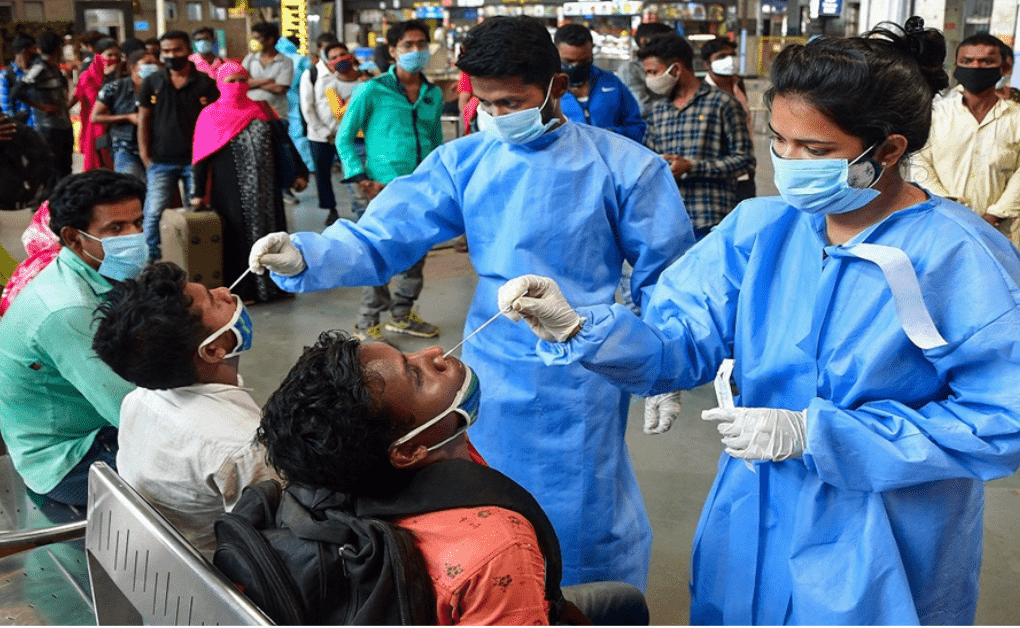 The Omicron variant spreads more easily than the original SARS-CoV-2 virus. CDC expects that anyone with Omicron infection can spread the virus to others, even if they are vaccinated or don't have symptoms. According to US CDC analysis, the five most common symptoms of the Omicron variant are cough, fatigue, congestion, runny nose, and generalized body ache.
The Centers for Disease Control and Prevention (CDC) has identified the potential for a rapid increase in infections of the new variant of SARS-CoV-2, the Omicron variant. Plausible scenarios include steep epidemic trajectories that would require expedient public health action to prevent severe impacts on the health of individuals and the healthcare system. The CDC Center for Forecasting and Outbreak Analytics developed this finding as a synthesis of scenario models conducted by U.S. government, academic, and international partners. The models assess the range of plausible scenarios for the epidemic trajectory based on what is currently known about the Omicron variant.
Can UVGI be used to fight COVID Omicron?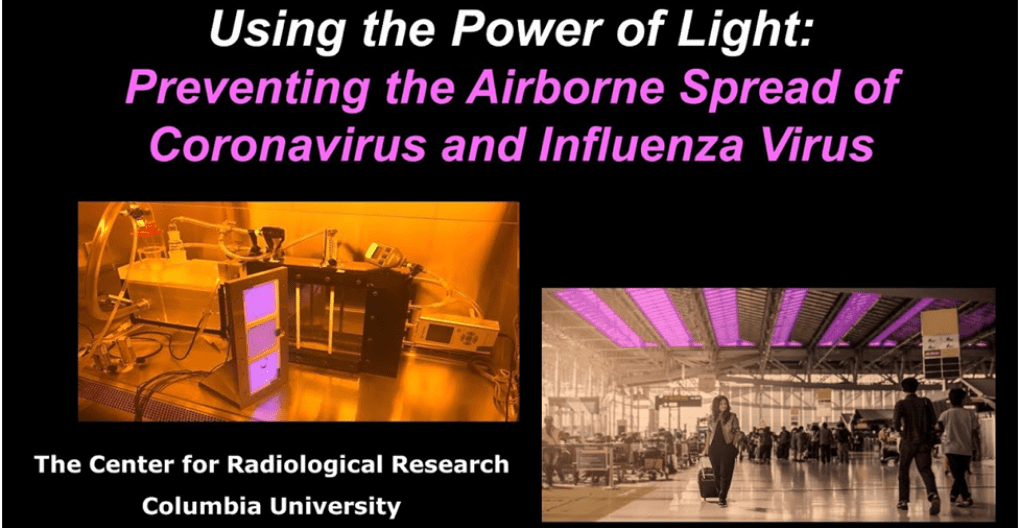 It's becoming clear that our societies will have to deal with COVID Omicron, Delta, Lambda, and other SARS-CoV-2 virus variants in the near future. UVC can combat Omicron as well as all-new COVID variants such as Delta Plus, Delta, and Lambda. While vaccinations are still being carried out around the world, with new variants emerging, it is clear that they are insufficient. With its phenomenal germicidal action, UVC light has been proven to be a safe and effective way to remove nearly all viruses and bacteria from the air, including SARS-CoV-2. We need to bring new tools to the fight to provide clean air for indoor locations. UVC is a tried-and-true technology that has been used successfully for many years in medical sterilization and food safety. Now the same technology is being used to help keep kids safe in schools and keep critical facilities running.
How does UVC fight the COVID Omicron variant?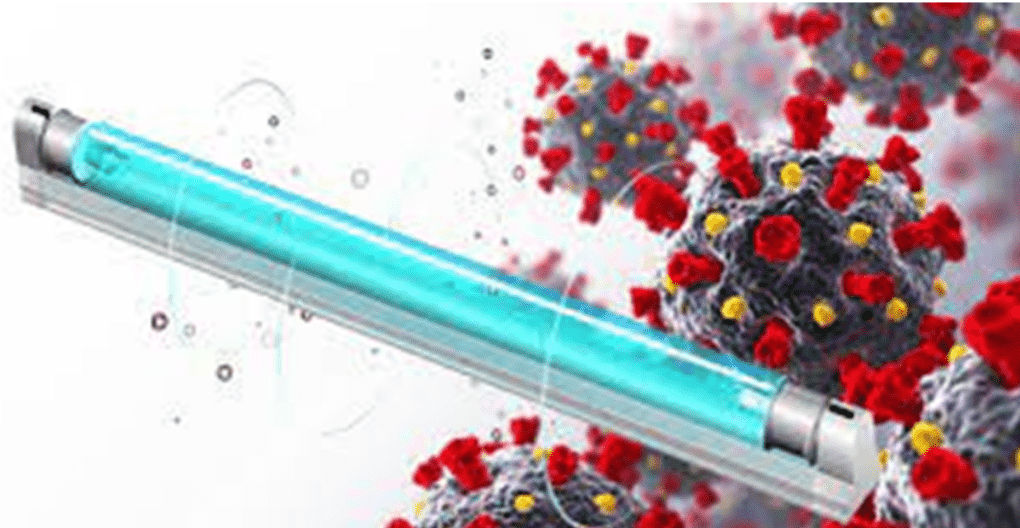 The wavelength of UVC light is perfect for disrupting the replication process of DNA within a virus. By hitting each virus with photons in the UVC spectrum we can make sure that the virus is deactivated and can no longer reproduce. This works for all of the known variants including Omicron, Delta, and Lambda, and should work for all future variants because of how UVC impacts DNA and how this doesn't change as a virus changes over time. UVC will treat new variants the exact same way; by disrupting its ability to replicate and it neutralize its potential threat. UVC has been used effectively since the 1870s when its germicidal properties were first discovered. You can read about the history of UVC germicidal irradiation (UVGI) here: The History of Ultraviolet Germicidal Irradiation for Air Disinfection (nih.gov). Here is a specific research paper discussing how UVC impacts COVID: UV-C irradiation is highly effective inactivating SARS-CoV-2 replication | Scientific Reports (nature.com). As the corona virus SARS-CoV-2 pandemic became a global health burden, studies determined the susceptibility of SARS-CoV-2 to irradiation with ultraviolet light. The UVC dose required for complete inactivation is 1,048 mJ/cm2. UVA exposure demonstrates a weak effect on virus inactivation over 15 minutes. Hence, the inactivation of SARS-CoV-2 by UVC irradiation constitutes a reliable method for disinfection purposes in health care facilities and for preparing SARS-CoV-2 material for research purposes.
According to New York Times, the approach being suggested by scientists now advises using fixtures containing UVGI lamps that can be installed in the ducts or inside the coils of the AHUs, which are similar to fluorescent lights, which shine light and destroy pathogens. UVGI lamps can also be installed in the corners of a room and can be installed in air ducts of ventilation systems or portable or fixed air cleaners.
ASHRAE recommends that In-Duct ultraviolet germicidal irradiation (UVGI) systems can be used to disinfect pathogenic particles transported by air moving through ventilation systems. The proper design of these systems is quite important for energy consumption and disinfection performance, according to a recently published Science and Technology for the Built Environment paper.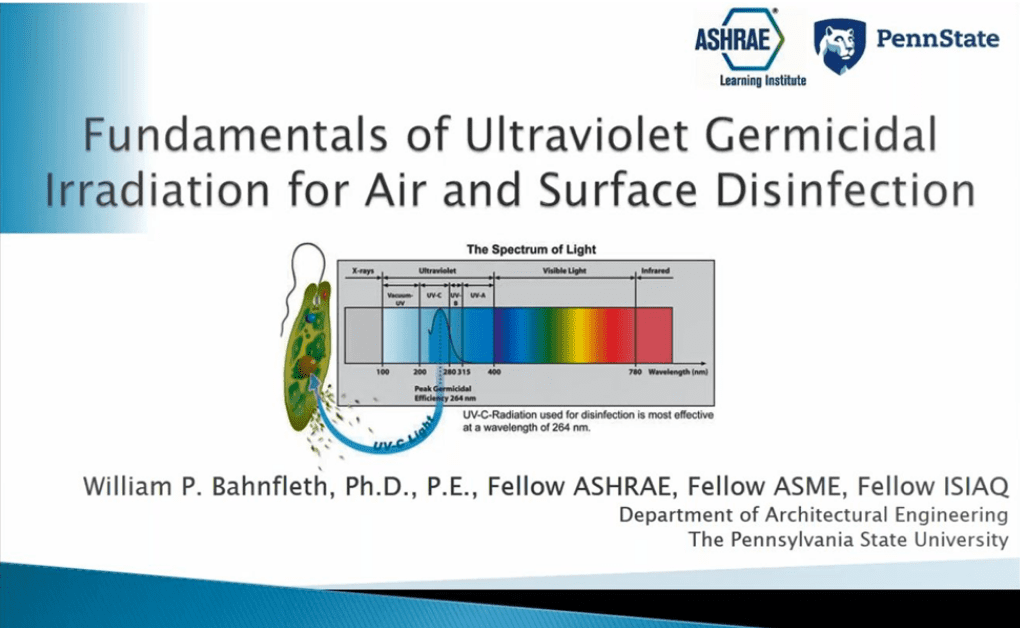 Source: IEC
Alfaa UVGI Solutions
A UVGI solution from Alfaa UV, a company with more than 2 decades of experience in UV technology, has played its role in mitigating the risk of spread of infection during the pandemic in India.  Indoor spaces are protected with proper UVGI solutions applied to HVAC systems and surface treatment.  As the evidence towards transmission through air vs surface gains weight, Alfaa's UVGI solutions for HVAC are gaining in popularity as a practical step in mitigating the risk of Covid 19 and its variants.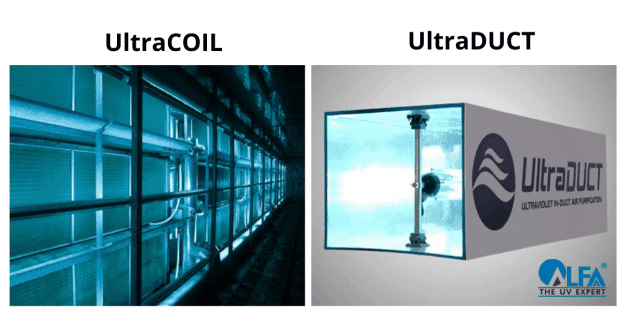 Alfaa UV's ULTRACOIL UVGI System ensures deep cleaning of coils in the safest and most eco-friendly way. There is no worry about the damaging of coils, which is highly likely with conventional chemicals and scrubbing methods. The Ultracoil with its unique Parabolic Reflector System proactively removes bio-films (layer of slimy, sticky substance that houses the bacteria, viruses, mould, spores, etc.), thus ensuring that the air does not get contaminated through the coil and drain pans.
Most importantly and especially in the present pandemic, installing a proper UVGI air disinfection system in front of the coil kills such microorganisms and viruses. (Coronaviruses as well), hence disallowing the formation of a biofilm and arresting the transmission of pathogens in the AHU itself.
Alfaa UV's ULTRADUCT solution provides assured single pass disinfection of airborne bacteria and viruses. It is installed in supply or return ducts. The UltraDUCT also increases the life of HEPA (High-Efficiency Particulate Air) by reducing the load of live organisms. There are various benefits of installing ULTRADUCT in HVAC systems, some of which are improving overall Indoor Air Quality, helping to eliminate Sick Building Syndrome, increasing the life of HEPA, and helping significantly in the fight against Covid 19.
Watch this video for more information about the process and the product to see how these UVGI systems work.
There are many reasons to choose Alfaa UV's UltraDuct and UltraCoil UVGI solutions for your air disinfection in commercial and industrial areas. To know about how we can help you create a COVID-free space, call us today on 9833516650 / 8879336026 or visit us at UVGI Air Disinfection
Like this blog?  Please Share!