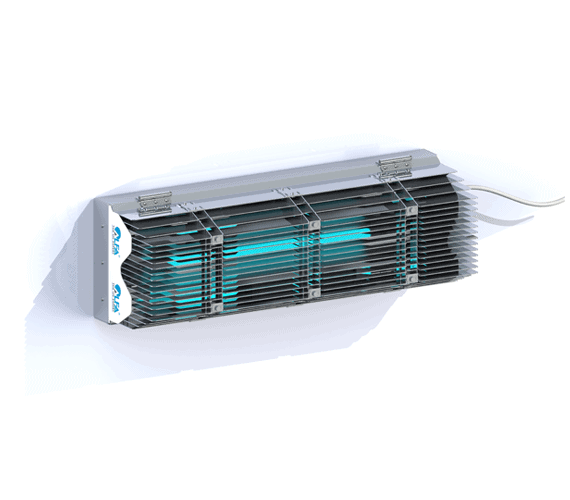 Improves indoor air quality by reducing the risk of Coronavirus.
With less energy consumption, no effort required for regular use, and least time taken to sanitize large areas, the STERO-UP is a savior to many problems at once.
Alfaa UV's new range of disinfecting appliance, STERO-UP Upper Air UVGI System, which involves exceptionally potent germicidal UV irradiation, having extensive coverage of the upper sections of any given room. The advanced engineered upper air purification systems can be installed just like an air conditioner, at a safe height, and aids in superior infection control using powerful UVC irradiation.
FEATURES AND BENEFITS
Simple – STERO-UP operates without interruption 24/7/365 and does not interfere with current staff workflow.
Seamless – Designed with today's critical architectural and clinical considerations at the forefront.
Effective – Using the advanced UV -light purification technology, laboratory studies have shown effective removal of bacteria, fungus and viruses from the air.
Quality – Improves Indoor Air Quality (IAQ) by reducing bacteria, viruses and fungi, therefore minimising the risk of cold, flu, allergies and other illnesses
Clean – Continuously clean upper air in rooms, reducing airborne and/or bio-aerosol transmission of bacteria, viruses, and fungi
Zero Ozone – Produces no ozone or other secondary contaminants.
Applications