How Alfaa UV's UVGI Solutions are Providing Effective Defense Against Airborne Microbes during Covid-19
Posted on December 7, 2020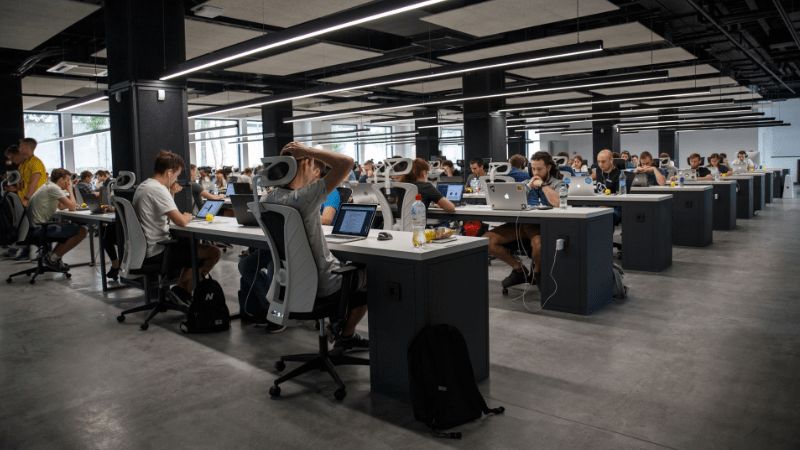 As per the recent updates, The International Ultraviolet Association (IUVA) and American Society of Heating, Refrigerating and Air-Conditioning Engineers (ASHRAE) have also suggested that UVC disinfection technology can efficiently combat the viruses such as SARS COV-1, SARS COV-2, Middle East respiratory syndrome coronavirus (MERS-CoV), etc. The germicidal portion of the ultraviolet spectrum provides an extremely powerful method of addressing disinfection issues for both water and air environments. In this post, we will look at both commercial and industrial applications for using ultraviolet germicidal irradiation (UVGI) to sanitize room air. Poor Indoor Air Quality in commercial and industrial buildings is a growing concern these days, with several studies suggesting that indoor air pollution is 2-5 times worse than outdoor air pollution. Most individuals spend approximately 8-10 hours a day at their workplace, exposing themselves to dangerous indoor air pollutants such as bacteria, mold, and viruses generated within the office building.
Why Do We Need UVGI Solutions?

At 254 nanometres, UV-C physically destroys the DNA of micro-organisms.
Kills bacteria, viruses, and mold spores by penetrating the outer cell membrane of the micro-organism.
UV-C is effective against tuberculosis (TB), H1N1, SARS COV-1, SARS COV-2, and other airborne infectious microbes.
UVC reduces the effects of "sick building syndrome" by significantly reducing the bacteria count in the room.
Eliminates the build-up of biofilms and other organic contaminants on the surfaces of cooling coils.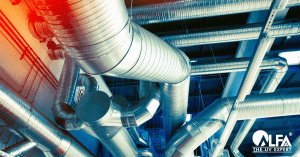 The Solution
UVGI is primarily delivered with two systems in commercial and industrial areas:
UVGI Coil Solutions in AHUs
UVGI Duct Solutions in AHUs
UltraCOIL by Alfaa UV
Alfaa UV's ULTRACOIL UVGI System ensures deep cleaning of coils in the safest and most eco-friendly way. There is no worry about the damaging of coils, which is highly likely with conventional chemicals and scrubbing methods. The Ultracoil with its unique Parabolic Reflector System proactively removes the bio-films (layer of slimy, sticky substance that houses the bacteria, viruses, mould, spores, etc.), thus ensuring that the air does not get contaminated through the coil and drain pans.
Most importantly and especially in the present pandemic, installing a proper UVGI air disinfection system in front of the coil kills such microorganisms and viruses (Coronaviruses as well), hence disallowing the formation of a biofilm and arresting the transmission of pathogens in the AHU itself.  Other benefits of a clean coil (which decreases the pressure drop across itself,) results in the following;
Increase in the thermal efficiency (sensible loads) of the cooling coil.
Decrease in the load on the chiller – hence saving energy on chiller by 10-15%.
Reduction in microbial counts >15 %.
Increasing the life of a coil by avoiding manual cleaning.
Earning IGBC (Indian Green Building Council) points.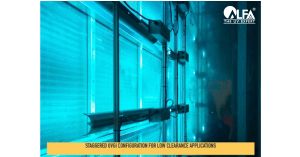 UltraDUCT by Alfaa UV
Airborne contamination comes from a variety of sources and circulates majorly through the HVAC system. In-duct ultraviolet germicidal irradiation (UVGI) systems treat moving airstreams in heating, ventilation, and air-conditioning (HVAC) systems by inactivating airborne microorganisms found within. Airborne transmission of diseases through HVAC systems is much more prevalent nowadays than previously encountered. Research has pointed out to COVID 19 spreading faster in indoor spaces which are airconditioned as compared to outdoor spaces with better ventilation.
Alfaa UV's UVGI Air Disinfection solution provides assured single pass disinfection of airborne bacteria and viruses. It is installed in supply or return ducts. The UltraDUCT also increases the life of HEPA (High-Efficiency Particulate Air) by reducing the load of live organisms.
Improves Indoor air quality.
Helps in eliminating Sick Building Syndrome.
Increases the life of HEPA.
Scientifically designed systems are sized using our proprietary sizing tools based on extensive research.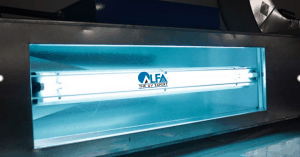 There are many reasons to choose Alfaa UV's  UltraDuct and UltraCoil UV solutions for your air disinfection in Commercial and Industrial areas. To know about how we can help you create a COVID free space, call us today on 9833516650 / 8879336026 or visit us at UVGI Air Disinfection. Check out this video https://www.youtube.com/watch?v=z3kWRuEem2g to know more about our solutions.