How Does UV Technology Work in Waste Water Treatment
Posted on September 27, 2022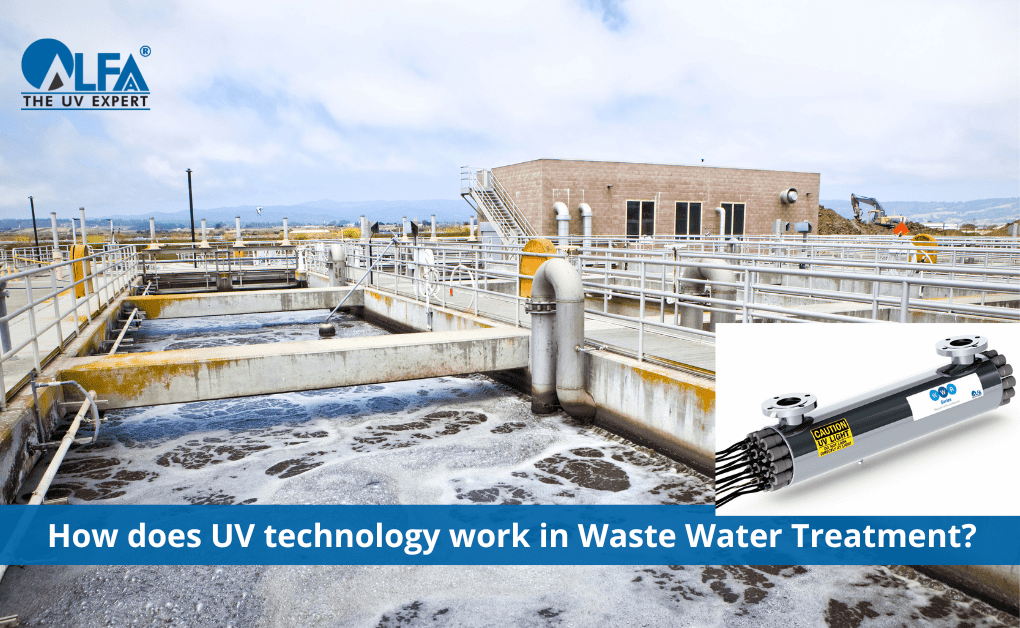 The importance of Wastewater Treatment in our society
Freshwater scarcity, one of the most important global challenges of our time, poses a major threat to economic growth, water security, and ecosystem health. 2/3rd of the earth's crust is made up of water but all this water cannot be used for drinking or other human activities as either it is frozen into ice or present in the form of vast salty oceans and seas. According to research, 97% of the world's water is salty and unusable by humans or other animals (with the exception of marine life), while the remaining 3% is available as freshwater. Less than 0.01% of this three percent is available as fresh water, while more than half is trapped in glaciers. As a result, there are fewer water resources than the high demand for it.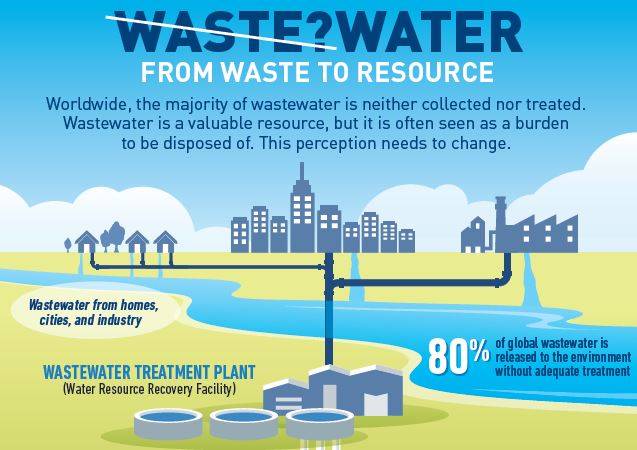 The challenge of providing sufficient and safe drinking water is further complicated by climate change and the demands of economic development and industrialization. Both the public and industrial sectors consume significant amounts of freshwater while producing vast quantities of wastewater. If inadequately treated, wastewater discharge into the aquatic environment causes severe pollution that has a harmful impact on the aquatic ecosystem and human health.
Four billion people — almost two-thirds of the world's population experience severe water scarcity for at least one month each year
Water crisis at present is the biggest problem according to the United Nations. Almost 25 countries of Africa, parts of China, Peru and Brazil in Latin America, some parts of Middle East like Iran, Chile, Mexico, and Paraguay are some of the countries that are facing the water crisis. Over two billion people live in countries where water supply is inadequate
Half of the world's population could be living in areas facing water scarcity by as early as 2025
Some 700 million people could be displaced by intense water scarcity by 2030
By 2040, roughly 1 in 4 children worldwide will be living in areas of extremely high water stress
Due to the increased demand for water over the past ten years, the recovery and recycling of wastewater have become a growing trend.
The Three Stages of Wastewater Treatment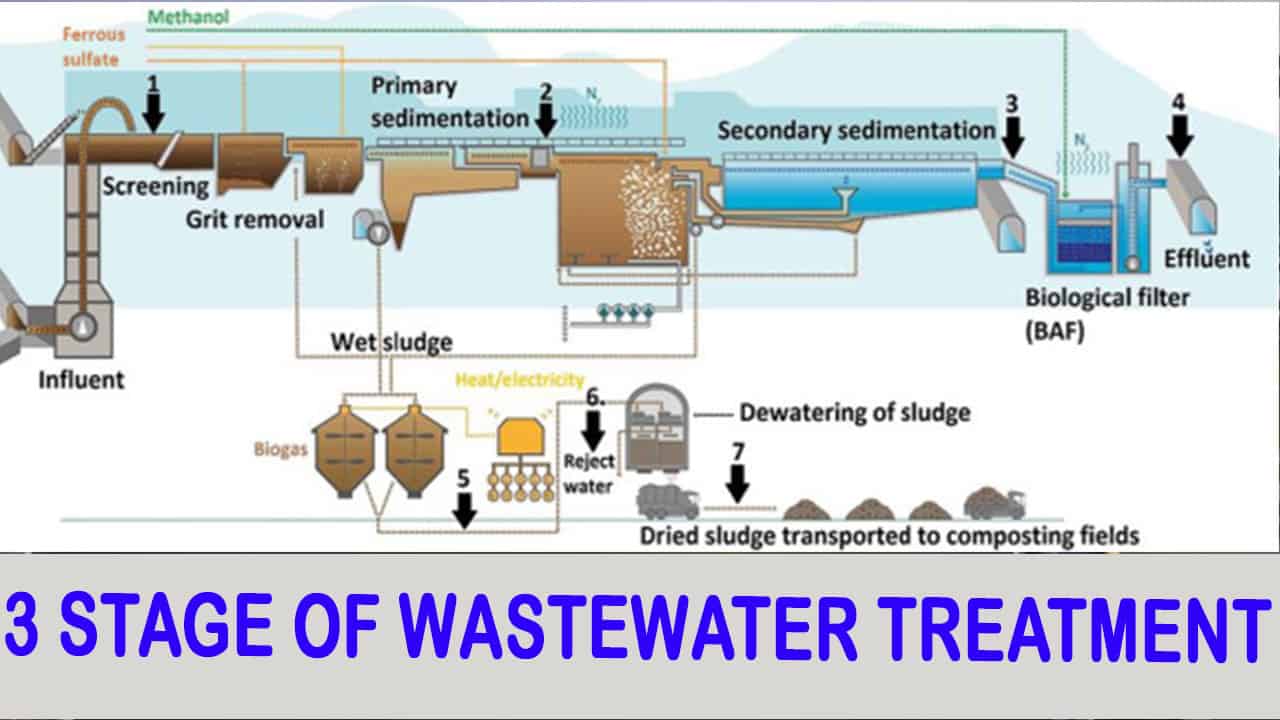 The three main stages of the wastewater treatment process are primary, secondary, and tertiary water treatment. During primary treatment, wastewater is initially stored in a settling tank where heavier solids sink to the bottom while lighter solids float to the top. As soon as they have settled, these materials are kept back while the liquid is drained or continues on to the more demanding secondary stage of wastewater treatment. Additionally, these large tanks frequently have mechanical scrapers that continuously drive collected sludge in the base of the tank to a hopper where it is pumped to sludge treatment facilities. The goal of secondary wastewater treatment, which is more advanced than primary treatment, is to significantly reduce the biological content of the waste through aero biological processes. Completing secondary wastewater treatment allows for its safer release into the local ecosystem by decreasing major biodegradable contaminants down to safe levels.
Tertiary water treatment is the last stage of the multi-stage wastewater purification process. This third stage of treatment eliminates inorganic compounds, bacteria, viruses, and parasites. Removing these harmful substances makes the treated water safe for reusing, recycling, or environmental release.
Purpose of Tertiary Treatment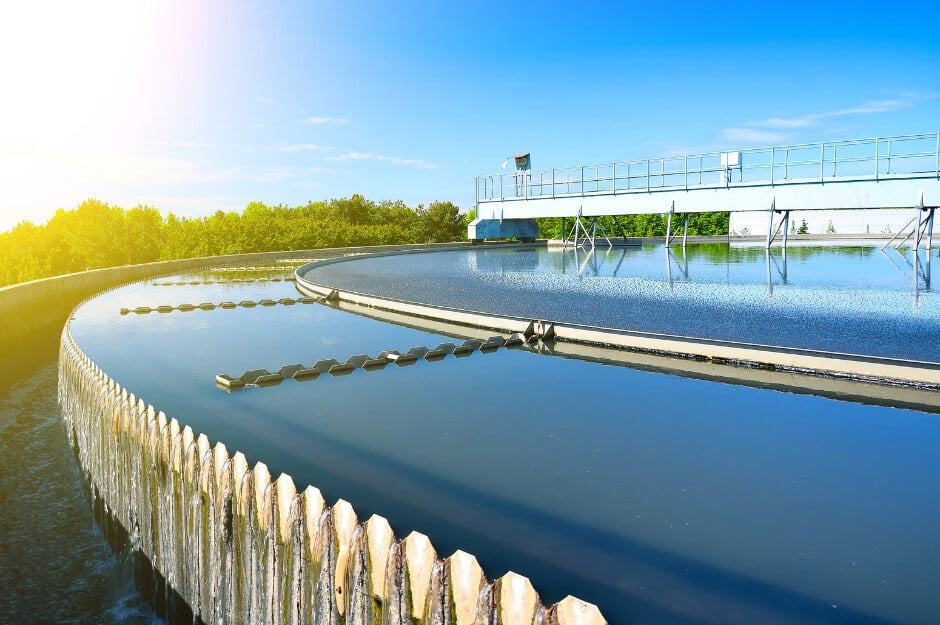 The goal of tertiary wastewater treatment is to meet the quality of the water to domestic and industrial standards or to meet specific requirements around the safe release of water into the environment. In the case of municipally treated wastewater, the tertiary treatment also requires the elimination of pathogens, ensuring that the water is fit for reuse in applications such as gardening and toilet flushing where even accidental consumption can cause serious consequences. In the wastewater industry, plants often focus on primary and secondary treatments, which do most of the work of preparing wastewater for discharge into the environment. Tertiary treatment affords the peace of mind of knowing that the treated wastewater is clean, sanitary, compliant with regulations, and safe enough for reuse. Apart from the psychological stigma of consuming recycled wastewater, water which is treated effectively in the tertiary stage, by bringing pathogens within permissible limits, may be actually safe for consumption.
Nutrient removal, UV disinfection, nitrification, membrane process, filtration, carbon adsorption, and other procedures are all part of tertiary treatment.
What exactly is UV disinfection and how does it work?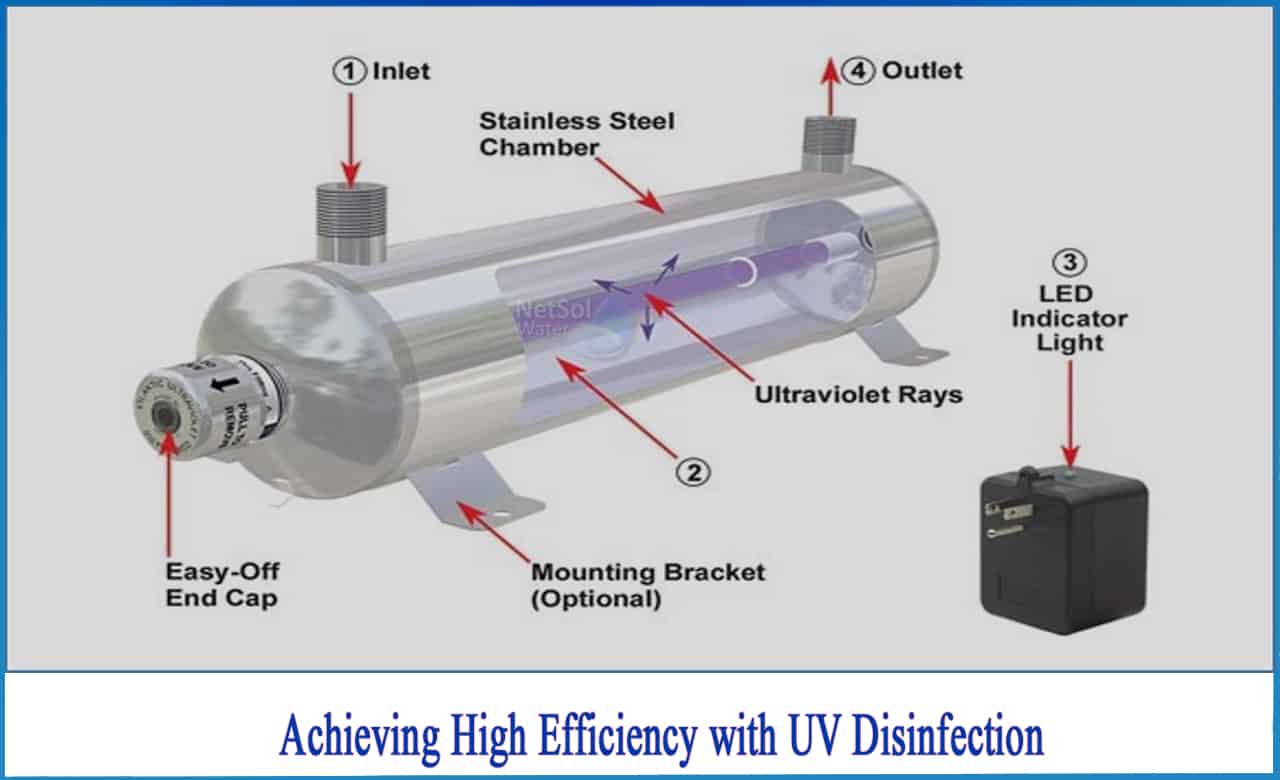 The UV Disinfection System is a highly efficient strategy for reducing microbial contamination in water. However, in order to effectively disinfect the water, microbes must be exposed to UV-C light in a sufficient amount. Applications for UV disinfection systems include treating industrial wastewater, disinfecting municipal water supplies as a whole, and purifying drinking water for individual residences. A more reliable and economical way to disinfect water for industrial uses is through UV water treatment.
UV light disinfects by targeting microorganisms and damaging their DNA in UV water disinfection technology. UV energy (wavelength 240-280 nm) is naturally present in extremely modest amounts, in sunlight. The same energy is delivered at higher intensities by high mercury discharge lamps, known as UV lamps. When exposed to the appropriate dose of UV light, no bacteria, viruses, molds, or spores can survive. As a result, UV is regarded as the best solution for water disinfection. Where surfaces and the air are concerned, a UV mobile sterilizer or UVGI for HVAC can be used.
Alfaa UV – A leader in UV treatment solutions
Alfaa UV is the leading water and wastewater treatment company in India, contributing to projects and services in the field of water and wastewater treatment. Alfaa UV manufactures and supplies UV machines that not only turn wastewater into reusable water but also act as a savior for Mother Earth and her priceless resource "water".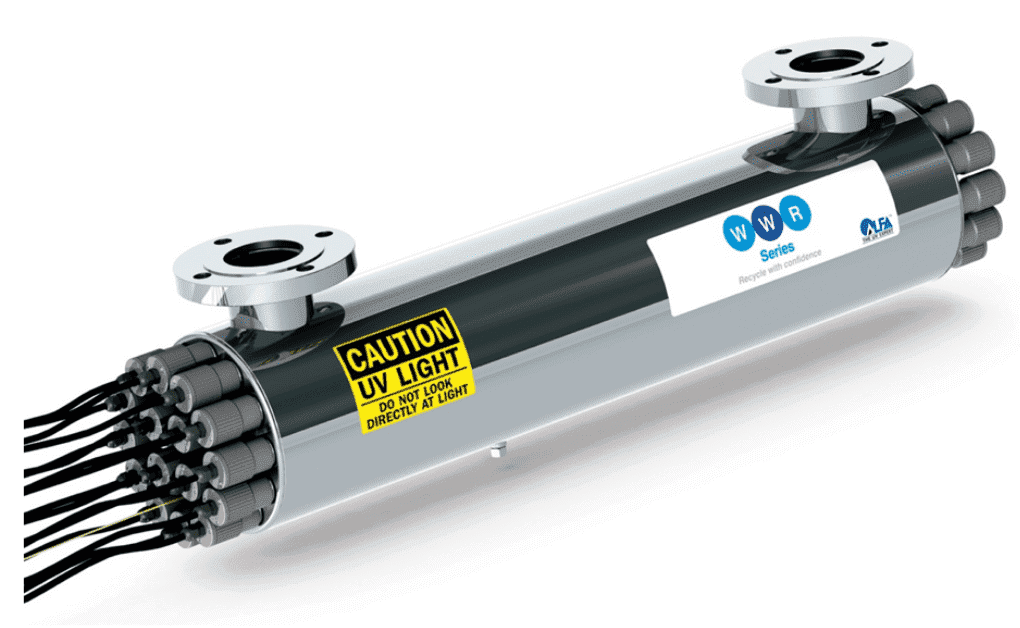 Alfaa UV provides wastewater disinfection solutions for municipal, industrial, and recreational water applications.  WWR UV disinfection systems are designed to aid processes such as wastewater treatment, reverse osmosis (RO), and de-ionization. Apart from wastewater, Alfaa UV's UV disinfection systems have been disinfecting water for pharmaceutical, food, beverage, and other industrial applications to the highest standard.
Get in touch with Alfaa UV at +91-86579 23938 today to know more.