How STERO-360 UV is Revolutionizing Warehouse Sanitization and Logistics Operations
Posted on August 17, 2020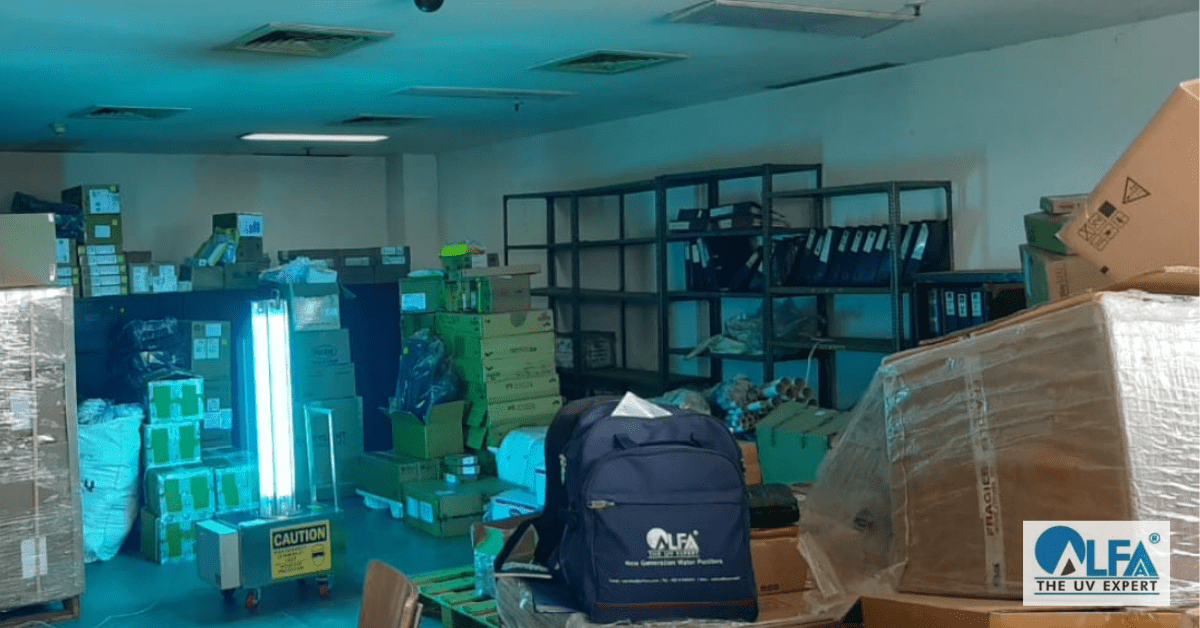 With every droplet that we can't see, touch, or feel, being dispersed into the air, the threat of spreading Covid-19 persists. It's become increasingly critical to keep these heavy droplets from lingering — especially on surfaces, which are welcoming and generous hosts. Maintaining a clean work environment is critical in preventing such situations. Bacteria and viruses can grow on unsanitary surfaces and contaminate them.
Our chemical cleaning products are effective, but using them to disinfect larger settings like workplaces can be expensive, dangerous, and time-consuming. Across the country, there are thousands of warehouses and other logistics spaces where cleaning workers are at risk. Sanitization becomes even more significant when it comes to warehouses as anything stored here is going to come in contact with the world one way or the other. Plus, it'll ensure the safety of the employees themselves.
Current Problems with Warehouses
To ensure that your warehouses are safe places to work, it becomes mandatory to maintain the highest standards of cleanliness but at times it becomes difficult to maintain the protocols.  Especially challenging are the following situations:
Cleaning every product that comes in and goes out of the warehouse.
Entrance & dumpster areas which need cleaning daily.
Sanitizing the material handling equipment that is used daily for transport activities.
Cleaning and sanitizing the warehouse surfaces, materials, heavy equipment, and machines, often with a shortage of staff.
Cleaning the warehouse floor daily with chemical disinfectants and making sure it's done before & after the warehouse operations are carried out in order to avoid contamination.
Maintaining a cleaning schedule, outlining how each item needs to be cleaned, who is responsible, and how frequently it happens.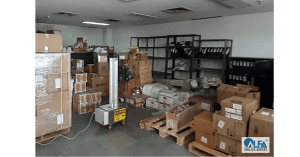 As the spread of COVID-19 isn't decreasing but in fact, is increasing, there is a need to keep warehouse surfaces free of the droplets that spread the virus.
The Solution – STERO 360 UV Room Sanitizer
In a bid to solve this problem, ALFAA UV has introduced STERO-360 – Room and Surface UV Sanitizer, an enhanced line of UVC sanitizers, to help fight COVID-19 more effectively. A sterilizer that is powerful, yet convenient to use, being the perfect choice for ensuring the safety of every individual within the warehouse. UVC has become the new buzzword in disinfection during COVID times. Many establishments are turning to UV Disinfection as a method of sanitizing facilities rapidly to instill safety back in the premises.
Ultraviolet Lamp radiation of 254 nm wavelength must hit the microorganism to inactivate it, and each microorganism must absorb a specific amount of energy (dosage) to be destroyed. Proteins and nucleic acid, which all microorganisms contain as their main constituents, absorb UV radiation energy. After absorption, the UV energy destroys or inactivates the DNA (deoxyribonucleic acid), thus preventing the microorganisms from reproducing.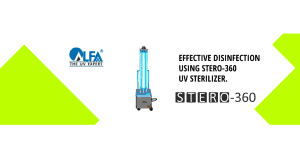 About STERO-360 – UV Sterilizer Machine
STERO-360 is a new line of specialized UV Sterilizer machines that can eliminate more than 99.99% of bacteria and viruses on contaminated surfaces within minutes
The STERO-360 sterilizer comes with a pre-set functionality, which ensures that the device is placed at an ideal location in a given space, each time.
The STERO-360 is a high-performance mobile UV sanitizer with 6 high-intensity, UL certified UVGI emitters (Ozone free).
The STERO-360– UV disinfection system involves minimal human intervention.
STERO 360 is easy to install, operate, and handle, resulting in easeful operation by staff members.
The STERO-360 is a mobile UV room sterilizer that is conveniently portable from one room to another, due to its suitable dimensions.
Surface disinfection happens without directly touching any object, thus ensuring the least chances of STERO-360 being contaminated in any way.
The STERO-360 is safe for usage, can be controlled by any Wi-Fi enabled device including smartphones; the interface is easily understandable and eases in choosing the right disinfection cycle.
The STERO-360 is also equipped with an integrated data logger, allowing each disinfection cycle to be easily recorded.
Watch the video on how STERO-360 works.STERO-360 UV sterilizer lamp device is highly efficient due to its mobility and compact size. Moreover, with its strong power cords and internals, it has the capacity to run continuously all day.   Protective goggles, glass shields, and PPE are required to operate this portable UV room sterilizer in case of manual intervention, or else it can  perform  on its own and can be scheduled & set up with a timer
Call us today on 9833516650 / 8879336026 to know how STERO-360 is being used by commercial establishments to make working spaces virus-free, or visit here and leave us a message.