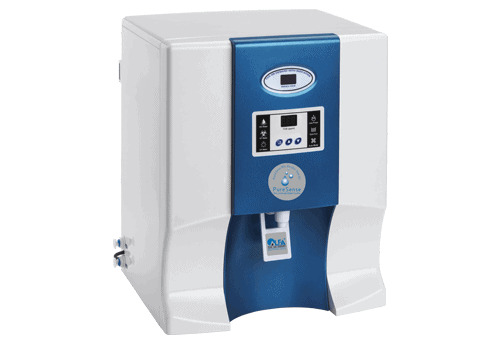 PURESENSE – India's first water purifier that treats any varying water source such as Bore well / Municipal or Tanker water by automatically selecting the required technology: either UF / UV or RO,  based on the indicated TDS setting (Total Dissolved Solids) defined by the customer.
PURESENSE – The Universal Water Purifier is incorporated with a Micro Controller and a TDS sensor to combine RO, UV and UF technology to provide a pre-set TDS on demand so as to retain essential minerals in pure water. It has a user friendly display panel that displays both the TDS in the treated water along with the purification process in use.
PURESENSE – is the best water purifier for home use and automatically circulates water in the storage tank every 4 hours through a UV system thus keeping the water pure and safe at all times. This is a safety feature as water stored for long periods is at risk of getting re-contaminated.
PURESENSE displays running service hours to help the customer know when the next service is due. Post purchase maintenance is vital for any water purifier.
PURESENSE is the perfect answer to confusion around which technology is ideal: RO or UV? PURESENSE is a combination of technologies and the best suited technology will kick in depending on the quality of your source water. When your TDS level is high, RO will become operational, when it is low, UV will become the primary technology at work. No more worrying about your municipal supply getting mixed with tanker water!
PURESENSE comes to you from Alfaa UV, a company with 19 years of expertise in water purification and an excellent track record of after sales service.
Why Is Alfaa PureSense The Best Universal Water Purifier?
Exclusive Features & Benefits
Alfaa PureSense
Universal Water Purifier
UV / UF Purifier
Ro Purifier
RO + UV + TDS
Controller Purifier
Treats any water source – municipal, borewell or tanker water, and automatically selects purification technology as per the need and desired TDS
Yes
No
No
No
Maintains desired, set TDS* & mineral levels which are optimum for good health, irrespective of the input TDS
Yes
No
No
No
Automatic selective operation saves water (Does not use RO when not required & saves wastage of water)
Yes
No
No
No
Automatic selective operation enhances the life of the RO membrane and brings down expensive replacement cost
Yes
No
No
No
TDS of purified water display on front panel. (Know the TDS of water you are drinking)
Yes
No
No
No
Continuous UV purification of stored water once every 4 hours (ensuring that stored water remains pure)
Yes
No
No
No
Digital display reminder for next service
Yes
No
No
No
LED indicator tells you which purification process is ON and the current TDS level of water
Yes
No
No
No
Indicator for storage tank full & low pressure on front panel. (Easy identification for tank full & low pressure in the inlet)
Yes
No
No
No
Technical Specification