Food Hospitality World Expo 2018
Event date: June 09, 2018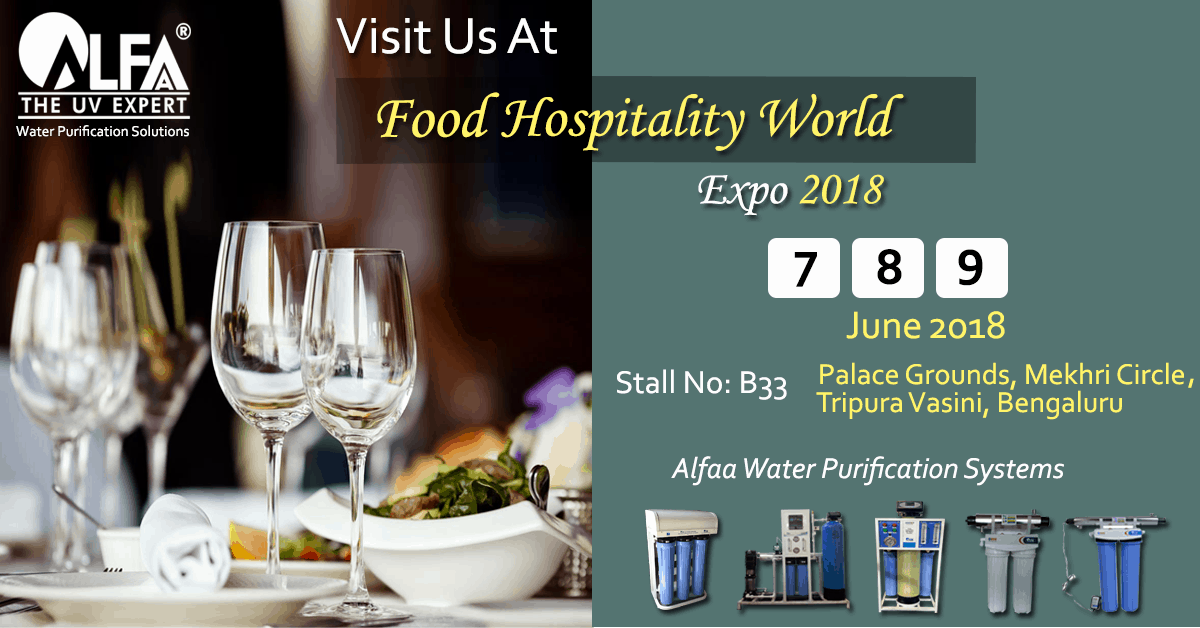 Food Hospitality World Expo is the 3-day event being held from 7th to 9th June at palace grounds, Bengaluru. Food Hospitality World Expo is India's largest trade show for the food, drinks and hospitality industry.
This is an invitation to visit our booth No B33. It will give you a comprehensive look at our machinery and products. It will be the perfect opportunity to understand your requirements and learn more about what we have to offer you.
Good quality water is an indispensable ingredient for every successful food service. Food and beverages are the main reasons why customers visit a food outlet regularly. It is important for food retail chains to maintain proper hygiene along with providing the best tasting food and beverage each time, to maintain loyalty and regularity amongst their customers.
Quality and taste of water served at the food retail outlet and water used in the preparation of foods/beverages play a vital role in enhancing customer experience.
Why Alfaa UV
We at Alfaa UV, with 20 years of experience and expertise in water purification has helped more than 500+ pan India located food outlets and restaurants to solve any type of water problem.
Alfaa's UV + RO water purification systems are extensively used in food and retail chains in their various formats, besides warehouses and offices, to address the huge cost of bottled water.
Today, Alfaa has become the preferred vendor with leading national and international brands because of its commitment to purity, understanding of water conditions, and timely service response.
We will be presenting some of our exciting products for commercial applications, such as :
Your presence will do us great honor and we are looking forward to seeing you.