ACETECH Mumbai Expo – 2017
Event date: November 05, 2017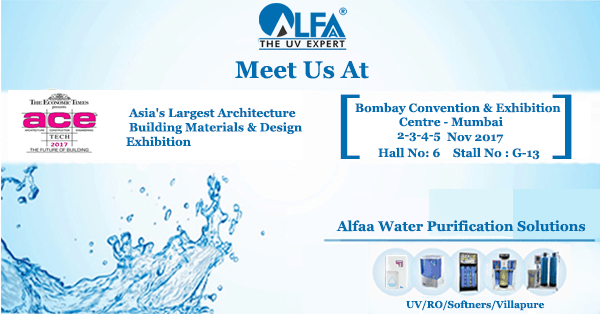 ACETECH Mumbai 2017 expo is a 4-day event being held from 2nd to 5th November 2017 at the Bombay Convention and Exhibition Center.
The Economic Times ACETECH is a leading trade fair in Asia for architecture, building materials, innovation, and design.
Today, water purification is an essential part of residential projects where buyers demand quality construction and standard products & services as amenities. While builders & developers want to offer the best, escalating project costs need attention.
Alfaa UV understands this perspective and offers water purification solutions that appeal to both buyer and developer.
Alfaa UV is pleased to welcome you to visit our booth (Stall: G-13). It will give you a comprehensive look at our machinery and products. It will be the perfect opportunity to get to know each other better and learn more about what we have to offer you.
We will be presenting some of our exciting products for commercial applications, such as :
Your presence will do us great honor and we are looking forward to seeing you.