Waste Water Disinfection: From Waste to Resource
Posted on August 21, 2018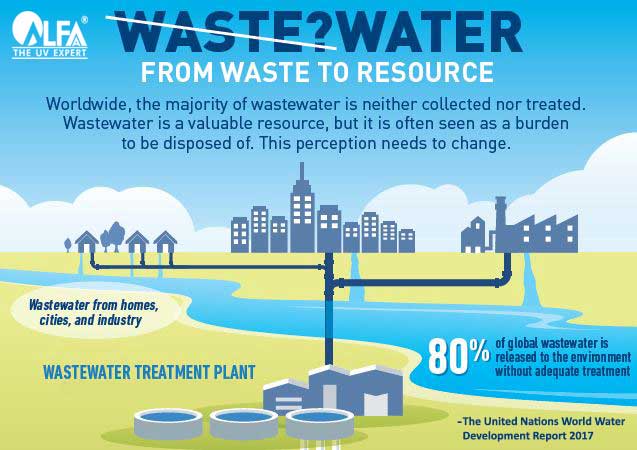 The infrastructure of urban India is way behind to meet the demand of rapid urbanization. Existing water supply in cities is both irregular and in short supply. In such an environment, it is important to understand the availability of water and the changes in water demand due to increased industrialization and rapid increase in the population of urban India and look at cost effective & long-term solutions to address the problem of shortage of water. Recycling & reuse of wastewater is one such solution which will bring water back for use rather than disposing it and considering as a 'waste'. It is important to harness this resource to meet the increasing demand of water which is the need of the hour.
Sometimes opportunity can be misunderstood as a problem.
"Wastewater" – is it a problem?
Well, yes. If wastewater is not treated, and simply dumped into lakes, rivers or the ocean or into the soil, it could be a serious threat in many forms. A threat to the health of the ecosystem, a  threat to public health, a threat to soil contamination, a threat to the pollution of our water bodies, and much more. None of these threats can be neglected because of its serious adverse effects. However if waste water is treated and disinfected, then waste water can be turned into an opportunity. It could be a renewed resource of water. The resource that will be available to lessen the problem of water scarcity, by providing treated and disinfected water for non-potable purposes such as agriculture, construction, landscaping & gardening, washing vehicles etc. thereby freeing potable water for human consumption.
Why Use UV for Industrial Wastewater Disinfection?
To combat the problems of water scarcity and rising cost of fresh water, UV disinfection can help by treating waste water in the tertiary stage, so that it can be reused with surety. Water which has been through primary and secondary treatment often looks clean, but is filled with deadly pathogens which are invisible to the naked eye making its reuse extremely dangerous. Without disinfection, the use of this water (even accidentally) can pose serious public health issues. UV systems, specially designed for wastewater disinfection  can disinfect wastewater so that the water can be reused with confidence for purposes such as flushing, gardening, construction etc.
UV technology for water disinfection has become a popular choice worldwide especially for disinfection of drinking water. The major reason for this is because of its affordability and environment-friendly qualities, unlike chlorination.
What is UV Disinfection System and how does it work?
UV Disinfection System is an extremely effective way to combat microbial contamination in water. However, microbes have to be exposed to UV-C light in a proper manner in order to effectively disinfect the water.
In UV water disinfection technology, UV light disinfects by penetrating microorganisms and destroying their DNA. DNA plays an important role in the organisms' functions and reproduction; hence destroying the DNA prevents the organism from being active and multiplying. This UV energy (wavelength of 240-280 nm) is also naturally found in sunlight in very small quantities. The same energy is produced in stronger intensities with the help of high mercury discharge lamps, commonly known as UV lamps. No bacteria, viruses, molds or their spores can survive when exposed to the correct dose of UV light. Therefore UV is considered as the best solution for water sterilization.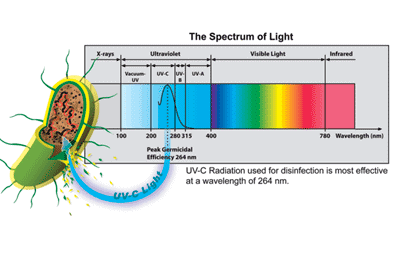 Benefits of UV Disinfection System for Wastewater Disinfection
Natural – UV is nature's way of purification.
Environmentally Friendly – No Toxic by-products are formed during UV disinfection process
Effective – All known microorganisms are susceptible to UV light
Economical – The low operating costs of these industrial water purification systems make them economical.
Safe& Chemical Free – No addition of chemicals hence no danger of overdosing
Fast – Industrial wastewater treatment is "on contact' purification, therefore instant
Easy to Manage – Well designed systems like the Alfaa UV systems come with many advanced features like CFD (Computational Fluid Dynamics), high-efficiency electronic ballasts, and extremely precise UV intensity monitors which make them highly effective and easy to manage.