UV Disinfection Technology for Water Treatment
Posted on April 3, 2019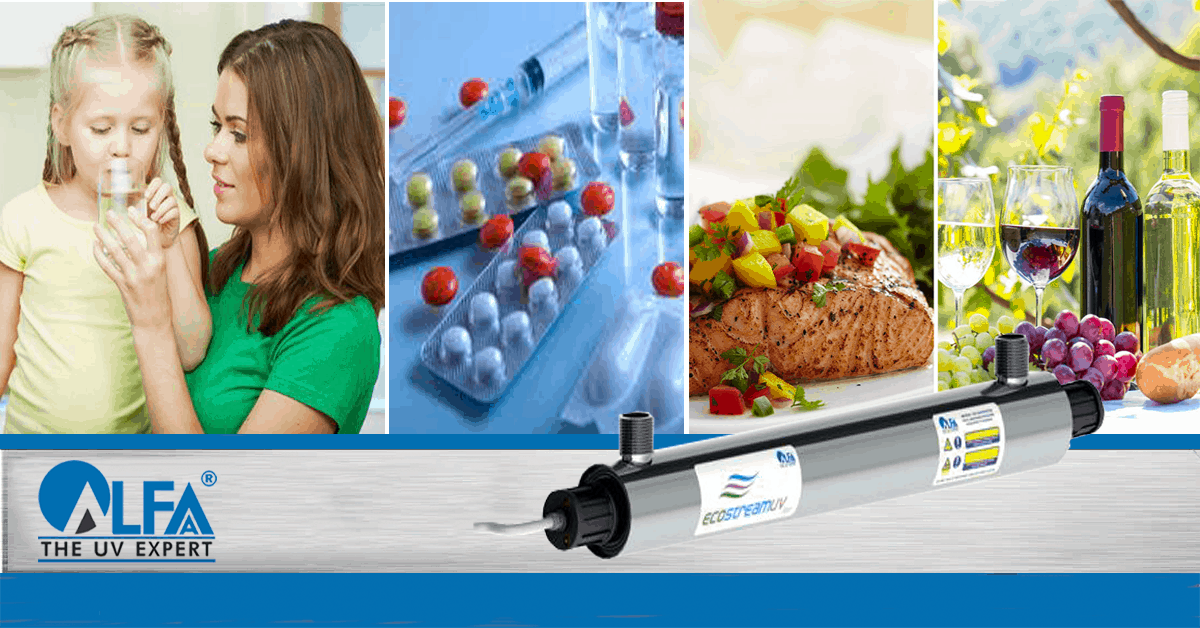 UV Water Disinfection Technology
In UV water disinfection technology, Ultraviolet light of wavelength 253.7 nanometers is used for disinfection of bacteria, viruses, molds, algae, and other microorganisms, which multiply and grow. UV disinfection technology destroys the DNA of microorganisms which leaves them dead and unable to grow further. UV disinfection technology can be used for drinking water disinfection, process water disinfection, wastewater disinfection, and surface disinfection. Other than disinfection applications, this technology can also be used for TOC removal and Ozone destruction.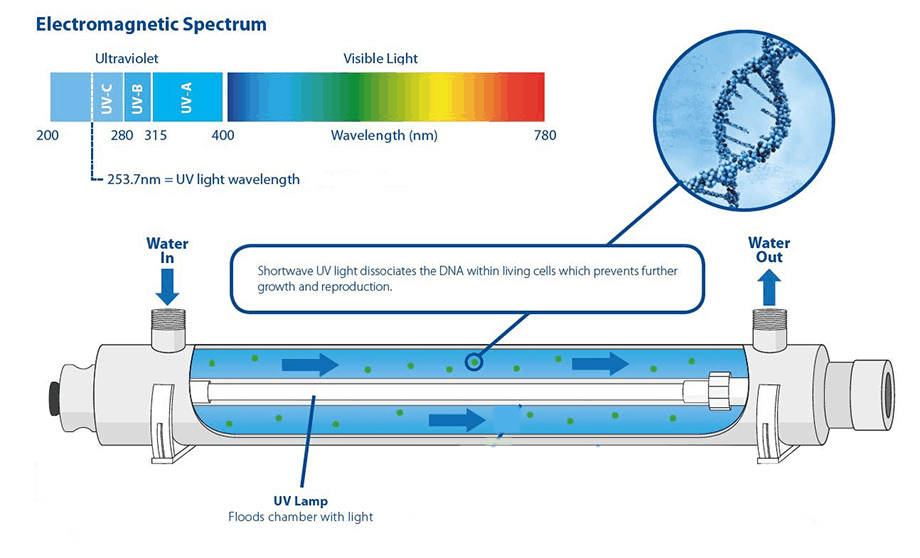 Benefits of UV Water Disinfection Technology
Natural – UV is nature's way of purification.
Environmentally Friendly – No Toxic by-products are formed during the UV disinfection process
Effective – All known microorganisms are susceptible to UV light
Economical – Lowest operating cost amongst disinfection systems
Safe& Chemical Free – No addition of chemicals hence no danger of overdosing
Fast – It is on-contact purification & therefore Instant
Easy to Manage – Well designed systems like the Alfaa UV disinfection systems come with many advanced features like CFD (Computational Fluid Dynamics), high-efficiency electronic ballasts, and extremely precise UV intensity monitors which make them highly effective and easy to manage.
Comparison of UV Disinfection Technology, Chlorination, and Ozonation.
| | | | |
| --- | --- | --- | --- |
| | Ultra Violet | Chlorination | Ozonation |
| Capital Cost | Low | Lowest | High |
| Operating Cost | Lowest | Low | High |
| Ease of Installation | Excellent | Good | Complex |
| Ease of Maintenance | Excellent | Good | Poor |
| Contact Time Required | <10 seconds | 20-30 minutes | 10-20 minutes |
Maintenance of UV Disinfection Systems:
There may be some cases where the water is not adequately pre-treated and turbidity levels are higher than desired. In such cases, routine inspection and cleaning can be carried out every 6 months. In the case of high turbidity and hardness, the cleaning frequency might need to be increased. Finally, the UV lamp has a limited life and must be replaced once it is exhausted. In the unlikely event of premature failure of the lamp, the monitoring circuit will provide the signal to advise replacement.
Go Green with ALFAA UV
As a leader in UV technology, Alfaa is at work disinfecting and purifying every kind of water, from drinking water, to process and wastewater.
Alfaa's UV water disinfection technology is Green & eco-friendly. UV uses no chemical and forms no by-products. Compare this to chlorine which produces dangerous carcinogens such as trihalomethanes which further pollute our environment, and endanger our health. By adopting Alfaa's UV water disinfection technology, you take a step forward in becoming a "Green Citizen".
Blog By:- Alfaa UV. Alfaa UV is the market leader for UV disinfection system in India with thousands of installations for various industries and applications.
Check out what our customers say about us.