Why Restaurants Need Water purification systems
Posted on February 23, 2018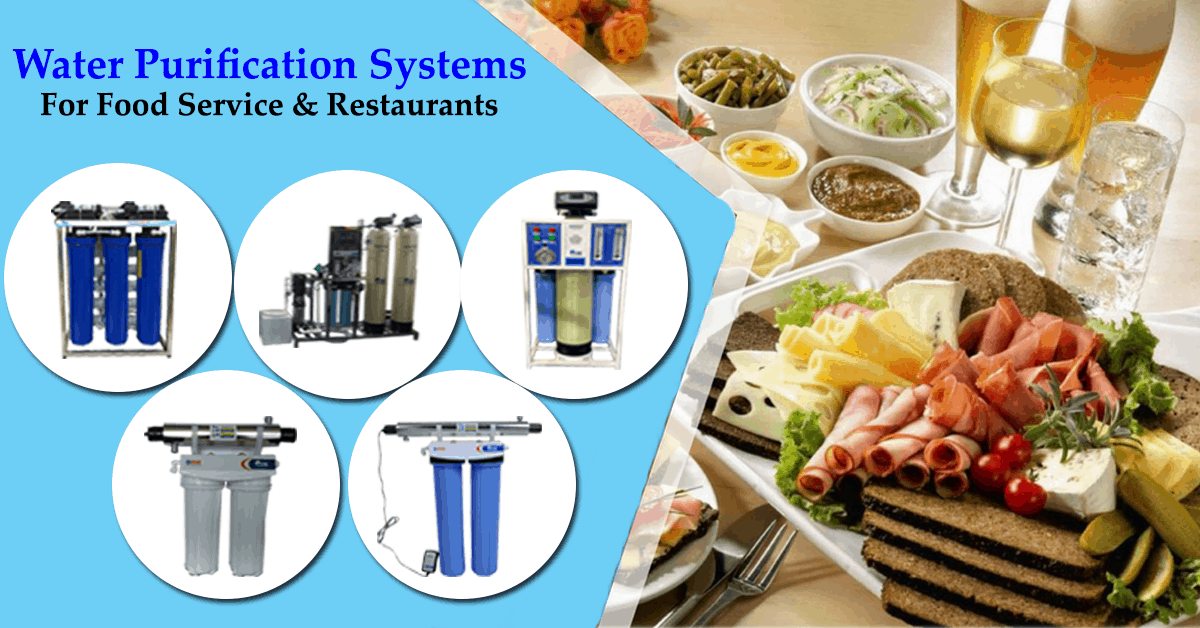 Good quality water is an indispensable ingredient for every successful food service and restaurant business. Food and beverages are the main reasons why customers visit a food outlet regularly. It is important for food retail chains to maintain proper hygiene along with providing the best tasting food and beverage each time, every time, to maintain loyalty amongst their customers to keep coming back.
Quality and taste of water served at the food retail outlet and water used in the preparation of foods/beverages play a vital role in enhancing customer experience. Besides water safety, it is important to maintain standard taste across water coolers, cold-drink fountains, & tea-coffee vending machines.
How can your restaurant benefit from Water Purification Systems?
Water is integral to every aspect of the operation, from preparing food and beverages to cleaning glassware and utensils. A properly sized and installed Water purification system will help a restaurant in many ways, including:
Lowering operating expenses – High-quality water helps to reduce energy consumption as well as detergent costs and also lowers the risk of downtime due to equipment malfunctions.
Longer equipment lifespan – By eliminating the buildup of damaging contaminants such as scale, water purification systems can extend the life of your equipment.
Improves Taste– With high-quality water, your food and beverages will taste and smell better, which translates into happier customers.
Benefits of Purified Water for Ice Machines
Water purification systems will remove mineral sediments such as calcium and lime and prevent scale formation. The water purification systems also keep out parasites and other bacteria such as slime fungus, removes odour, which helps to create a tasteless ice that will not change the flavour of beverages. With the use of water purification systems, you can remain confident that the ice you are providing to your customers or guests is pure and free from any contamination that might change the taste of their beverage or make them ill.
Benefits of purified water For Coffee Machines:
The coffee machine can be adversely affected by using unprocessed water. The grinding plates can become scaled, causing damage to the machine if you don't commit large amounts of time and effort to keeping the limescale away.
Filtered water, therefore, can reduce the need for time-consuming maintenance and prevent costly breakdowns and specialist repairs. With the right water purification systems, not only will your machine run more efficiently and last longer, but it will also produce better-tasting coffee for your customers.
Further Reading: The Importance of Water Treatment in the Food and Beverage Industry
Most common water purification systems for food service and  restaurants
Commercial RO Water Purifiers:
Reverse osmosis is a process that forces water through specialized membranes with a pore size of approx 0.0001 microns and exerts a certain amount of pressure on it to remove foreign contaminants, solid substances, large molecules and minerals that are dissolved in water.  Reverse osmosis is a water purification system used around the world to help improve water for drinking, cooking and other important uses. It is recommended for water with TDS more than 500 ppm
Commercial UV Water Purifiers:
Ultraviolet (UV) treatment along with prefiltration, is an eco-friendly and highly effective chemical-free approach to water treatment. UV has a distinct ability to destroy harmful illness-causing microorganisms like bacteria, viruses and some protozoa that are chlorine resistant. UV light creates radiation that attacks the DNA of these microorganisms and destroys them at their core making the water safe for consumption.
View our commercial water purifiers specially designed for food and beverage industry
If you would like to find more about our water purification systems and service get in touch with us today.