Is Your HVAC System Ready to Fight Covid-19 And Reopen Your Business?
Posted on February 10, 2021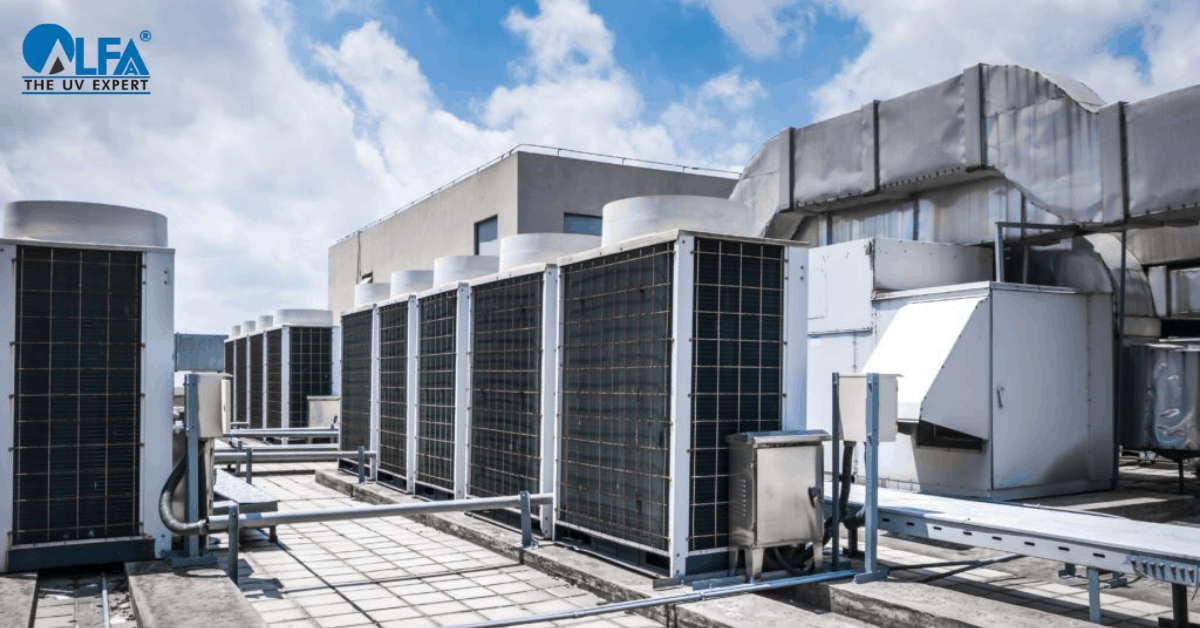 Although much remains unknown about COVID-19, scientists have established that the coronavirus is highly contagious and transmitted via air. Studies suggest that it primarily spreads when infected people cough, sneeze, or talk—actions that expel respiratory droplets containing particles of coronavirus in combination with mucus or saliva. If these droplets land on or are inhaled by others nearby, they could transmit the coronavirus. Touching doorknobs, computer screens, or other surfaces on which droplets have landed may also lead to infection. The now-common guidelines for wearing masks and physical distancing—typically, by remaining six feet away from others—reflect these observations. The spotlight is on indoor air quality as COVID-19 continues to change the way we look at the world outside of our homes. Organizations such as the American Society of Heating, Refrigerating, and Air-Conditioning Engineers (ASHRAE) and the Centres for Disease Control and Prevention (CDC) have issued statements and guidelines related to the indoor spread of the disease.
Indoor Air Quality and HVAC Systems
The air we breathe is sacred. There is nothing that's more valuable than being able to breathe clean, fresh air especially when we go into offices, shopping malls, food courts, and restaurants. A lot of the time, many businesses have centralized air being circulated through Heating, Ventilation, and Air Conditioning (HVAC) systems. The air is recycled so that people can have cool or warm air at their leisure while keeping energy costs under control. Bacteria, mould, spores, fungi, and viruses like the novel Coronavirus grow rapidly inside the HVAC systems and get distributed all over the premise through the air-conditioning ducts. This makes the environment infectious, unhealthy, and unsafe, without us realizing it. Research has shown that places like shopping malls, hospitals, commercial spaces, IT Parks, and schools are exposed to similar unhealthy environments, and that can heighten health issues including congestion, headaches, upper respiratory ailments, flu, and the novel coronavirus which is responsible for the COVID -19 pandemic.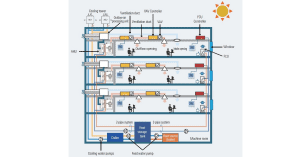 MAKE YOUR FACILITY SAFER, TODAY!
In today's world, a safe indoor environment is key to earning the trust of your customers and the reliability of your employees.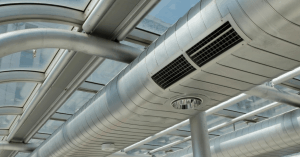 It's time to upgrade your commercial HVAC system, Alfaa UV is here to help with their Next Generation UVGI for HVAC Solutions. Ultraviolet Germicidal Irradiation (UVGI) is electromagnetic radiation that is used to disinfect (kill) microorganisms such as bacteria, viruses, yeast, mould, and fungi. It is a non-chemical technology with no residual by-products. The use of short-wavelength ultraviolet (UV-C) light to kill or inactivate microorganisms has been an accepted disinfection method since the middle of the 20th century. Thus, UV lamps for air disinfection (UVGI) have found a huge scope of applications in air purification with rapidly increasing industry acceptance in HVAC applications. In fact, since the advent of COVID -19, UVGI for HVAC has become a highly searched word, and the world has suddenly woken up to its high disinfection capability.
To see how these UVGI systems work, watch this video https://www.youtube.com/watch?v=z3kWRuEem2g for more information about the process and the product.
Introducing UltraCoil and UltraDuct by Alfaa UV
UltraCoil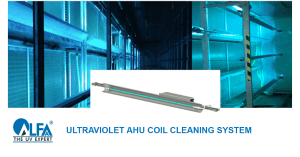 Alfaa UV's ULTRACOIL ensures deep cleaning of coils in the safest and most eco-friendly way. There is no worry about the damaging of coils, which is highly likely with conventional chemical and scrubbing methods. The Ultracoil with its unique Parabolic Reflector System proactively removes the bio-films (layer of slimy, sticky substance that houses the bacteria, viruses, mould, etc.), thus ensuring that the air does not get contaminated through the coil and drain pans.
Installing a proper UVGI air disinfection system in front of the coil kills such microorganisms and viruses (Coronaviruses as well), hence disallowing the formation of a biofilm. A clean coil decreases the pressure drop across itself, which results in the following;
Increase in the thermal efficiency (sensible loads) of the cooling coil.
Helps Sars Covid Protection
The decrease in the load on the chiller – hence saving energy on chiller by 10-15%.
Reduction in microbial counts >15 %.
Increasing the life of a coil by avoiding manual cleaning.
Earning IGBC (Indian Green Building Council) points.
UltraDuct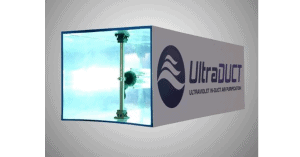 Alfaa UV's ULTRADUCT solution provides assured single pass disinfection of airborne bacteria and viruses. It is installed in supply or return ducts. The Ultraduct also increases the life of HEPA (High-Efficiency Particulate Air) by reducing the load of live organisms. There are various benefits of installing ULTRADUCT in HVAC systems, some of which are listed below:
Improves air quality.
Helps in eliminating Sick Building Syndrome. Read this blog to know why working professionals should care about indoor air quality.
Increases the life of HEPA.
Helps in eliminating cross-contamination.
Scientifically designed systems are sized using our proprietary sizing tools based on extensive research.
Computational flow dynamics (CFD) and UV radiation profile modelling data.
Scientifically engineered positioning of UV lamps for air disinfection to ensure delivery of optimum UV dosage and maximum efficiency in killing microorganisms.
Can target specific bacteria as per requirement.
There are many reasons to choose Alfaa UV's UltraDuct and UltraCoil UVGI solutions for your air disinfection in Commercial and Industrial areas. To know about how we can help you create a COVID free space, call us today on 9833516650 / 8879336026 or visit us at UVGI Air Disinfection