ewater - UV Home Water Purifier
ewater Series is Home Water Purifier the latest offering from Alfaa UV. ewater Standard, ewater Ex and ewater Lx incorporate a  5 step purification process for the first time in India. Other firsts include UV lamp Change indicator with pre alert, Carbon Change indicator with pre alert and inbuilt kitchen timer for added convenience.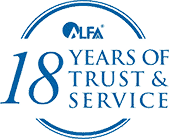 ---
---
Inquiry/Order
SERVICE REQUEST

India's Best UV water Purifier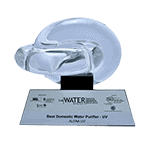 Alfaa UV has been awarded the prestigious UNESCO Water Digest Award 2014-15 in the category "Best Domestic UV Water Purifier", for its products ewater and SPARKLE UV Water Purifiers.
Best Product Design Award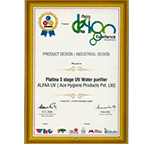 ewater 5 stage water purifier from Alfaa UV has been conferred with the DESIGN EXCELLENCE AWARD 2015 by CMO Asia in Singapore.
Purity Assured
Ultra Violet (UV) technology a natural, chemical free and time tested method of purifying water and has been used worldwide for over 100 years. Alfaa UV, leaders in UV technology, now introduces the new ewater Series, a 5 step water purification system for your home. ewater Series come with super packed featured and benefits. To give your family assured purity , without losing precious minerals or wasting
Service Guaranteed
All water purifiers, irrespective of the technology being used, need to be cleaned regularly and consumable parts like the cartridges, membranes, batteries, lamps, bulbs etc. replaced periodically. Unless well maintained, the quality of water from the purifier may not meet desired levels. Alfaa, over 18 years, has won the confidence and trust of users by living up to its promises of timely and dependable after sales service.  Service in select cities
ewater Series Feature Comparison
| Features & Benefits | ewater | ewater Ex | ewater Lx |
| --- | --- | --- | --- |
| Very Compact design with contemporary looks | Yes | Yes | Yes |
| 5 steps purity process | Yes | Yes | Yes |
| Dual Process Filtraction for High performance | Yes | Yes | Yes |
| Stainless Steel Purification chamber for safety & hygiene | Yes | Yes | Yes |
| Flosteer Technology for total purification | Yes | Yes | Yes |
| Flowrate 2 litres/minute | Yes | Yes | Yes |
| Eletronic Boiling & Monitoring | Yes | Yes | Yes |
| Inbuilt tru Guard voltage Conveinince | Yes | Yes | Yes |
| Wall mountable & Countertop option | Yes | Yes | Yes |
| Loft tank usage without additional pump | Yes | | |
| Control of water flow through switch | | Yes | Yes |
| Energy Saver Standby Mode for extended UV lamp life | | | Yes |
| Futuristic PureSense Controller (PSC) to Continuously scan purity | | | Yes |
| UV lamp life indicator with pre alert | | | Yes |
| Carbon life indicator with pre alert | | | Yes |