IS COVID BACK?
Posted on April 11, 2023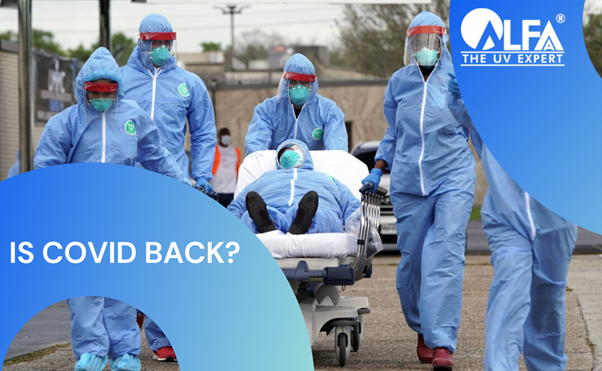 Spike In Daily Covid Cases
Three years have passed since the COVID-19 outbreak was declared a pandemic by the World Health Organization, and the number of deaths globally is getting close to 7 million. The Omicron XBB.1.16 variant of SARS CoV 2 may be the most prevalent strain in the nation, according to data updated from India on GISAID, a global science project that offers free access to genomic data of influenza viruses and the coronavirus responsible for the COVID-19 pandemic.
Covid-19 cases in several Indian states have recently increased. Kerala, Maharashtra, Gujarat, and other states have reported the most active cases. While Covid-19 instances in these states are on the rise, the Center has instructed Telangana, Tamil Nadu, and Karnataka to implement a multipronged strategy of the test, track, treat, and vaccines. There are presently 14 districts with a COVID-positivity of 10% or higher. The number of Covid 19 cases and deaths reported on March 25 reached its highest level since October 28 (1,900 cases and seven deaths), with Mumbai and Delhi reporting higher positive rates. Furthermore, over the past two weeks, the number of cases have been steadily increasing.
Most people have returned to their pre pandemic normal lives as a result of immunity developed through infections and vaccinations. Over 80% of the population is fully immunized, according to the most recent state data, but only 20% have had the booster shot to protect against Omicron. Maintaining a current vaccination schedule and wearing face masks as necessary are known ways to continue protecting ourselves in an environment where COVID is prevalent.
Will India Experience New Restrictions?
India has been experiencing a surge in COVID-19 cases in recent weeks, and several states have already implemented new restrictions to control the spread of the virus. It is possible that more restrictions may be imposed in the future if the situation does not improve. However, any decision on new restrictions will depend on the evolving situation and the government&'s assessment of the need for such measures.
Experts are quite concerned about the new COVID variant XBB.1.16, as they noted that India experienced a "281% spike in COVID cases" in just 14 days after the new variant was discovered. The new strain has been identified in 12 nations and is quickly spreading to Singapore, Brunei, the US, and India. According to Vipin M. Vashishtha, a consultant pediatrician at the Mangla Hospital and Research Centre in Bijnor and a former convenor of the Indian Academy of Paediatrics, XBB.1.16 is a more aggressive variant with a 140% growth advantage over XBB.1.5. To stop the virus from spreading, it is essential to closely monitor the situation and take the appropriate precautions.
Two different virus types are currently in circulation, and it's concerning because their symptoms overlap. The novel COVID variant XBB 1.16 is the second, the first being influenza H3N2. According to news reports, the new COVID 19 variation is probably what will start the next coronavirus spread.
Specialists believe that if we take the incorrect medication without knowing which virus we have, it might have serious consequences.
How can you tell whether it is the new COVID version XBB 1.16 or H3N2?
Here is everything you need to know about the symptoms of H3N2 and the new COVID variant XBB 1.16, as well as how to determine which sickness you may have.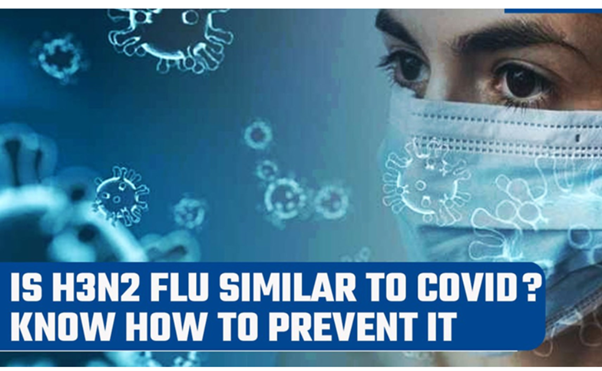 Fever, coughing, shortness of breath, wheezing, and clinical indicators of pneumonia are among the H3N2 subtype's symptoms. According to the ICMR, 92% of hospitalized SARI severe acute respiratory infections patients with H3N2 have a fever, 86% have a cough, and 27% have shortness of breath. Patients occasionally might need oxygen or ICU treatment. The majority of the time, persons with underlying medical concerns are affected, according to experts. There have been two deaths reported in India so far in this, and both of the patients had concomitant conditions like diabetes, hypertension, and lung cancer.
There is now little to no distinction between Covid XBB 1.16 and XBB 1.15 symptoms. This variation has a fever, sore throat, cold, headache, body aches, and exhaustion as symptoms. Your respiratory and digestive systems may also be impacted.
Getting tested is the best method to determine if you have either of the two conditions. It is crucial to remember that you receive the appropriate form of treatment for both conditions.
Airborne Transmission of COVID-19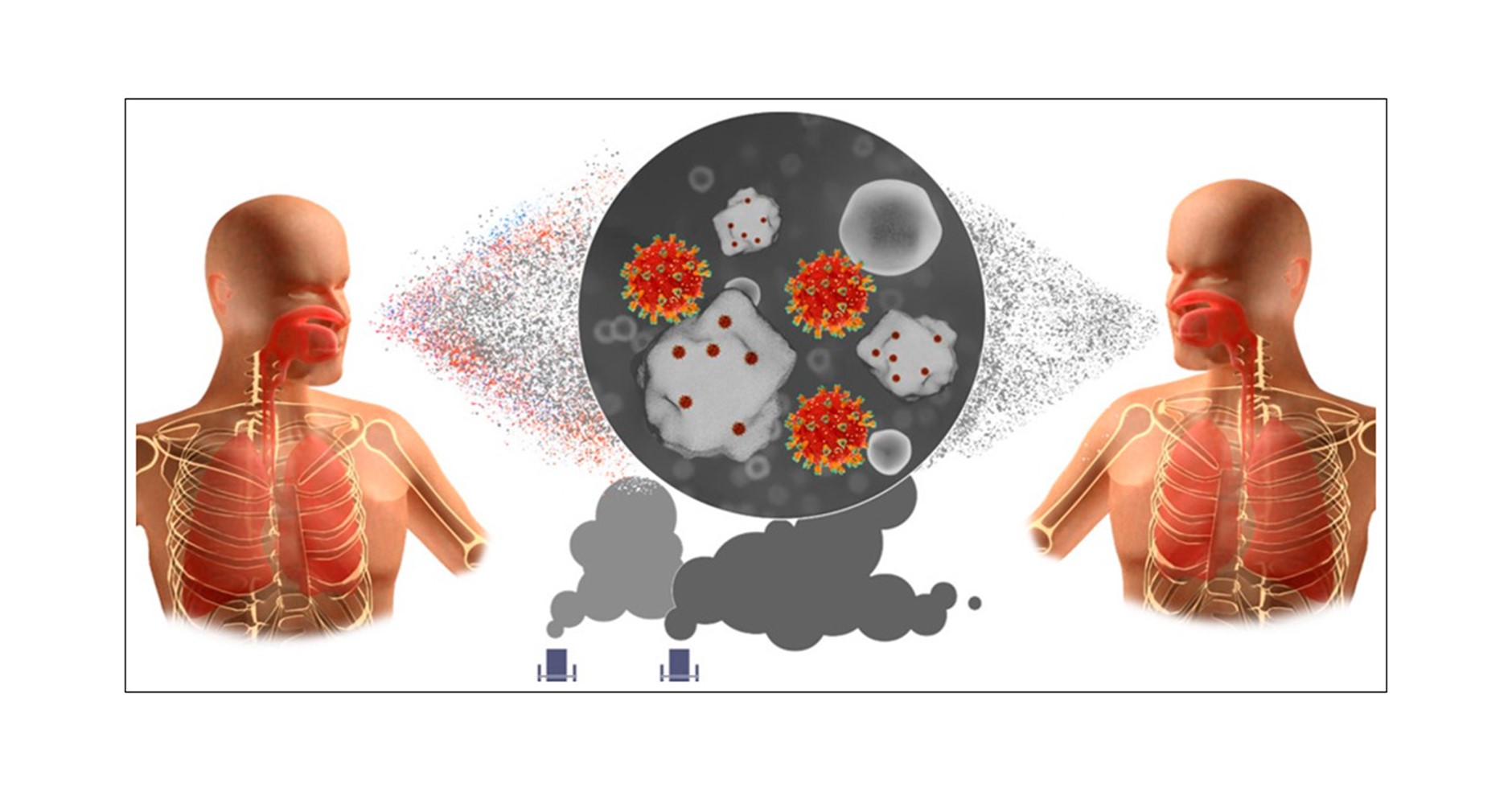 Even as the pandemic's fourth year kicks into gear, the vast majority of individuals in the world have essentially less knowledge of this science or the precautions that must be taken to stop viral transmission. The knowledge that airborne particles are the primary means of viral transmission has become the most important aspect of the fight against the COVID-19 pandemic. This fundamental principle informs every other aspect of public health policy, including the necessity of masks, social isolation, brief lockdowns, rebuilding of purification and ventilation systems in all public spaces, and more.
The most significant public health issue of the modern period may be the need to address indoor air sterilization. Governments and businesses must clean the air in indoor places in order to protect the general public. This requires openly acknowledging and educating society about the science of airborne transmission of not only COVID-19 but also all respiratory diseases.
UV light and indoor air disinfection to fight pandemics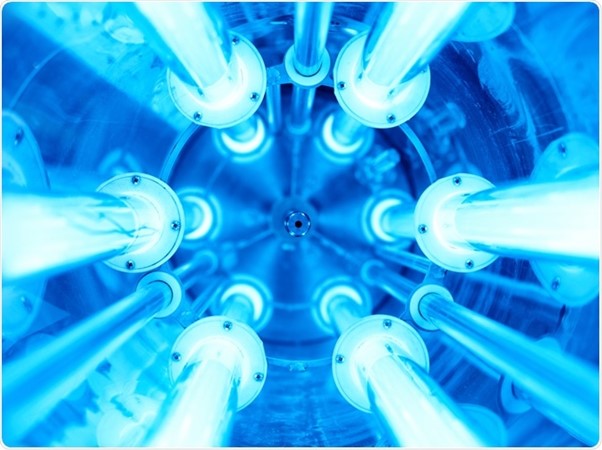 SARS-CoV-2 primarily spreads from person to person when mucous membranes (such as the lungs and eyes) are exposed to airborne viruses that have been released in a variety of particle sizes by those who are infected. A number of organ systems are affected by the illness course that results from infection (respiratory, cardiac, neurological, and gastrointestinal). Key infection control techniques include cleaning and sterilizing pathogen transmission channels. These actions eliminate any microorganisms that may be present, making the area cleaner and more hygienic for people. While there are various techniques to disinfect a space, ultraviolet (UV) light sterilization is one approach that has been around for more than a century.
Human coronavirus OC43 (HCoV-OC43, the cause of the common cold) and SARS-CoV are two respiratory viruses that can be effectively inactivated by ultraviolet (UV) light. UV is frequently used in HVAC systems, free-standing air and surface purifiers, and upper-room air disinfection.
UV light is electromagnetic radiation with a wavelength that is shorter than visible light but longer than X-rays. The many wavelengths of UV light include UV-C, a short-wavelength UV light that is frequently referred to as "germicidal" UV. Nucleic acids in a microorganism are damaged by UV-C, which acts between 200 and 300 nanometers (nm). The pyrimidine dimers produced by the nucleic acids as a result of their absorption of UV-C light interfere with their capacity to replicate or express essential proteins. This causes virus inactivation and cell death in bacteria.
Alfaa UVGI Solution
UVGI is primarily delivered with two solutions to reduce airborne diseases-
1. UVGI Coil Solutions in AHUs
Alfaa UV's ULTRACOIL UVGI System ensures deep cleaning of coils in the safest and most eco-friendly way. There is no worry about damage to coils, which is highly likely with conventional chemicals and scrubbing methods. The Ultracoil with its unique Parabolic Reflector System proactively removes the bio-films (layers of slimy, sticky substance that house the bacteria, viruses, mold, spores, etc.), thus ensuring that the air does not get contaminated through the coil and drain pans.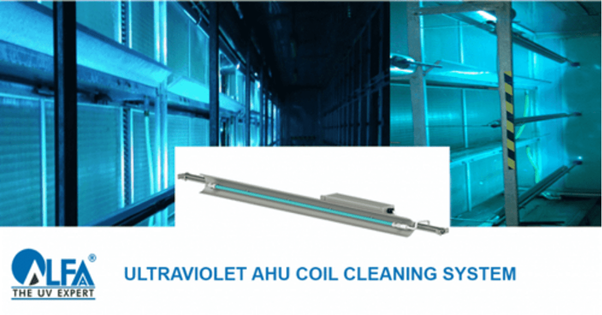 Click on the link https://www.youtube.com/watch?v=Wym12UHX1Fk&t=2s to view Alfaa UV's UVGI System in Asia's largest HVAC Air Handling Unit (AHU). Most importantly and especially in the present pandemic, installing a proper UVGI air disinfection system in front of the coil kills such microorganisms and viruses (coronaviruses as well), hence disallowing the formation of a biofilm and arresting the transmission of pathogens in the AHU itself.
2. UVGI Duct Solutions in AHUs
Alfaa UV's ULTRADUCT solution provides assured single-pass disinfection of airborne bacteria and viruses. It is installed in supply or return ducts. The UltraDUCT also increases the life of HEPA (High-Efficiency Particulate Air) by reducing the load of live organisms.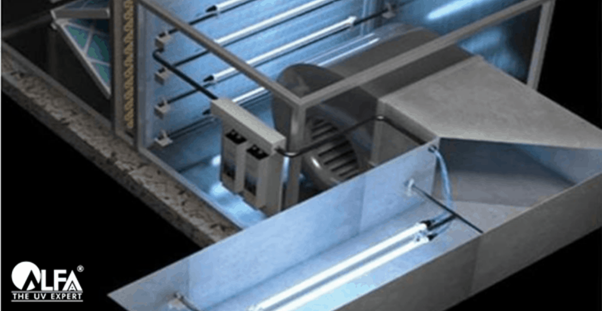 To see how these UVGI systems work, watch this video https://www.youtube.com/watch?v=z3kWRuEem2g for more information about the process and the product.
In order to effectively sterilize a variety of various environmental bacteria, UV light is a useful tool. Since the beginning of the epidemic, attention has been drawn once again to UV disinfection and sterilizing techniques for cleaning indoor places. To know about how we can help you create a COVID-free space, call us today at 9833516650 / 8879336026 or visit us here.