Save Energy by UVGI System
Posted on January 13, 2017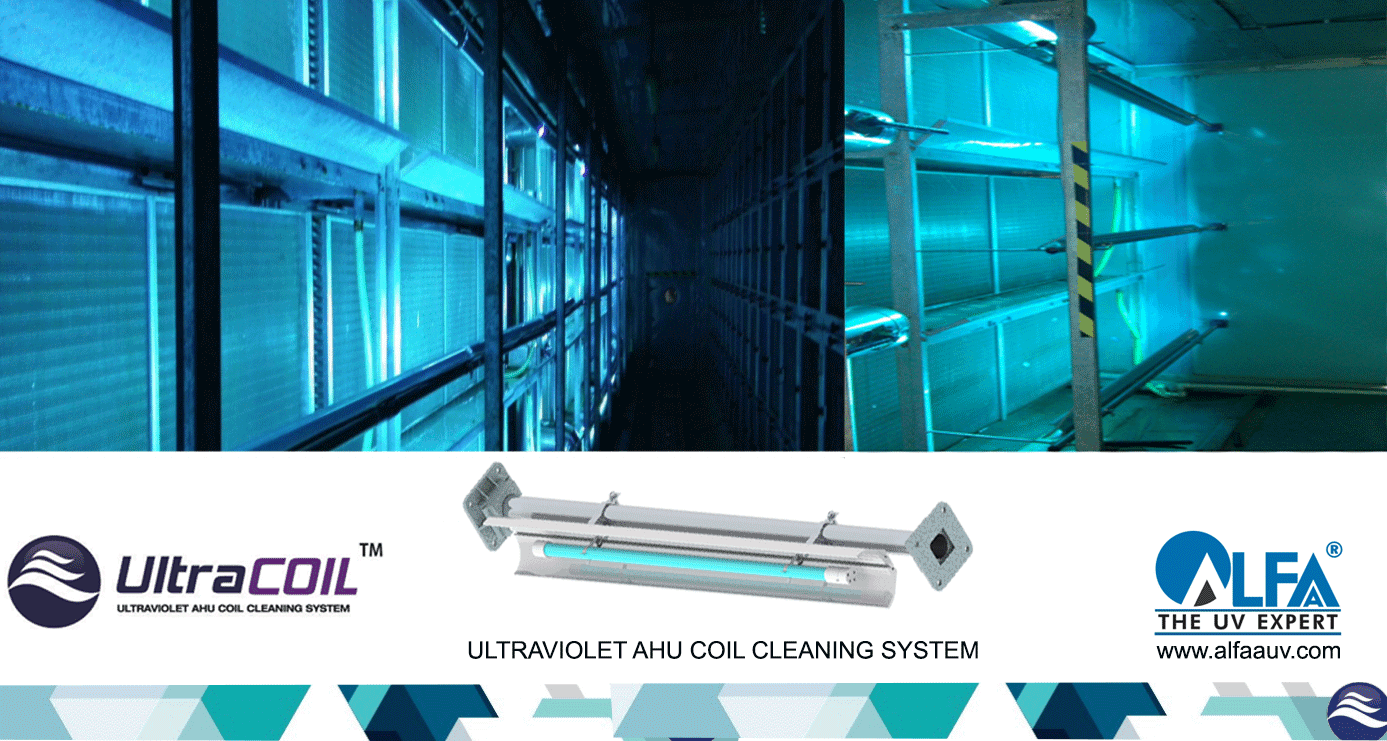 What is a UVGI System?
UVGI System (Ultraviolet Germicidal Irradiation System) is a proven way of disinfection of air using UV light (254 nm) to kill microorganisms by disrupting their DNA and not allowing them to reproduce. The first research study on UVGI system for air purification in the 1920's showed that UVGI is effective in improving air quality and that direct UVGI exposure can sterilize any surface if given required intensity and time. These are major reasons why UVGI systems became popular for controlling microbial growth on HVAC cooling coils since 1985.Applying a UVGI system in front of cooling coils has been practiced in breweries in Europe since 1985.
Why do you need a UVGI System in India?
Rising energy costs have a direct impact on the profit and loss statements of building owners and tenants. India is a hot and humid country and in a typical scenario the HVAC system contributes to almost 60% of the total energy bill in a centralized air conditioned system. Hence maintenance of the HVAC system is important to cut energy costs.
One typical problem in HVAC maintenance is poor heat transfer between the coil and air due to a layer of biofilm (microbes) and dust on the coil. This slows down heat transfer and leads to greater energy consumption. The conventional solution used to resolve this problem is periodic physical and chemical cleaning of the coil but these conventional ways have their own problems:
Reduces life of the coil: Cleaning, scrubbing and pressure washing of the coil damages the fins and reduces its life.
Uneven cleaning:  Often there is not enough space for the worker to clean each coil properly, hence many spots remain untouched. Microorganisms on such spots grow rapidly again.
Downtime: Physical maintenance requires shut down.
Safety:  Workers who clean the HVAC system are exposed to microorganisms and strong chemicals.
Hence there is a need for a system which can maintain the coils in a like  new condition at minimum cost. UVGI systems have a proven track record of fulfilling these needs successfully.
How does UVGI system work?
Microorganisms stick to the surface of the coil using a starchy substance which they produce. Due to a hospitable high humidity environment, they grow rapidly and form a thick layer on the surface of the coil called "biofilm".
Installing a proper UVGI system in front of the coil kills such microorganisms, and hence it does not allow a biofilm to grow. Installing germicidal UV lamps alone is not enough and sizing is critical. One needs to be sure that there are no dead zones (an area where UV light is not covering the coil). One way to avoid this is to install more UV lamps to ensure there won't be any dead zone. But this is not the optimum way of using UV light.
A well designed UVGI system by utilizing Computational Fluid Dynamics (CFD) and optimizers can ensure that there are no dead zones on the coil, in spite of using fewer UV lamps. Lesser number of UV lamps control investment costs as well as operating costs.
Energy Saving
The layer of fungi, bacteria, algae and dust on the coil can grow to several millimeters. This thick layer acts as an insulator and reduces heat exchange by 10 to 40 percent. This reduction in heat exchange increases energy consumption by 10-15 percent.
The UVGI System maximizes energy efficiency by maintaining ideal heat transfer. This lowers the operating cost of the HVAC system. Apart from improving air quality, a UVGI system also pays for itself – within 18 months in most cases.
Benefits of UVGI System
Reduction in energy cost: UVGI maintains the coil in a like new condition which ensures savings in energy cost.
Improves indoor air quality: UVGI system is highly effective in improving Indoor Air Quality (IAQ). It prevents "blow off" of mold and other microbial growth into the HVAC system which transmits allergens, contaminants, and odors throughout the building's envelope.
Reduction in HVAC maintenance cost: UVGI system eliminates the process of regular manual coil cleaning which reduces maintenance cost and also helps in maintaining the HVAC system in good condition for a longer period.
In the USA it is a statutory requirement for all federal building to install UVGI in downstream of the AHU. In India, UVGI System is used in Government as well as private buildings like metro stations, banks, hospitals, hotels, pharmaceutical industries, malls and office buildings. Earlier UVGI systems used to be imported from Canada, USA, and Europe resulting in high costs. Also, after sales service was a big concern. The launch of the UltraCOIL and UltraDUCT range of air disinfection solutions from Alfaa UV has solved this problem.
Blog by Alfaa UV – experts in air and water disinfection. Alfaa UV is the winner of the Acrex Award 2016 for its UVGI System in India.