How Water can help in managing blood sugar ?
Posted on March 17, 2016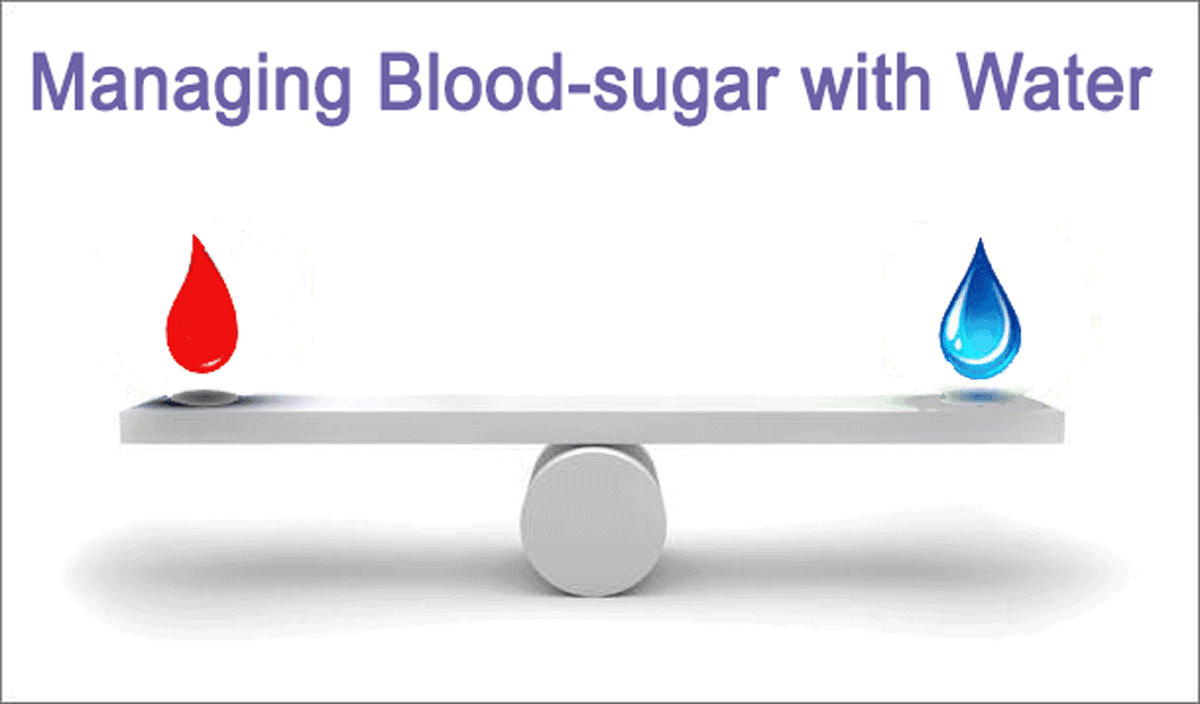 "When you can't solve the problem, manage it". This quote is apt for the perilous situation of 3 million deaths annually worldwide, due to elevated glucose in the blood.
Once a person is diagnosed with diabetes, it is difficult to get rid of it, but managing blood sugar can be achieved by simple solutions like drinking sufficient amounts of purified water.
Managing blood sugar will not only help you to stay healthy while suffering from diabetics, but may also prevent stroke, heart-attack, and damage to retinas, nerves and kidneys.
It is important to understand what role water plays in managing blood sugar, because it is one of the easiest ways to do it.
Your body tries to flush out excess of sugar out of your blood through the urine. Water acts as a carrier to flush out excess glucose in the blood. To carry one molecule of sugar out-of-body, 6 molecules of water are required. When blood sugars are high, it is difficult for the kidney to process all the sugar; water will help in removing the excess sugar and ketones out of your body. Kidneys play a significant role in managing blood sugar, so it is important to reduce the stress that is put on the kidney. Tap water may have contaminants in it that your kidney has to deal with. So drinking purified water is a sure way to reduce the stress on the kidney so that it can process sugar in the blood, and flush out excess sugar.
It is also important to discuss the method of purification in this case because chlorinated water won't help you, on the contrary, it may aggravate the situation for a diabetic patient. As we know, healthy blood sugar is maintained by the insulin produced by cells known as beta cells. Beta cells produce insulin from the islets of langerhans which is located in the pancreas. When chlorine enters the body it produces an oxidizing agent called alloxan.  Alloxan creates free radicals that damage the DNA of beta cells which cause beta cells to malfunction and eventually die. When beta cells fail to produce sufficient amount of insulin, diabetes would be the result. Hence when it comes to water disinfection especially for diabetic patients it  ​is better to avoid chlorination as a method of purification and instead opt for the best water purifier for home use .
As mentioned in the EPA Water Treatment Manual for Disinfection. UV is a good alternative to chlorine as a primary disinfectant.
The EPA manual says "UV irradiation has been used for many years for disinfection in water treatment. Its implementation is increasing worldwide, partly to reduce the amount of chlorine used and minimize the potential for by-product formation (caused due to chlorine), but also because of recent recognition that it provides effective inactivation of Cryptosporidium and other pathogenic protozoa".
People with diabetes have enough problems to worry about: managing blood sugar, medication, diet & therapy. Therefore, water should be life-enhancing, not create another problem.
Read more about :
MYTH OR REALITY- ARE KIDNEY STONES CAUSED BY HARD WATER?