What is the difference between water softener and RO system?
Posted on February 18, 2016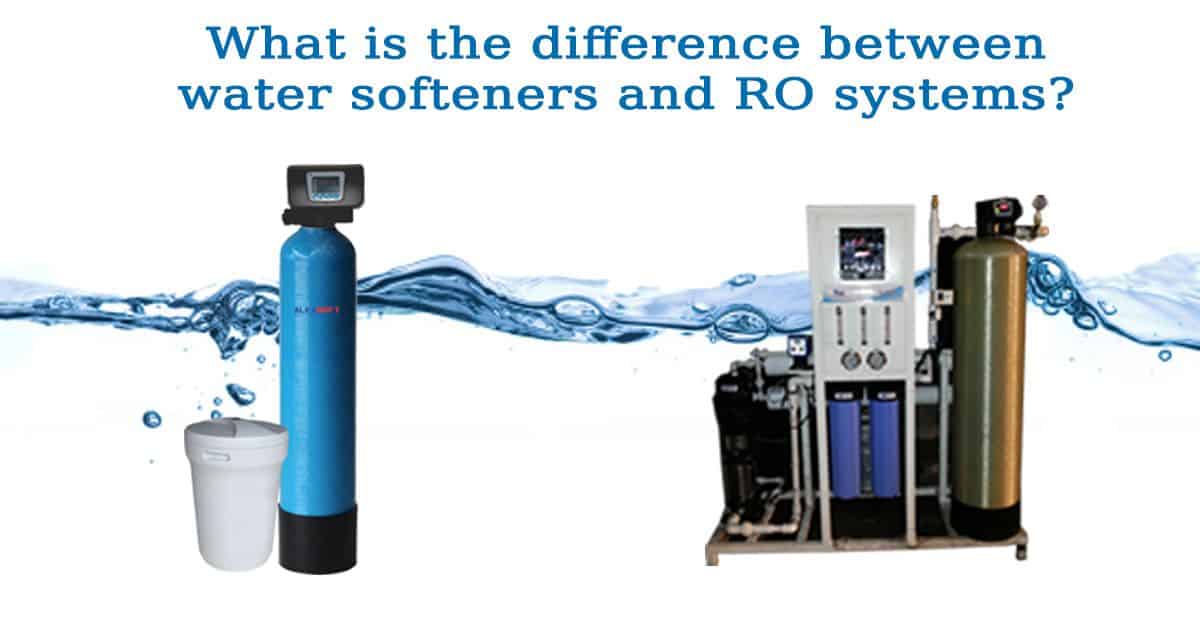 Sometimes there is confusion between water softeners and Reverse Osmosis systems. The working and purposes of water softeners and RO systems are different from each other. RO reduces the hardness of water with filtration method whereas softener reduces the hardness with the process known as ion exchange. This article explains the working, the need and the use of water softeners and RO systems
What is a softener unit? When it is needed?
A water softener is designed to remove the hardness (a combination of Calcium & Magnesium salts) from the water by a process known as ion exchange.
The media, called resin, in the softener is charged with sodium ions from the brine (sodium chloride) contained in the brine tank, during the regeneration process.
The calcium and magnesium which come in contact with the resin beads are exchanged for sodium on the resin.  Thus converting hard water into soft water
When is water softener needed?
Ground water (from borewells) by and large is hard in nature.  Hardness in the water causes scale to form inside pipes, water heaters or boilers. This scale shortens the life of these products.
A water softener will prevent skin and hair from being coated with soap film leaving it softer.  Soap and shampoo use is minimized.  Clothing will wash better.  Bathroom, sinks, toilet, walls around shower, shower doors, shower curtain liner–easier to clean .  Dishes will be spot free.
Why RO systems are needed?
Chemically unsafe water adversely affects the taste of water besides causing serious gastrointestinal problems. Borewell (ground water)/tanker water most often contains high levels of Calcium, magnesium, sodium, iron, manganese, bicarbonate, chloride, sulfate, nitrate & carbonate. This is referred to as TDS (total dissolved solids) in water.  As per the IS norms, TDS over 500 ppm is not recommended for drinking.
Removes Hardness in water
Reduces 90% of TDS
Removes Heavy metal contaminates
Removes Pesticides
Removes Organic impurities,
Removes Microorganisms
Enhances taste of water
Continuous flow of safe water
Ground water having high TDS levels (Total Dissolved Salts) adversely affects the taste of water and untreated consumption may cause serious gastrointestinal problems.
Are RO+UV systems required even after using water softeners?
Soft water processed from a softener can be used for all other purposes except for drinking.  This water cannot be used for consumption directly as a softener will only reduce hardness in water but will not change the existing TDS levels in water.   It is mandatory to use a RO system for drinking purposes after a softener.  For drinking water TDS should normally be below 200 ppm though WHO specifies the norm to be 500 PPM. Only UV systems are ineffective for water with high TDS.
How combination of Dual Media Filter (DMF) + Softeners + UV (i.e Villapure) works?
Alfaa UV offers a whole house purification system, VillaPure, which uses DMF, softners, RO and UV system together to provide purified water in every tap of house.
'VillaPure'  Whole  House  Pure Water System is designed to  tackle  the  problems  relating  to  Ground/Hard  water which  contains  a significant amount of turbidity, dissolved minerals, and other chemical & microbiological contaminants leading to issue of Bathing, Washing, Staining, Corrosion and besides huge electricity bills.
VillaPure   Whole   House   Pure   Water   Systems    are   fully automatic, premium water purification systems that ensure CLEAN, SOFT & SAFE water on every tap in your villa/Bungalow.     Alfaa's  'VillaPure'  systems  come  pre-assembled,  prewired  and  tested  ,  with minimum installation  /  set  up  time.    Each VillaPure whole house system comes with a Dual Media Filter + Softening Plant + UV Protection + Domestic RO Water Purifier.
Read more about VillaPure- Whole house purification system.
Read more about Commercial RO systems